All the following information is from CrossFit Inc.
STAGE 1: THE OPEN
FIVE WEEKS – FEB. 22-MARCH 26
18.1- Feb. 22-26
18.2- March 1-5
18.3- March 8-12
18.4- March 15-19
18.5- March 22-26
Registration for the Open begins Thursday, Jan. 11, 2018.
The Open is the first stage of the CrossFit Games season and the largest community event of the year. Every year, hundreds of thousands of athletes come together to compete in the worldwide, online competition.
Anyone aged 14 or older can compete. All you have to do is sign up at Games.CrossFit.com and log your score each week. Workouts are released on Thursdays at 5 p.m. PT, and athletes have four days to complete the workout for the week and submit their score. Scores are due before 5 p.m. PT the following Monday. Complete the workouts at a CrossFit affiliate with a judge, or film your effort from anywhere in the world and submit a link as proof.
The Open offers two versions of each workout, scaled and Rx'd. The scaled option makes the event all-inclusive. All athletes can compare their results to others worldwide, regionally, by age or within their own gyms. An official CrossFit Games app will be available in late January, which will focus on your own personal performance in the Open.
At the end of five weeks, the fittest move on to the next stages of competition: the Regionals and the Online Qualifier.
——————————————————————————————————————————
STAGE 2: THE ONLINE QUALIFIER (AGE GROUP)
THURSDAY-MONDAY – APRIL 19-23
The top 200 masters and teenagers from each division will be invited to compete in the four-day, online competition.
The qualifier will decide the 20 fittest masters and teenagers from every division who will receive a ticket to the Games.
——————————————————————————————————————————
STAGE 2: THE REGIONALS (INDIVIDUALS & TEAMS)
THREE WEEKENDS: MAY 18-JUNE 3
There have been some big changes made to the CrossFit Games Regional format in 2018. Get all the details here.
Week 1: May 18-20, 2018
East Regional: Albany, New York, Times Union Center
Europe Regional: TBD
South Regional: Salt Lake City, Utah, Salt Palace Convention Center
Week 2: May 25-27, 2018
Central Regional: Nashville, Tennessee, Music City Center
West Regional: Del Mar, California, Del Mar Arena
Latin America Regional: TBD
Week 3: June 1-3, 2018
Atlantic Regional: TBD
Meridian Regional: Madrid, Spain, Caja Mágica
Pacific Regional: TBD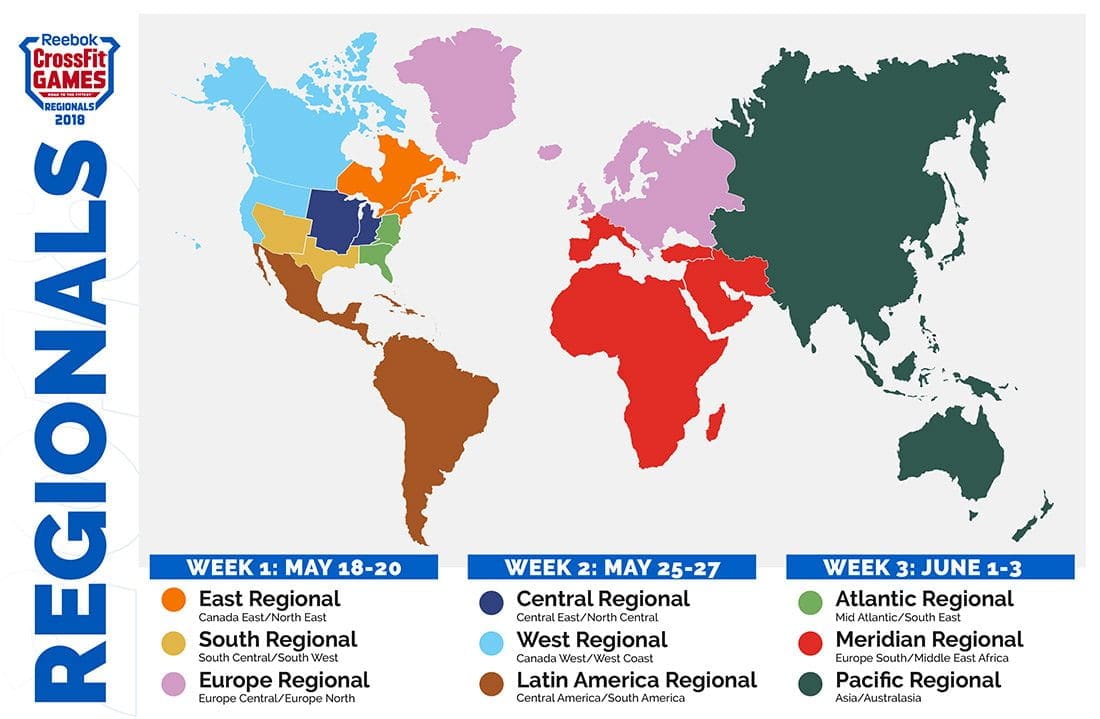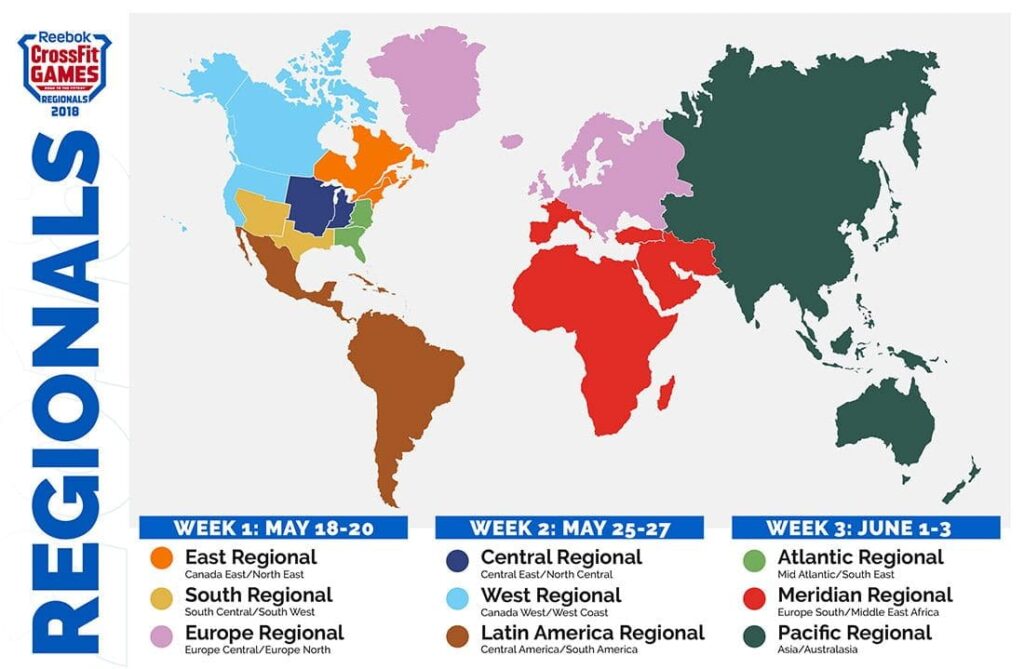 Source: CrossFit Inc
STAGE 3: THE GAMES
AUG. 1-5, 2018
For the second year in a row, the CrossFit Games will be held at the Alliant Energy Center in Madison, Wisconsin.
The Games will start Wednesday, Aug. 1, and conclude Sunday, Aug. 5.
*The events at the Games are held secret until weeks, days and sometimes minutes before the athletes compete. A detailed schedule and app will be released at a later date.