Rich Froning and CrossFit Mayhem team have shared 21.2 workout tips to help athletes master the movements and perform well in the second week of 2021 CrossFit Open.
Rich Froning is a four-time Fittest Man on Earth (2011-2014) and Team Mayhem Freedom has won four Games titles and a second-place finish since its inception in 2015.
CrossFit Open 21.2 workout will fatigue your back and shoulders while testing your overall endurance. It consists of:
Dumbbell snatches and burpee box jump over – RX
Hang squat snatches and burpee broad jumps – equipment free
Alternating snatches and burpees – foundations
For a full breakdown of the movement standards, click here.
Tasia Percevecz, fellow Mayhem member and 2-time team champion, shared tips for the equipment free and foundations division. You can check her advice at the end of the video.
Warm-Up
Dr. Kelly Starrett, physical therapist and CrossFit trainer at Mayhem, breaks down some warm-up techniques and tips before attempting to do 21.2 workout.
"Prep by getting shoulders and arms full of blood. If you have access to an assault bike, cruise it".
The more you can flex your hips, the less your back will get fatigued throughout the workout.
Get into a split lunge with knees touching the floor, arch your spine forward, and flex the quads in that position for a minute. "See if you get comfortable getting the hamstrings loaded and quads on", notes Kelly.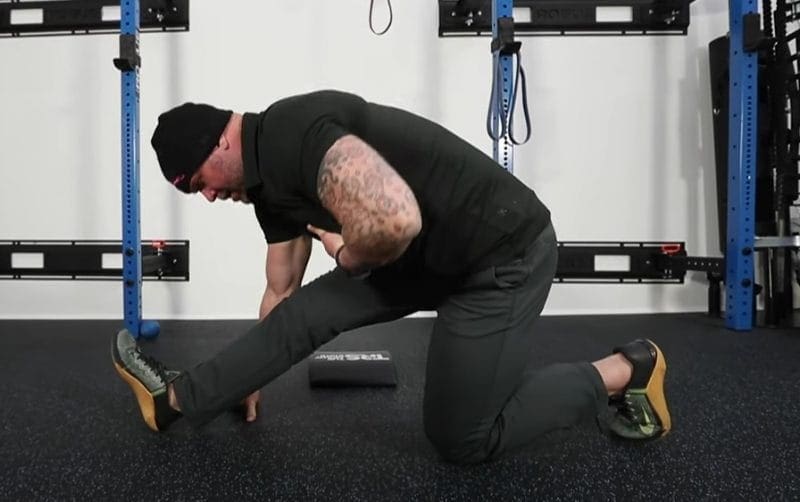 Source: CrossFit Mayhem
Start rocking your body back and forth, bring your head closer to your thigh and the tip of the toe pointing to the ceiling. Repeat with the other leg.
Get into a push-up position, both knees on the floor, left knee on an elevated mat. Put pressure on the left knee, as if pushing your body through the floor. Collapse backwards without taking the knees off the floor.
"This will make your body more effective at being able to flex the hip at a lower cost. If we can bring the knee to the chest more effectively, when we jump on the box, we can stay in a low stance".
Dr. Kelly also states that it is important to get comfortable with hands overhead. Hook a thin band on a bar above your head, turn your back to the bar, and pull the band, pumping your triceps. Do 50 to 100 pulls.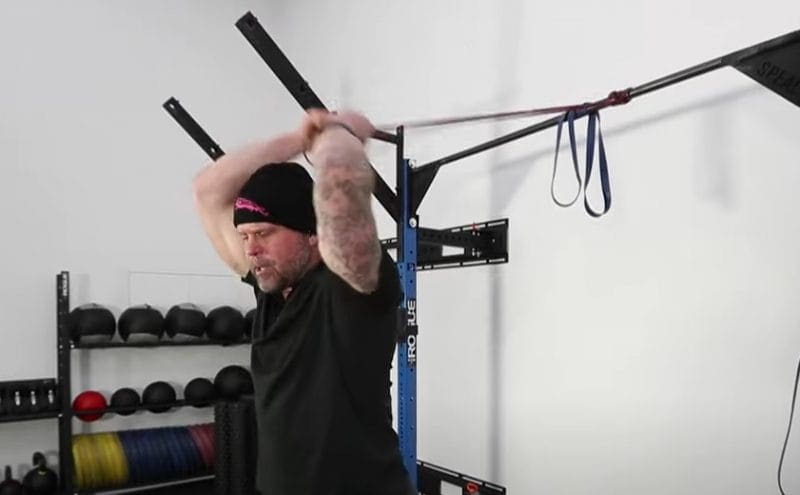 Source: CrossFit Mayhem
Once you are done, lay on the ground with butt close to the wall, legs raised up along the wall. "This is a highly restorative position".
21.2 Workout Tips: Dumbbell
Rich Froning explains that there are two ways to do the dumbbell snatches from 21.2 workout.
You can muscle snatch, in one motion. "This will blow your back more, but it's a bit faster. Do it on your 10 to 20 round. Once you hit 30, start with a power snatch", said Rich Froning.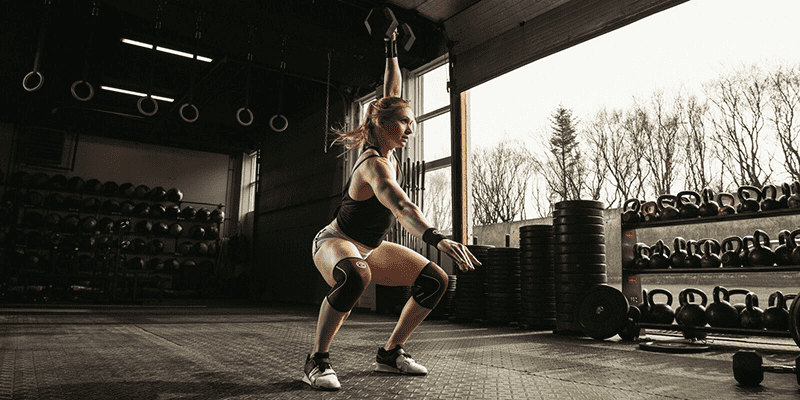 "Try to do as many touch-and-go reps as you can. You are not allowed to bounce the dumbbell, but you do get a little bit of a feedback from the floor when dropping the dumbbell".
21.2 Workout Tips: Burpee Box Jump Over
Do not use a soft box, says head coach Darren Hunsucker. "You can actually feel a lot more stable on a hard box".
The dumbbell will abuse of your back, so stay in a low stance on the box. Justin Medeiros did it through the live announcement and finished 21.2 in just over 10 minutes.
"If you're looking for a faster time, you need to get off the box quickly".
In case you plan on quickening your time doing the burpees, alternate the legs when you step up before jumping on the box. "This way it dispenses the pressure on your lower back".
Check out the full video below.