Can you imagine standing on the podium after a CrossFit competition in which you had to pay more than $300 to compete, be promised a portion of the prize purse and walk away with nothing? Sadly, that is the trend we are seeing for some competitions, namely CanWest, CanEast and European Championships.
CanWest Games
CanWest was a CrossFit competition held in Coquitlam, British Columbia, that took place for the first time since the COVID outbreak. A prize purse of CAD $105,000 was announced and some elite athletes enrolled such as Chandler Smith, James Sprague and Anikha Greer. 12 weeks after the end of the competition and the athletes are still waiting to see any cash that was promised.
According to Andrew Hiller, who talked to a few competitors from CanWest, athletes heard about regarding a payment schedule for the first time on August 30th – the competition ended on July 15th.
The idea was to receive a 25% of the prize on September 30th, 25% at the end of October and the rest on November 30th. September 30th passed last weekend and athletes still have not received anything.
In an e-mail sent by CanFit Productions, which is responsible for putting together CanWest and CanEast, the "CanWest Games operated at a substantial loss this year," and "actual revenues were well below expectations and we incurred some unexpected last-minute expenses that magnified the loss."
European Championships
The European Championships is facing similar hiccups when it comes to paying CrossFit athletes what was promised. This competition ended on August 21st (two weeks ago) and athletes are still awaiting their prize purse either partially or in full.
According to Jason C F Media who reached out to athletes who podium and Carl Saville, the organiser of the European Championships, the spectator attendance made the event in debt.
This "large amount of debt" will be paid if Saville is able to secure more sponsors and investors for the European Championships or even sell the event.
CanEast Next?
Once the news of CanWest not making enough money to pay athletes months after the end of the competition, athletes began talking openly about how the CanEast could be heading in the same direction.
In the comments section of the Morning Chalk Up, the user "emrcow" said that her gym owner received an e-mail asking to "push athletes to sign up or else there wouldn't be an event due to lack of registrations." She went on to suggest that CanEast was thrown out to cover the expense of CanWest, but ultimately is suffering the same end result of not making enough money to pay athletes and turn to a profit.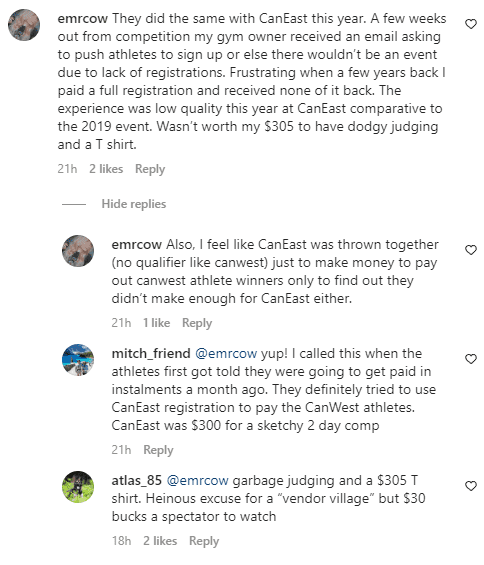 On Reddit, user Fifty6k explained that during CanWest in 2020, the event was postponed due to lockdowns and that athletes shouldn't take a refund of their entries fees as that "would bankrupt the organisation." Fast forward two years, the CanWest is now under new ownership and the refund conversation was never held again or followed through.
Read More: CrossFit Runners Mistaken for Robbers in Brazil as Bar Customers Flee in Fear