A total of 106 women and 107 men across the world have already claimed the title of National Champions for their countries this year. There are still 5 titles among women and 6 among men in contention as athletes prepare for the CrossFit Games end of July.
28 female athletes are competing to become the National Champions of one of these countries:
Australia
Canada
Iceland
Norway
United States
These countries' National Champions are still in contention among 33 men:
Australia
Canada
Finland
Russia
Serbia
United States
CrossFit Inc is still waiting for video and/or citizenship details from an additional 21 women and 36 men to crown them National Champions of their respective countries.
Curiosities About National Champions
Elion Bobani is the youngest among National Champions in the world. The athlete from Kosovo is only 16 years old and finished 1st in the CrossFit Open among 40 other male Kosovans.
He is the only teenager who has been crowned a National Champion so far – Mallory O'Brien and Emma Cary are two teenagers who are competing at the CrossFit Games as elite individuals, despite both being 17 years old.
On the other side of the spectrum, Yani Litho could become the oldest National Champion this year. The athlete from The Democratic Republic of Congo, in Africa, is 51 years old. He is one of the athletes CrossFit is waiting for citizenship confirmation before officialising his title.
Guidelines to Crown National Champions in 2021
CrossFit has changed the way it crowned National Champions across the globe in 2021.
As BOXROX reported earlier, National Champions used to be crowned based on their national ranking in the Open leaderboard. This year, the title is granted to the individual who makes it furthest into the season, which starts in the Open and is followed by Quarterfinals, Semifinals, Last-Chance Qualifier, and culminates at the CrossFit Games.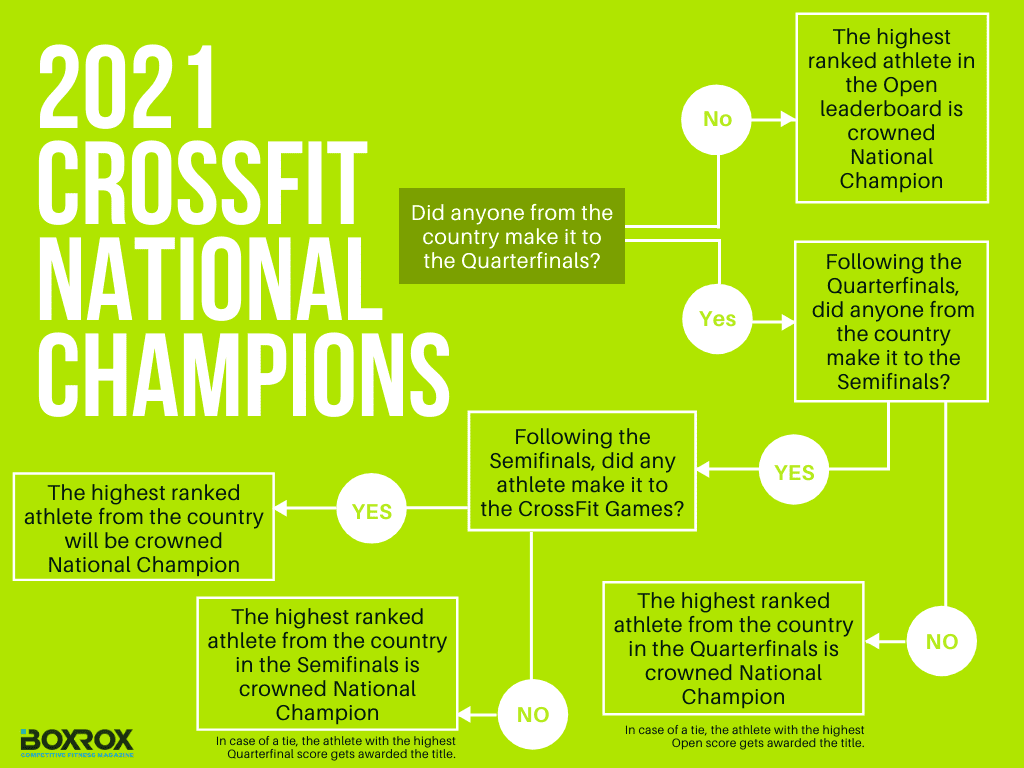 Check out the official National Champions of 2021 so far.
CrossFit National Champions – Women
| | | | | | |
| --- | --- | --- | --- | --- | --- |
| Country | First Name | Last Name | Division | Competition Region | Competition Stage |
| Albania | Asimelda | Levenishti Limieri | Women (35-39) | Europe | Open |
| Algeria | Yasmine | Boudaoud | Women | Africa | Open |
| Andorra | Miriam | Torra | Women | Europe | Quarterfinals |
| Argentina | Sasha | Nievas | Women | South America | Games Qualifier (Brazil CrossFit Championship) |
| Austria | Paula | Zikowsky | Women | Europe | Quarterfinals |
| Bahrain | Mariam | AlHilli | Women (35-39) | Asia | Quarterfinals |
| Barbados | Kira | Oliver | Women (35-39) | North America | Open |
| Belarus | Tatiana | Diakou | Women | Europe | Quarterfinals |
| Belgium | Manon | Angonese | Women | Europe | LCQ |
| Belize | Mirella | Bacab | Women | North America | Open |
| Bolivia | Martha | Berrocal | Women | South America | Quarterfinals |
| Bosnia and Herzegovina | Elma | Ducic | Women (35-39) | Europe | Quarterfinals |
| Botswana | Cingiwe Ciegy | Seru | Women (35-39) | Africa | Quarterfinals |
| Brazil | Larissa | Cunha | Women | South America | Games Qualifier (Brazil CrossFit Championship) |
| Brunei Darussalam | Nina | Juna | Women | Asia | Semifinals |
| Bulgaria | Ralitza | Koterlitzova | Women | Europe | Quarterfinals |
| Chile | Amber | Davy | Women | South America | Quarterfinals |
| China | Aichan | Chen | Women | Asia | Semifinals |
| Colombia | Valentina | Rangel | Women | South America | LCQ |
| Croatia | Tamara | Zulim | Women | Europe | Quarterfinals |
| Cyprus | Anna | Zachariou | Women | Europe | Quarterfinals |
| Czech Republic | Aneta | Tucker | Women | Europe | Semifinals (Lowlands Throwdown) |
| Denmark | Julie | Hougård | Women | Europe | Semifinals (Lowlands Throwdown) |
| Dominican Republic | Nastaran | Whitson | Women (35-39) | North America | Quarterfinals |
| Ecuador | Claudia | Espinosa | Women | South America | Semifinals |
| Egypt | Ingy | Hossam Eldin | Women | Africa | Semifinals |
| Estonia | Andra | Moistus | Women | Europe | Quarterfinals |
| Fiji | Charnele | Chow | Women | Oceania | Open |
| Finland | Emilia | Leppänen | Women | Europe | Semifinals (German Throwdown) |
| France | Claudia | Gluck | Women | Europe | Semifinals (German Throwdown) |
| Georgia | Nino | Goguadze | Women | Europe | Open |
| Germany | Lisa | Eble | Women | Europe | Semifinals (Lowlands Throwdown) |
| Ghana | Laila | Zangwio | Women | Africa | Quarterfinals |
| Guatemala | Vera | Valdez | Women | North America | Quarterfinals |
| Guyana | Delice | Adonis | Women | South America | Quarterfinals |
| Haiti | Mikerline | Apollon | Women | North America | Quarterfinals |
| Honduras | Gabriela | Perez | Women | North America | Quarterfinals |
| Hungary | Laura | Horváth | Women | Europe | Games Qualifier (CrossFit Lowlands Throwdown) |
| India | Paridhi | Doshi | Women | Asia | Open |
| Indonesia | Ernestine | Gozali | Women | Asia | Open |
| Iran | Laura | Namvar | Women | Asia | Quarterfinals |
| Ireland | Emma | McQuaid | Women | Europe | Games Qualifier (CrossFit Lowlands Throwdown) |
| Israel | Or | Cohen | Women | Asia | Semifinals |
| Italy | Antea | Longo | Women | Europe | Semifinals (German Throwdown) |
| Jamaica | Nicki | Ruegsegger | Women | North America | Open |
| Japan | Yuko | Sakuyama | Women | Asia | Semifinals |
| Jordan | Dema | Al Zebdieh | Women (35-39) | Asia | Semifinals |
| Kazakhstan | Kamila | Takeyeva | Women | Asia | Semifinals |
| Kenya | Alisha | Stone | Women | Africa | Quarterfinals |
| Korea, Republic of | Seungyeon | Choi | Women | Asia | Games Qualifier (CrossFit Asia Invitational) |
| Kosovo | Alisa | Hasani | Women | Europe | Open |
| Kuwait | Hajer | Jamal | Women | Asia | Quarterfinals |
| Latvia | Santa | Ozolina | Women | Europe | Quarterfinals |
| Lebanon | Maxime | Melkie | Women | Asia | Quarterfinals |
| Lithuania | Ramunė | Miliauskaitė | Women | Europe | Quarterfinals |
| Macedonia | Viki | Ristoska | Women | Europe | Quarterfinals |
| Malaysia | Valerie | Toh | Women | Asia | Quarterfinals |
| Malta | Jessica | Borg Ghigo | Women (35-39) | Europe | Quarterfinals |
| Mauritius | Masha'ael | Peerbux | Women | Africa | Open |
| Mexico | Cecilia | Ramirez Villamil | Women | North America | Semifinals (Atlas Games) |
| Moldova | Olesea | Cojohari | Women | Europe | Open |
| Mongolia | Maralerdene | Bayart | Women | Asia | Open |
| Montenegro | Mia | Matkovic | Women | Europe | Open |
| Morocco | Assma | Lalaoui | Women | Africa | Semifinals |
| Namibia | Francie | Gerber | Women (35-39) | Africa | Semifinal |
| Netherlands | Noortje | Bleeker | Women | Europe | Semifinals (Lowlands Throwdown) |
| New Zealand | Laura | Clifton | Women | Oceania | Games Qualifier (Torian Pro) |
| Nicaragua | Karen | Espinoza | Women | North America | Quarterfinals |
| Nigeria | Jennifer | Okpolua | Women | Africa | Quarterfinals |
| Oman | Aala | Noorani | Women | Asia | Open |
| Pakistan | Sania | Fatemi | Women (40-44) | Asia | Quarterfinals |
| Palestinian Territory | Dara | Al-Kayyali | Women | Asia | Quarterfinals |
| Paraguay | Carol | Colling | Women | South America | Quarterfinals |
| Peru | Claudia | Reque | Women | South America | Quarterfinals |
| Philippines | Josephine | Sol | Women | Asia | Quarterfinals |
| Poland | Gabriela | Migała | Women | Europe | Games Qualifier (CrossFit Lowlands Throwdown) |
| Portugal | Sara | Pinto | Women | Europe | Semifinals (Lowlands Throwdown) |
| Qatar | Alghaida | Alansari | Women | Asia | Open |
| Romania | Oana Catalina | Chelmus | Women | Europe | Quarterfinals |
| Russian Federation | Svetlana | Kubyshkina | Women | Asia | Games Qualifier (CrossFit Asia Invitational) |
| Saint Lucia | Charlie | Gillmor | Women (40-44) | North America | Open |
| Samoa | MariaNive | Clark | Women (35-39) | Oceania | Quarterfinals |
| Saudi Arabia | Amal | Alshahrani | Women (35-39) | Asia | Quarterfinals |
| Serbia | Milena | Savich | Women | Europe | Quarterfinals |
| Singapore | Landy | Eng | Women | Asia | Quarterfinals |
| Slovakia | Karin | Freyová | Women | Europe | Semifinals (Lowlands Throwdown) |
| Solomon Islands | Lynette | Kairi | Women (35-39) | Oceania | Open |
| South Africa | Michelle | Basnett | Women | Africa | Games Qualifier (CrossFit Fittest In Cape Town) |
| Spain | Oihana | Moya | Women | Europe | Semifinals (German Throwdown) |
| Sudan | Fay | Mohammed | Women | Africa | Open |
| Suriname | Ava | Zalman | Women | South America | Quarterfinals |
| Sweden | Emma | Tall | Women | Europe | Games Qualifier (Last-Chance Qualifier) |
| Switzerland | Nicole | Heer | Women | Europe | Semifinals (German Throwdown) |
| Syrian Arab Republic | Zeina | Kassas | Women | Asia | Semifinals |
| Thailand | Uracha | Teerawanitsan | Women | Asia | Semifinals |
| Tunisia | Jessica | Sanki | Women (40-44) | Africa | Quarterfinals |
| Turkey | Seher | Kaya | Women | Asia | Semifinals |
| Ukraine | Marina | Fedenko | Women | Europe | Quarterfinals |
| United Arab Emirates | Shahad | Budebs | Women | Asia | Quarterfinals |
| United Kingdom | Samantha | Briggs | Women (35-39) | Europe | Games Qualifier (CrossFit German Throwdown) |
| Uruguay | Victoria | Frascolla | Women | South America | Quarterfinals |
| Uzbekistan | Roza | Gilles | Women | Asia | Quarterfinals |
| Vanuatu | Lenise | Monteiro | Women (40-44) | Oceania | Open |
| Venezuela | Laura | Gonzalez-Marin | Women | South America | Semfinals |
| Viet Nam | Valerie | Hoang | Women | Asia | Open |
| Zimbabwe | Christina | Livaditakis | Women | Africa | Semifinals (Torian Pro) |
CrossFit National Champions – Men
| | | | | | |
| --- | --- | --- | --- | --- | --- |
| Country | First Name | Last Name | Division | Competition Region | Competition Stage |
| Algeria | Sofien | Zaier | Men | Africa | Semifinals |
| Angola | Rui Miguel Castro | Silva | Men | Africa | Quarterfinals |
| Argentina | Agustin | Richelme | Men | South America | Games Qualifier (Brazil CrossFit Championship) |
| Austria | Victor | Schroeder | Men | Europe | Quarterfinals |
| Bahamas | James | Thompson | Men | North America | Open |
| Bahrain | Majid | Al Sharaf | Men | Asia | Semifinals |
| Barbados | Richy | Jordan | Men | North America | Open |
| Belarus | Nikita | Yundov | Men | Europe | Semifinals (Lowands Throwdown) |
| Belgium | Jelle | Hoste | Men | Europe | Quarterfinals |
| Belize | Enrique | Luna | Men | North America | Quarterfinals |
| Benin | Hafiz | Tiomoko Ali | Men | Africa | Open |
| Bolivia | Jose | Agreda | Men | South America | Quarterfinals |
| Bosnia and Herzegovina | Đorđe | Đurić | Men | Europe | Quarterfinals |
| Botswana | Katlego | Kgwadi | Men | Africa | Open |
| Brazil | Guilherme | Malheiros | Men | South America | Games Qualifier (Brazil CrossFit Championship) |
| Bulgaria | Radoslav | Ivanov | Men | Europe | Quarterfinals |
| Cambodia | Kobe | Khy | Men | Asia | Open |
| Chile | Piero | Gorichon | Men | South America | Semifinals |
| China | ZhenHua | Zhou | Men | Asia | Semifinals |
| Colombia | Julian | Serna | Men (35-39) | South America | Semifinals |
| Croatia | Luka | Perko | Men | Europe | Quarterfinals |
| Cyprus | Danilo | Sarris | Men | Europe | Quarterfinals |
| Czech Republic | Martin | FeiferlÍk | Men | Europe | Quarterfinals |
| Denmark | André | Houdet | Men | Europe | Games Qualifier (CrossFit German Throwdown) |
| Dominica | Mazen | Harake | Men (35-39) | North America | Open |
| Egypt | Mohamed | Elomda | Men | Africa | LCQ |
| El Salvador | Rafael | Gallo | Men | North America | Quarterfinals |
| Estonia | Kevin | Jurs | Men | Europe | Semifinals (Lowands Throwdown) |
| Fiji | James | Colata | Men | Oceania | Open |
| France | Guillaume | Briant | Men | Europe | Semifinals (Lowands Throwdown) |
| Georgia | Beka | Kvernadze | Men | Europe | Quarterfinals |
| Germany | Moritz | Fiebig | Men | Europe | Semifinals (Lowands Throwdown) |
| Ghana | Christopher | Ghansah | Men | Africa | Quarterfinals |
| Greece | Giorgos | Karavis | Men | Europe | Games Qualifier (CrossFit German Throwdown) |
| Guyana | Dillon | Mahadeo | Men | South America | Quarterfinals |
| Honduras | Emilio | Sanchez | Men | North America | Quarterfinals |
| Hungary | Kristóf | Horváth | Men | Europe | Quarterfinals |
| Iceland | Björgvin Karl | Guðmundsson | Men | Europe | Games Qualifier (CrossFit Lowlands Throwdown) |
| India | Prince | Khatri | Men | Asia | Quarterfinals |
| Indonesia | Yunus | Alwi | Men | Asia | Quarterfinals |
| Iran | Morteza | Sedaghat | Men | Asia | LCQ |
| Iraq | Mohammed | Alukaidi | Men | Asia | Quarterfinals |
| Ireland | Sam | Stewart | Men | Europe | Games Qualifier (CrossFit Lowlands Throwdown) |
| Israel | Yogev | Meller | Men | Asia | Semifinals |
| Italy | Tomasso | Pieri | Men | Europe | Semifinals (Lowands Throwdown) |
| Jamaica | Brian | Lowe | Men | North America | Quarterfinals |
| Japan | Tomohiro | Itaya | Men (35-39) | Asia | Semifinals |
| Jordan | Najm | Mamkegh | Men | Asia | Quarterfinals |
| Kazakhstan | Artyom | Matsak | Men | Asia | Semifinals |
| Kosovo | Elion | Bobani | Boys (16-17) | Europe | Open |
| Kuwait | Nasser | Alruwayeh | Men | Asia | Semifinals |
| Laos | Virakone | Sengchanh | Men (45-49) | Asia | Open |
| Latvia | Uldis | Upenieks | Men | Europe | Games Qualifier (CrossFit Lowlands Throwdown) |
| Lebanon | Samer | Zaarour | Men (35-39) | Asia | Quarterfinals |
| Lithuania | Lukas | Bitinaitis | Men | Europe | Quarterfinals |
| Luxembourg | Benjamin | Weitzmann | Men | Europe | Quarterfinals |
| Macedonia | Darko | Tasevski | Men | Europe | Quarterfinals |
| Madagascar | Hasina | Ratsimbazafy | Men | Africa | Quarterfinals |
| Malaysia | Darren | Chai | Men | Asia | Quarterfinals |
| Malta | Kyle | Micallef | Men | Europe | Quarterfinals |
| Mauritius | Boris | Toulet | Men | Africa | Quarterfinals |
| Mongolia | Dorjnamjim | Dorjsembe | Men | Asia | Quarterfinals |
| Montenegro | Milos | Milovic | Men | Europe | Open |
| Morocco | Hamza | Mahir | Men | Africa | Semifinals (Asia Inviational) |
| Mozambique | Eneas | Williams | Men (35-39) | Africa | Quarterfinals |
| Namibia | Philipp | Bohlke | Men | Africa | Quarterfinals |
| Nauru | Hi George | Quadina | Men | Oceania | Open |
| Nepal | Buddha | Gurung | Men | Asia | Open |
| Netherlands | Elwin | ter Avest | Men | Europe | Quarterfinals |
| New Zealand | Luke | Fiso | Men | Oceania | Semifinals |
| Nicaragua | Kerry | Valle | Men | North America | Quarterfinals |
| Nigeria | David | Segun | Men | Africa | Quarterfinals |
| Norway | Marius | Tinglum Pettersen | Men | Europe | Quarterfinals |
| Oman | Aslam | Al Shukaili | Men | Asia | Quarterfinals |
| Pakistan | Aqeel | Ahmed | Men | Asia | Quarterfinals |
| Palestinian Territory | Hamzeh | Tarefi | Men | Asia | Semifinals |
| Panama | Alain | Davidson | Men (35-39) | North America | Quarterfinals |
| Papua New Guinea | Kila | Kilaverave | Men (40-44) | Oceania | Open |
| Philippines | Kawika | Henderson | Men (35-39) | Asia | Quarterfinals |
| Poland | Jakub | Cieślik | Men | Europe | LCQ |
| Qatar | Rashid | Alkuwari | Men | Asia | Open |
| Republic of Korea | Seokbeom | Kim | Men | Asia | Semifinals |
| Romania | Severin | Irimia | Men | Europe | Quarterfinals |
| Saint Lucia | Heskeith | Flavien | Men (40-44) | North America | Open |
| Samoa | Daniel | Faumuina | Men | Oceania | Quarterfinals |
| San Marino | Giacomo | Panigucci | Men (40-44) | Europe | Open |
| Singapore | Daryl | Cheng | Men | Asia | Quarterfinals |
| Slovakia | Martin | Kruzlic | Men | Europe | Semifinals (German Throwdown) |
| Slovenia | Rok | Dernikovic | Men | Europe | Semifinals (Lowands Throwdown) |
| Somalia | Hassan | Afrah | Men | Africa | Quarterfinals |
| South Africa | Jason | Smith | Men (35-39) | Africa | Games Qualifier (CrossFit Fittest In Cape Town) |
| Spain | Fabian | Beneito | Men | Europe | LCQ |
| Sri Lanka | Andy | Andrews | Men | Asia | Quarterfinals |
| Suriname | Raveendath | Bajnath | Men | South America | Quarterfinals |
| Sweden | Simon | Mantyla | Men | Europe | Semifinals (Lowands Throwdown) |
| Switzerland | Adrian | Mundwiler | Men | Europe | Games Qualifier (CrossFit Lowlands Throwdown) |
| Syrian Arab Republic | Amjad | Keddah | Men | Asia | Quarterfinals |
| Tonga | Sione | Tatu | Men (35-39) | Oceania | Open |
| Tunisia | Alexandre | Bradley | Men | Africa | Semifinals |
| Uganda | Derrick | Mwanje | Men | Africa | Quarterfinals |
| United Arab Emirates | Waleed | Karam | Men | Asia | Quarterfinals |
| United Kingdom | Joshua | Al-chamaa | Men | Europe | LCQ |
| Uruguay | Santiago | Comba | Men | South America | Semifinals |
| Vanuatu | Scott | Monteiro | Men (40-44) | Oceania | Quarterfinals |
| Venezuela | Omar | Martinez | Men | South America | LCQ |
| Zambia | Henry | Mukasa | Men | Africa | Quarterfinals |
| Zimbabwe | Tafadzwa | Mushandu | Men | Africa | Semifinals (Atlas Games) |