CrossFit Games 2016 Updates
Sunday 24.07.2016
THE FINAL DAY OF THE CROSSFIT GAMES!
Katrin Davidsdottir WINS the CrossFit Games 2016!
+++
Mat Fraser WINS the CrossFit Games 2016!
+++
Rich Froning and CrossFit Mayhem win the CrossFit Games again!
+++
Katrin Davidsdottir and Garret Fisher win Event 13: The Plow
+++
Tia-Clair Toomey and Roy Gamboa win Event 12: Suicide Sprint
+++
Katrin Davidsdottir and Jacob Heppner win Event 11: Handstand Walk
+++
The final Events are released
Saturday 23.07.2016
+++
With the final day of competition ahead of them, this the what the leaderboard looks like:
WOMEN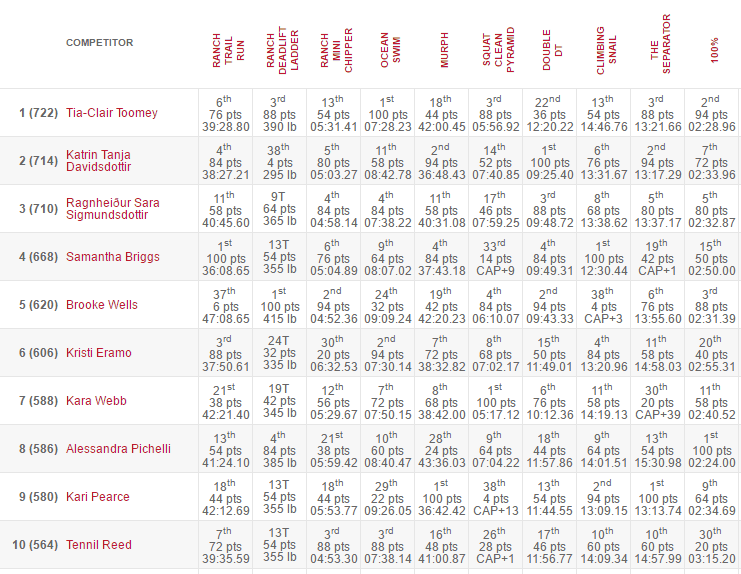 MEN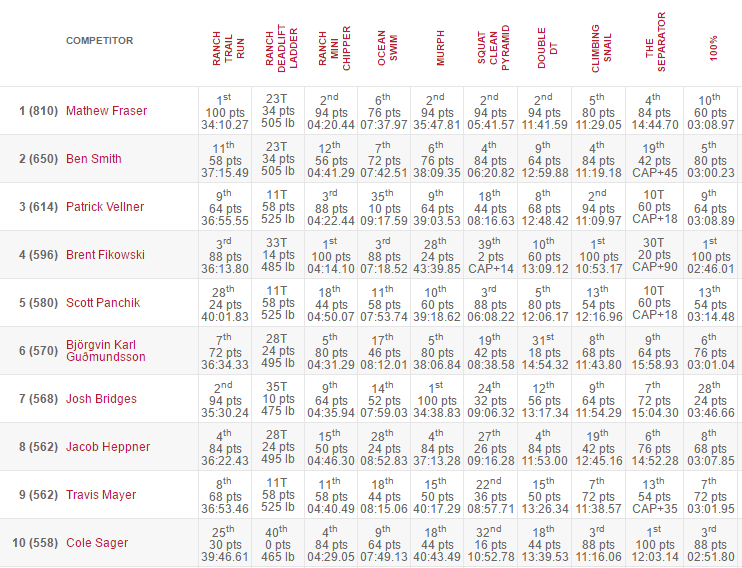 +++
Alessandra Pichelli and Brent Fikowski win Event 10: 100%
+++
Kari Pearce and Cole Sager win Event 9: The Separator
+++
Sam Briggs and Brent Fikowski win Event 8: Climbing Snail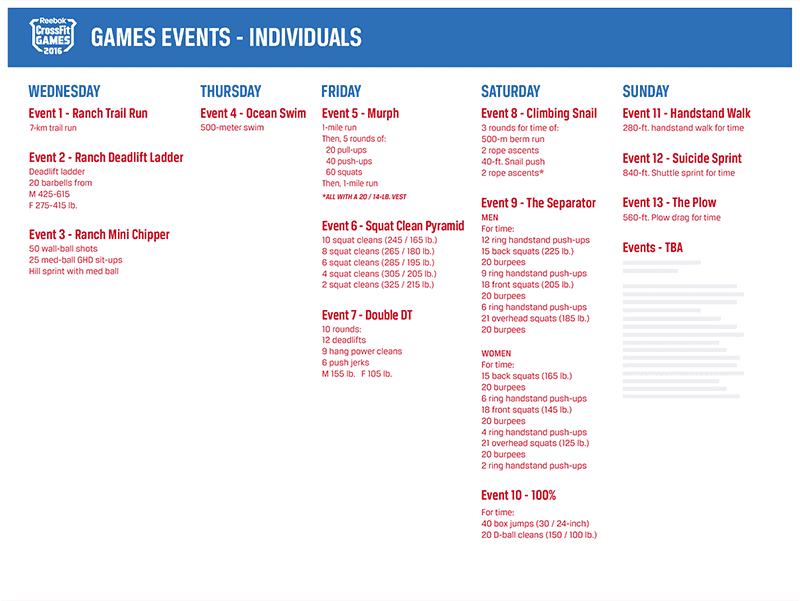 Friday 22.07.2016
+++
Mat Fraser has a 142 point lead at the end of the day! Ben Smith sits in second.
+++
Katrin Davidsdottir and Samuel Kwant win Double DT
Katrin Davidsdottir destroys Event 7, Double DT to take the win! Only 14 points currently separates the top 4 Women (Toomey, Sigmundsdottir, Briggs and Davidsdottir) on the leaderboard right now!
+++
+++
Alex Anderson and Kara Webb win The Squat Clean Pyramid
+++
Josh Bridges and Kari Pearce win Murph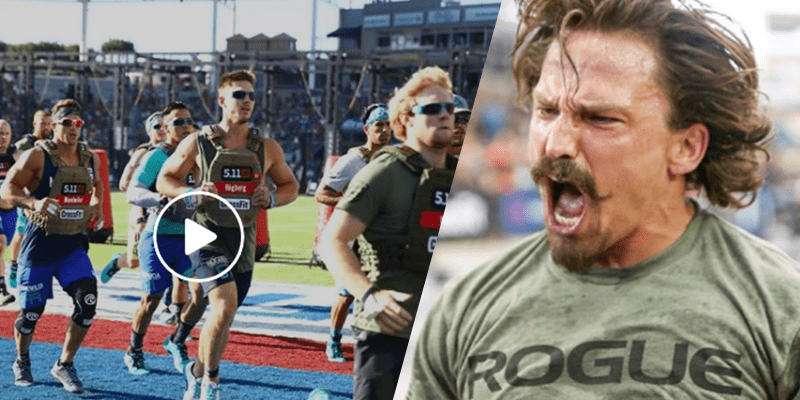 +++
Jonne Koski has to withdraw from the competition because of a bad back.
EVENT 5: MURPH
Points available: 100 points
Location: Soccer Stadium and StubHub Center Grounds
Friday morning
For time, with a 20 / 14-lb. weight vest:
1-mile run
Then, 5 rounds of:
20 pull-up
40 push-ups
60 squats
Then, 1-mile run
Each athlete will wear weighted body armor for the duration of the event.
Time cap: 55 minutes
EVENT 6: SQUAT CLEAN PYRAMID
Points available: 100 points
Location: Tennis Stadium
Friday afternoon
For time:
10 squat cleans (245 / 165 lb.), by 2:00
8 squat cleans (265 / 180 lb.), by 4:00
6 squat cleans (285 / 195 lb.), by 6:00
4 squat cleans (305 / 205 lb.), by 8:00
2 squat cleans (325 / 215 lb.), by 11:00
Similar to Event 1 at this year's regionals, athletes will progress through 5 stations at increasing weights with decreasing reps. Athletes who do not complete all the reps at a given bar before the cut-off time will be given credit for the reps they completed at their last bar and then ranked based on the time at which they finished their last full segment.
Thursday 21.07.2016
Event 4: Ocean Swim
Tia-Clair Toomey and Jonne Koski win the Swim Event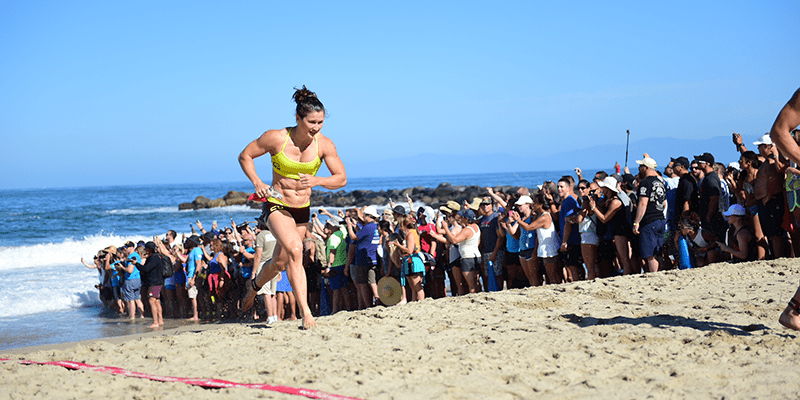 Points available: 100 points
Location: TBA
Thursday 18:00 (09:00 PT)
For time:
500-meter swim
Athletes will start on the beach, swim out around 2 buoys, then finish back on the beach. All 80 athletes, 40 men and 40 women, will compete in one heat.
Wednesday 20.07.2016
+++11:58+++
Annie Thorisdottir and Mat Fraser are both at the top of the Leaderboard after the first three events
+++11:45+++
Brent Fikowski and Annie Thorisdottir win Event 3
+++10:05+++
Event 3: Ranch Mini Chipper
For time:
50 wall-ball shots
25 med-ball GHD sit-ups
Hill sprint with med ball
 Men use 30-lb. ball
Women use 20-lb. ball
+++20:01+++
As soon as Event 2 is finished, Dave Castro announces that Event 3 will commence in an hour!
+++19:58+++
Sam Dancer and Brooke Wells win the Deadlift Ladder
+++20:17+++
As soon as the Trail Run finishes, Dave Castro announces that the Deadlift event will start in less than 15 minutes!
Event 2: Deadlift Ladder
Similar to the 2009 Deadlift ladder, where 1 rep is performed every 30 seconds through a series of 20 barbells that each increase in weight.
Men: 425-435-445-455-465-475-485-495-505-515-525-535-545-555-565-575-585-595-605-615 lb.
Women: 275-285-295-305-315-325-335-345-355-365-370-375-380-385-390-395-400-405-410-415 lb.
Athletes will lift in the reverse order that they finish the run. Last on the run will lift first. First on the run will lift last.
The deadlift ladder will begin 10 minutes after the last athlete completes the run.
+++20:05+++
Event 1: Ranch Trail Run
Sam Briggs and Mat Fraser win the Individual Event 1.  This consisted of a 7km trail run at The Ranch
+++16:07+++
Dave Castro is back on the Ranch!
According to Marcus Filly on the live feed. The athletes will be taking part in 'Murph' at 19:00 (PST). Could they be heading to The Ranch?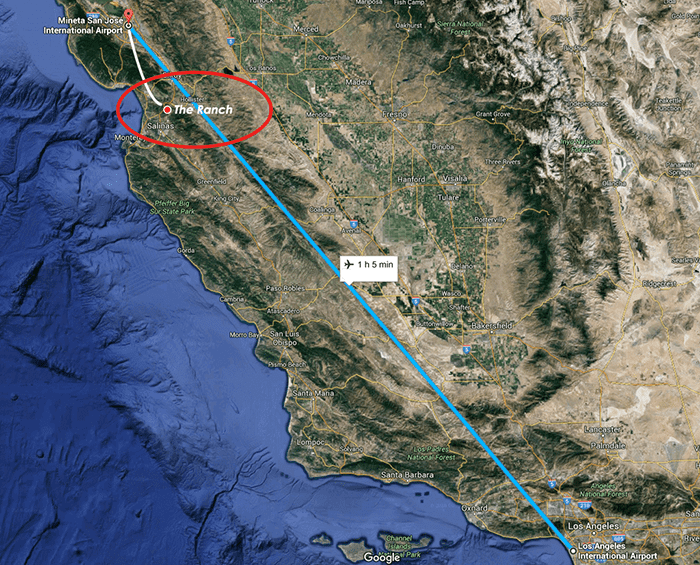 +++13:57+++
The athletes find out they are flying to San Jose…
+++12:57+++
Annie and Katrin on the Way to the airport.
+++12.33+++
Dave Castro just announced to the Individual athletes at 03:30 am (US times) that they will all now be flying to a mystery location for the first event…
*Climbing Snail Event Announced for Individual Competition
600-m berm run
2 rope ascents
40-ft. Snail push
2 rope ascents
600-m berm run
2 rope ascents
40-ft. Snail push
2 rope ascents
600-m berm run
2 rope ascents
40-ft. Snail push
The athletes will not get to touch the Snail until the event.
* Shawn Ramirez is in first place in the Masters 40 – 44 division after a second place finish in the California Club and a first in Adios Amigos events.
* Athletes will start the Individual event at 3:30 am (event still unknown)
At the athlete reception dinner on Tuesday night Dave Castro went into more details about the Squat Clean ladder event, Plow Pull and Climbing Snail event in the individual competition.
Castro ended the reception by telling individual athletes to be prepared to board a bus that would leave the Marriott at 3:30 a.m. on Wednesday morning. He revealed no further specifics.
"I knew he was going to do some Navy SEAL shit. I knew it," said seven-time Games competitor Christy Adkins, referencing Castro's decade-long career as a Seal. "It's our sick nature that we're all more excited than anything else."
---
Tuesday 19.07.2016
*The first day of the Masters and Teenagers CrossFit Games have begun!
Event 1 – California Club
Event 2 – Adios Amigo
Find all the viewing information you need here
*Ocean Swim Event Announced
At the athlete dinner Dave Castro releases more events from the forthcoming CrossFit Games 2016.
Individual Competition
For time:
500-metre swim
All the athletes, 40 males and 40 females will compete in one heat
*Squat Clean Pyramid Event Announced
Individual Competition
For time:
10 Squat Cleans 111 kg (245 lb) 75 kg (165 lb) by 2:00
8 Squat Cleans 120 kg (265 lb) 81 (180 lb) by 4:00
6 Squat Cleans 129 kg (285 lb) 88.5 kg (195 lbs) by 6:00
4 Squat Cleans 138 kg (305 lb) 92 kg (205 lb) by 8:00
2 Squat Cleans 147 kg (325 lb) 97.5 kg (215 lb) by 11:00
PRE GAMES
Shawn Ramirez tests Event 1 of the Masters Events