Summer is here, which means it's time to sweat even more than usual; so why not take your WOD to the pool? Or even better, measure your fitness against the best with a CrossFit Games swimming workout.
Swimming is an excellent cardiovascular exercise that requires a huge amount of fitness, however it isn't seen too much in recreational CrossFit given that you need access to a body of water — but that doesn't mean it isn't regularly programmed into the competitive CrossFit season.
Swimming & Competitive CrossFit
When it comes to the Games, swimming turns out to be the weak link for many seasoned athletes. It doesn't matter how heavy your snatch is, if you can't swim 500 meters at a competitive pace, all that hard work might be lost in the scoring.
This can be seen in even the most hardened and competitive athletes (think Rich Froning at the 2013 CrossFit Games) despite swimming being a staple of the Games since 2011.
Swimming at the CrossFit Games is also usually absolute chaos; with mass starts and athletes swimming over each other to get an edge in the open water swims.
This is another reason the swim workouts at the CrossFit Games are unique compared to any other event. Not only is it an undeveloped skill for a lot of elite athletes, but it can get pretty violent in the water; with athletes being kicked, pulled and pushed as they try and get ahead.
Especially in the early days, the introduction of swim workouts was a huge mental barrier for many elite athletes to overcome; whether that be because it was unfamiliar in their training or because they had never swam competitively before — especially in open water, especially surrounded by their competition.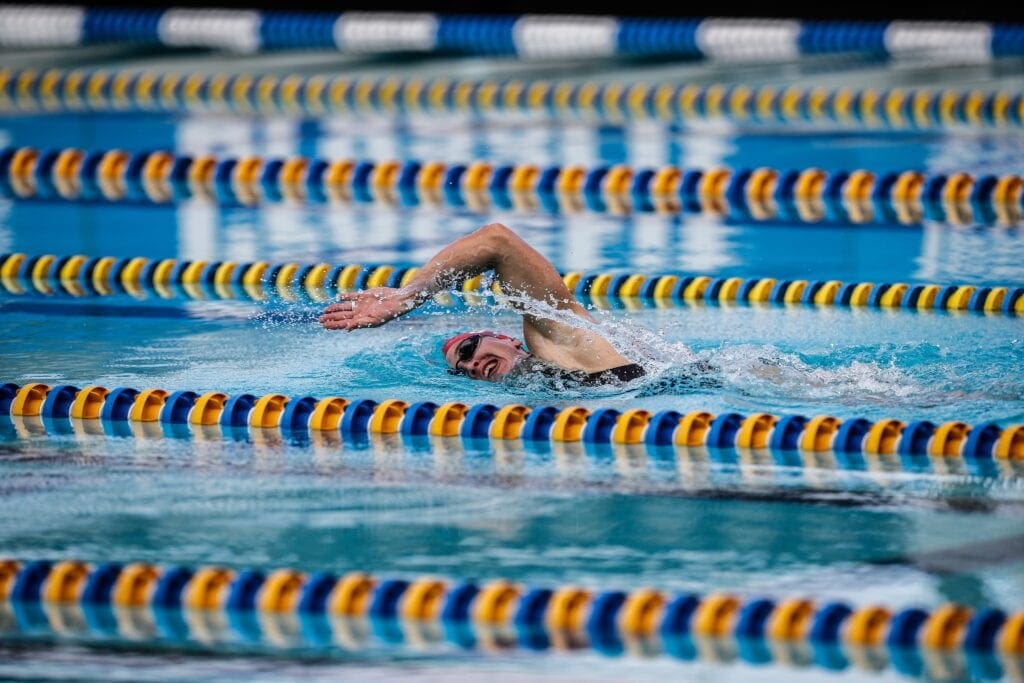 "Not only do I not really know how to swim, swimming in the ocean is vastly different from doggie paddling in a pool!" said CrossFit Coach Shana Alverson of the 2011/12 Games, "I really felt like, if I finished that event and lived through it, I was a success."
In more recent years, the GOAT's Mat Fraser and Tia-Clair Toomey learned that strong swimming is a skill worth developing — even though "Swim Paddle" was Fraser's worst overall event in 2019. In true Fraser style, he bounced back in 2020, coming second only to college water polo player and strong swimmer Noah Olsen.
Every CrossFit Games Swimming Workout
Swimming is now well and truly a part of the Games agenda, but when it comes to functional fitness, it's a surprisingly under-developed skill.
Swimming is incredible for burning fat and building endurance, so if you're looking for a workout that's going to leave you destroyed, why not try one of the workouts from the history of the CrossFit Games.
2011
"The Beach"
For time:
210-meter Ocean swim
1,500-meter Soft-sand run
50 Chest-to-bar pull-ups
100 Hand-release push-ups
200 Squats
1,500-meter Soft-sand run
2012
"Pendleton 1 and 2"
For time:
Swim 700 meters
Bike 8 kilometers
Run 11 kilometers
Pendleton 1 was the swim, bike, and 150m of the run.
2013
"The Pool"
10 rounds for time of:
Swim 25 yards
3 Bar muscle-ups
Swim 25 yards
2014
"The Beach"
For time:
Swim 250 yards
50 kettlebell thrusters (35 / 24 lb.)
30 burpees
Swim 500 yards
30 burpees
50 kettlebell thrusters (35 / 24 lb.)
Swim 250 yards
2015
"Pier Paddle"
For time:
Swim 500 meters
Paddle 2 miles
Swim 500 meters
2016
"Ocean Swim"
For time:
2017
"Run Swim Run"
Run 1.5 miles
Swim 500 meters
Run 1.5 miles
2018
"Madison Triplus"
Swim 500 m
Paddle 1,000 m
Run 2,000 m
2019
"Swim Paddle"
1,000-m swim
1,000-m paddle
Time cap: 50 minutes
2020
"Swim N' Stuff"
With the 2021 Games on the horizon, it's highly likely athletes will have to sink or swim once again. Which CrossFit Games swimming workout will you try?
Read More on BOXROX Pro: Fitness Challenges – How to Improve your Long Distance Swimming