Lauren Fisher and Alessandra Pichelli will go head to head against each other at CrossFit Open Workout 19.3 announcement.
CrossFit Open Workout 19.3 – Lauren Fisher
Lauren Fisher won the 2014 USA Weightlifting Junior National Championship in the 63-kg class with a 70-kg. snatch and a 102-kg clean and jerk, for a total of 177 kilos. She has competed at The CrossFit Games® six times and was the Champion of The Californian Regional in 2016.
https://www.instagram.com/p/BumayZtHrpR/
Lauren Fisher: "I've been competing now since 2012 and even though I'm only 25, I have a lot of experience when it comes to competing. I usually like to listen to music before I go out on the floor and visualize exactly how I'm going to perform the workout. I like to stay in my own little bubble and not worry what anyone else is doing while they're warming up."
"I'm also like anyone else though and I get nerves, but as soon as 3-2-1 hits, I know I'm ready to go!"
The CrossFit Open Workout 19.3 announcement will take place at Diablo CrossFit.
https://www.instagram.com/p/BuhjFcgABJP/
CROSSFIT OPEN WORKOUT 19.3
CrossFit Open Workout 19.3 will be announced, then the two CrossFit Games athletes will compete against one another.
https://www.instagram.com/p/BuU0YqAnChd/
THE OPEN: QUICK STATS
This five-week, five-workout competition is held in CrossFit affiliates around the world. Workouts are released online each Thursday, and athletes have until the following Monday to submit their scores. Anyone who's at least 14 years old can sign up and join in the first stage of the CrossFit Games season.
In 2016, 324,000 athletes participated in the worldwide CrossFit Open—the first stage of competition. From there, 260 athletes—40 men, 40 women and 30 teams of 6—moved on to eight Regional events where the top five in each category would earn an invitation to the Games.
in 2017 there were more than 380,000 participants in the CrossFit Open.
In 2018, 429,157 athletes completed at least one workout from the CrossFit Open.
https://www.instagram.com/p/BuKikXgnDPx/
Stay tuned to BOXROX for all the latest information about 19.3.
"The Open will name national champions in over 150 countries and is an important step in determining the Fittest on Earth. It is also an event that connects the CrossFit community through shared suffering and celebration. The story of the 2019 Open and its announcements will be told by many voices around the globe."
Make sure you are properly fueled for the workout with the following foods:
10 Healthy Pre-Workout Energy Foods For The CrossFit Open
New for 2019, the CrossFit Games Open will be the single largest qualifier of athletes to the 2019 Reebok CrossFit Games. The top 20 men, 20 women and the fittest male and female in each country will receive an invite to the Games in Madison.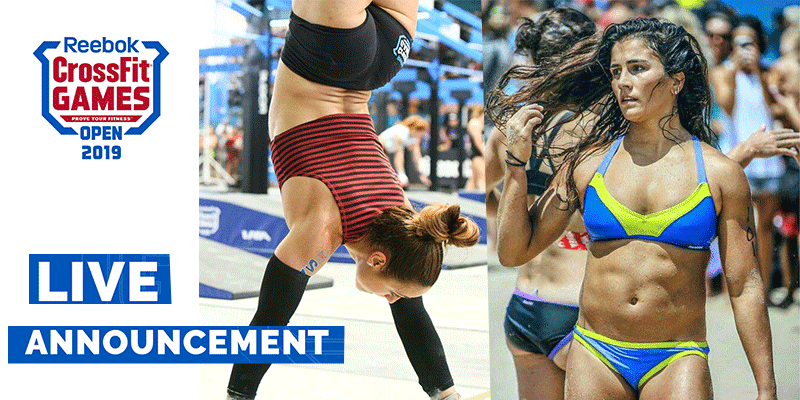 Source: Photos courtesy of CrossFit Inc
This handy link below provides you with a quick resource to identify and include many different types of protein in your diet to ensure you can recover well, build muscle and perform well throughout the entire competition and beyond. Recovery is absolutely vital during The CrossFit Open so that you can consistently perform throughout the whole 5 weeks of fun.
OPEN NUTRITION CHECKLIST – 20 Healthy Protein Sources for Muscle Growth and Recovery