Stefi Cohen, one of the strongest powerlifters in history, tried a tough workout with Brent Fikowski, 2021 3rd Fittest Man on Earth, in a brilliant display of CrossFit vs powerlifting.
The Professor was kind enough to modify a hard CrossFit workout featured in the Dubai CrossFit Championship for the powerlifters.
The original workout, programmed for world-class CrossFit atheltes was:
25 Deficit Handstand Push-Ups
25 Plyo Jump Push-Ups
25 Deck Squats
25 A Jump Squats
25 Reverse Grip Pull-Ups
25 Devil Press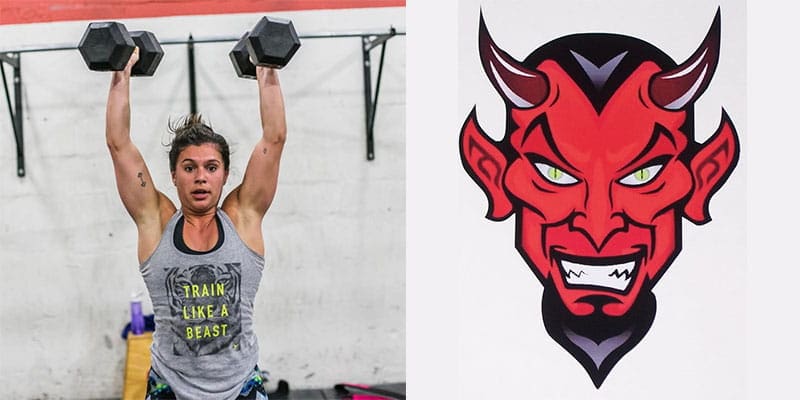 The modified version looked as follows:
20 Plyo Jump Push-Ups
20 Deck Squats
20 A Jump Squats
20 Devil Press
How long do you think it took them to complete the work? Watch a group of powerlifters go through the tough CrossFit workout below.
Read more: 10 Stefi Cohen Workouts To Get In Your Best Shape
CrossFit vs Powerlifting – Brent Fikowski and Stefi Cohen
Who is Stefi Cohen?
Stefi Cohen is famously one of the strongest female powerlifters in history. She is also the co-founder of Hybrid Performance Method,  is a 25x world record holder and has a doctorate in physical therapy.
She is the first woman in history to deadlift 4.4 times her bodyweight and has a 507 lbs competition squat PR and 242 lbs bench press PR.
Read more: Try Out Stefi Cohen's Full Body Workout
Who is Brent Fikowski?
Fikowski is a Canadian CrossFit Games athlete with a career best finish of second in 2017. He has competed at the CrossFit Games every year since 2016, placing inside the top 5 in four times out of his six appearances.
Read more: Brent Fikowski Incredible Transformation: "Building Strength and Muscle Mass Takes Time"