To check out the ONLINE RAFFLE and its prizes, click here, or find more info at the bottom of the article.
SO WHAT IS THE TEAM COMPETITION?
Well, HATLEX are proudly hosting a Cross Training team competition at FIBO with prizes of up to €10,000 of equipment! If you are a strong Crossfit Athlete and are keen to compete in Cologne, at the biggest fitness expo in the world, then sign up below and throw down.
PRIZES
1st place €5,000
2nd place €3,000
3rd place €2,000
Each team will consist of 1 man & 1 woman and there will be 16 teams competing in total.
Additionally, each team will receive free tickets to FIBO, and a €500 bonus to spend on HATLEX.com. They will also get free discount coupons for themselves and the team gym's owner.
WHEN AND WHERE?
FIBO is the largest fitness expo in the world, and is held in Cologne, Germany.
The competition takes place each day from Thursday 07/04/16 until Sunday 10/04/16 in the biggest cross training gym in the entire FIBO Fair with a 350 square metre Gym. As a team you can pick one of the four days (from Thursday – Sunday) that suits you best to compete on and complete the two Workouts.
THE WORKOUTS AND THE RESULTS
Each team will compete in 2 workouts during the chosen day, and every workout will be for time. There are no age restrictions or options to scale the workout. So get ready to turn up and blow away the competition!
All results will be posted online after the event has finished.
Register your team:
[contact-form-7 id="47304″ title="Hatlex FIBO"]
HATLEX will contact you as soon as the registration process is completed. For more updates please check this article or drop us an email for specific information (hatlex-fibo@boxrox.com).
DETAILS
Plan the day and time that would suit you the best, as you will be contacted and asked about which times for the 2 events you would like to compete.
TIMING FOR THE COMPETITION
Both Athletes from each team need to be at the HATLEX booth (Hall 9 Stand D/01) at the FIBO in Cologne half an hour before each workout.
1st and 2nd team: 10:30 and 14:30
3rd and 4th team: 12:30 and 16:30
5th and 6th team: 10:30 and 14:30
7th and 8th team: 12:30 and 16:30
9th and 10th team: 10:30 and 14:30
11th and 12th team: 12:30 and 16:30
13th and 14th team: 10:30 and 14:30
15th and 16th team: 12:30 and 16:30
ENTRY REQUIREMENTS
This is a competition for advanced Athletes. The recommended minimum standards are as follows. You should be able to include 4/5 of the following into a workout:
Ring Muscle Ups: 10 men – 5 women
Bar muscle Ups: 10 men – 5 women
Legless Rope Climb: 6m men – 6m women
Unbroken Double Unders: 100 men – 60 women
Handstand Walk: 10m for both men and women
C&J and Snatch: 1 rep max body weight men – 0.75 body weight women
Deadlift: 10 reps double bodyweight men – 1.5 body weight women
ONLINE RAFFLE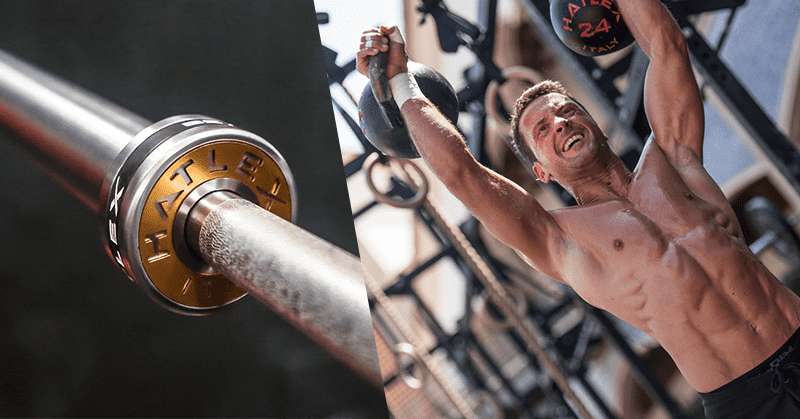 To go alongside the main event, there is also an online raffle where you can win some great prizes that will help you to continue smashing those PRs!
1st place: the first laser cut knurling Golden Olympic barbell 20kg
2nd place: the Super Revo RR 15kg woman
3rd place: the Super Revo RR 10kg
Click on the contest button to enter the raffle.