The 2023 Rogue Invitational is around the corner. It will take place in Texas, as usual, and begins on Thursday and goes through Sunday. Discover below how to watch the 2023 Rogue Invitational for free with its Livestream options and when to tune in.
Just like in previous years, Rogue Invitational will make one main Livestream available for free. However, what is new this time, is that people will be able to choose to pay an additional fee to increase their access to other cameras during the Livestream. It's called the Iron Game Premium viewing option (more details below).
2023 Rogue Invitational
When: October 26-29, 2023
Where: Dell Diamond Stadium in Round Rock, Texas, USA
How many competitors: 20 men and 20 women in the individual division; 10 in the strongman division; 9 men and 9 women in the legends division
Other divisions: Not only some of the best elite CrossFit athletes will be competing, but also 10 participants go head-to-head in Strongman events, and 9 men and 7 women will take part in the Legends, a friendly CrossFit competition with names such as Rich Froning, Josh Bridges, Kari Pearce and Sam Briggs.
In 2022, Justin Medeiros, Laura Horvath and Oleksii Novikov were crowned champions. This year, only Medeiros is not competing again.
How to Watch the 2023 Rogue Invitational – Livestream
Divided by days, here are the Livestreams and how to watch the 2023 Rogue Invitational this weekend.
Thursday (Event 1):
Friday (Day 1):
Saturday (Day 2):
Sunday (Day 3):
Iron Game Premium:
If you want, you can pay a fee to increase the options of cameras you have to watch the events as they unfold.
Once purchased, you will have added 4 different streams to your arsenal: Iron Game Tailgate, drone cam, featured Athlete Cam, and wide cam.
The Iron Game Tailgate stream is hosted by Pat Sherwood and it will bring elite athletes (both CrossFit and Strongman) for a more informal style of conversation with personal insights and immediate reactions to what's going down on the field as events are happening.
Some of the confirmed athletes that will take part are Mat Fraser, Rich Froning, Justin Medeiros, Katrin Davidsdottir, Annie Thorisdottir, Annie Sakamoto, Brian Friend, Hafthor Bjornsson and more.
"Get a bird's-eye view from our drone cameras, jump to our Wide Cams for an all-seeing view, or watch our Featured Athlete Cam, tracking one competitor up-close and personal through each workout."
You can access the Iron Gam Premium content here.
Prize Purse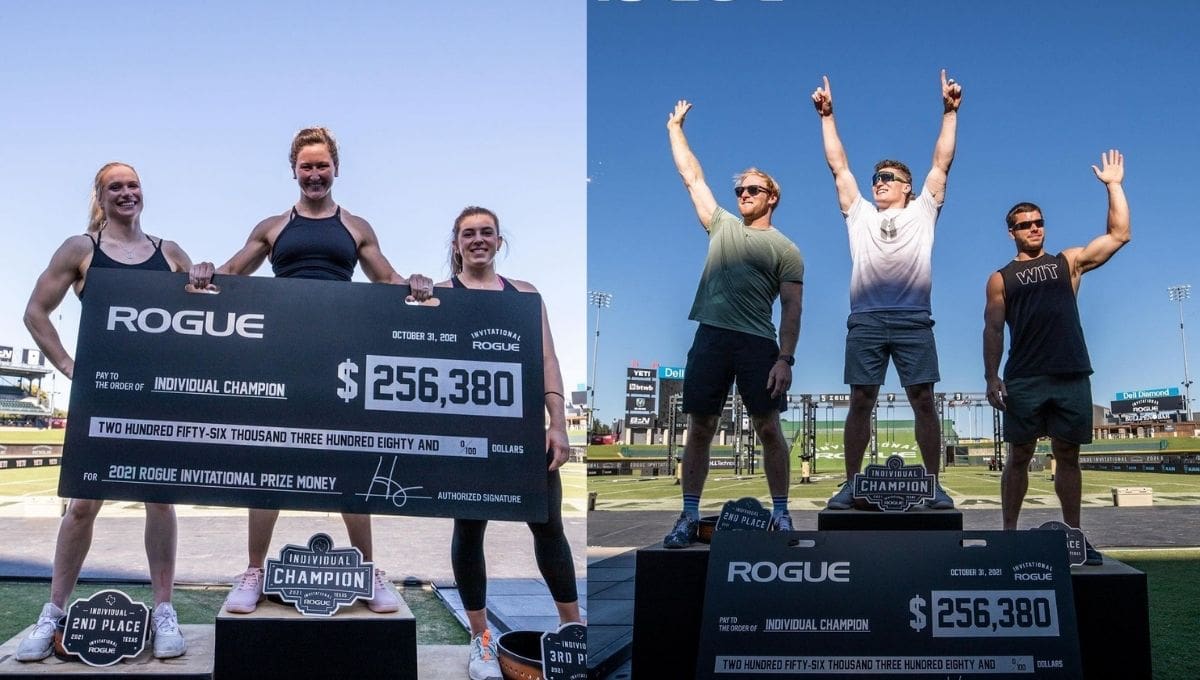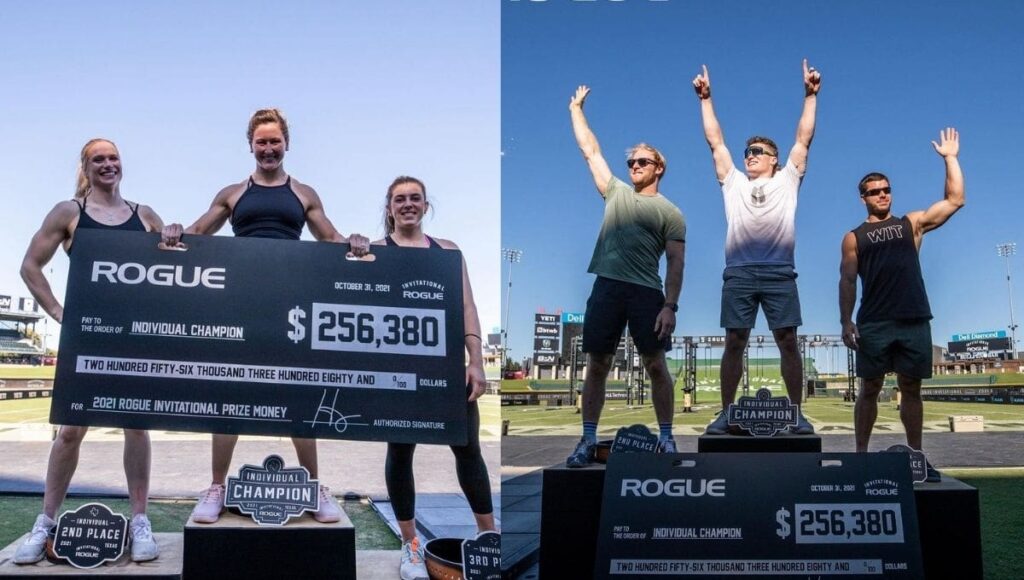 And how much money is involved for athletes competing at the 2023 Rogue Invitational in Texas? The answer is not definitive yet, as the prize purse increases depending on a few factors:
Rogue has provided a 1 million dollar cash investment.
$275,000 of Bitcoin purchased at $16,000 per coin. Any growth on this coin will add to the purse and will be paid out at the valuation at the time the prize purse is locked.
$5 per attendee ticket sold will be added to the purse.
10% of registration fees for the 2023 online qualifier, "The Q"
10% of registration fees for the 2023 community event, "The C"
$5.00 for every Rogue Invitational T-shirt sold
$5.00 for every pair of GORUCK Ballistic Trainers sold on roguefitness.com
Sponsors will have the ability to make direct contributions to the purse
At the time of writing, the prize purse totals U$ 1, 619, 370.80.
This is already a bigger prize purse compared to last year's where a total of $1,272,490 was divided among the athletes depending on their ranking.