In 2018, Jacob Heppner was unable to meet the new HSPU standard in 18.4 because of the measurement of his forearms. As the 6th place finisher at the 2019 CrossFit Games, it is quite clear that he is easily able to do proper handstand push ups (think about "Mary" from the Games earlier this year). In 2018, instead of trying to cheat, he honestly did the workout, posted a bad score with many no reps and consequently did not make it to the Games that year.
https://www.instagram.com/p/B4BThW9gBLh/
"They're (CrossFit HQ) in charge. I learnt that the hard way in 2018, I was irritated, I was mad, I was really upset. The one thing I have learnt about CrossFit is that you pay to play their game."
However, Heppner, an intelligent and dedicated athlete, adapted to the situation in order to make sure it didn't happen again.
"It took me a while to realise that it doesn't matter how much I complain, it doesn't matter if I go onto instagram and be a keyboard warrior…I realised that I wasn't going to be good at it, so I made it a point in fact that if it came up again next year…that I could circumvent it, I could find a way around it."
He tried to find a way around the issue and came up with the following.
"If you're not good at something or you don't like the situation you're in then you have to go out and change it…One way I can stick to the standard is to do them on my fists."
https://www.instagram.com/p/B4Ibx-iHpxa/
In his recent video he goes on to explain the reasons behind his decision.
"I think this is legitimate for these reasons."
REASON 1
In the movement standards: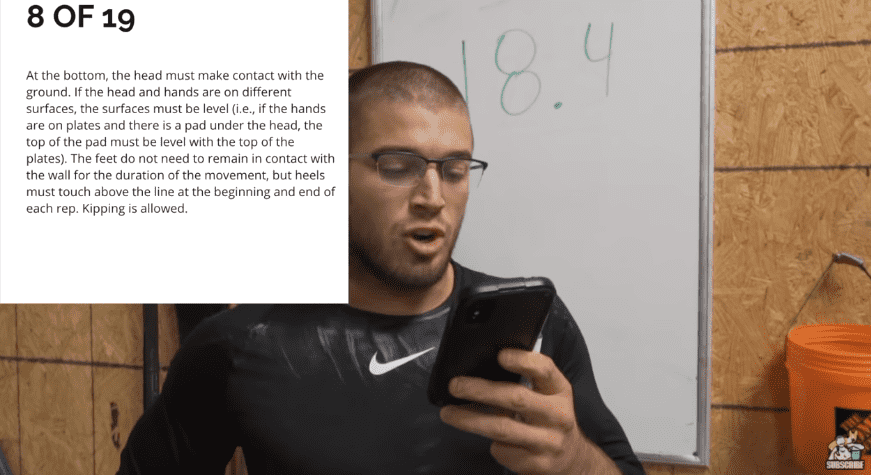 It doesn't say "palms", it says "hands".
REASON 2
We are going to measure our forearms, which also includes our middle knuckle. If I'm going to measure this (middle knuckle), then I should also be able to use this.
What do you think? Let us know in the comments section below.