Combining the comfort and performance of the Nano 6 with the support and lifting capabilities of the Nano 7, the Reebok CrossFit Nano 8 Flexweave is, quite simply, a refined and excellent training shoe.
The latest iteration adds many new advancements and details in order to create a flexible, breathable, adaptable CrossFit shoe that is also incredibly stable for barbell work as well as WODs and endurance sessions.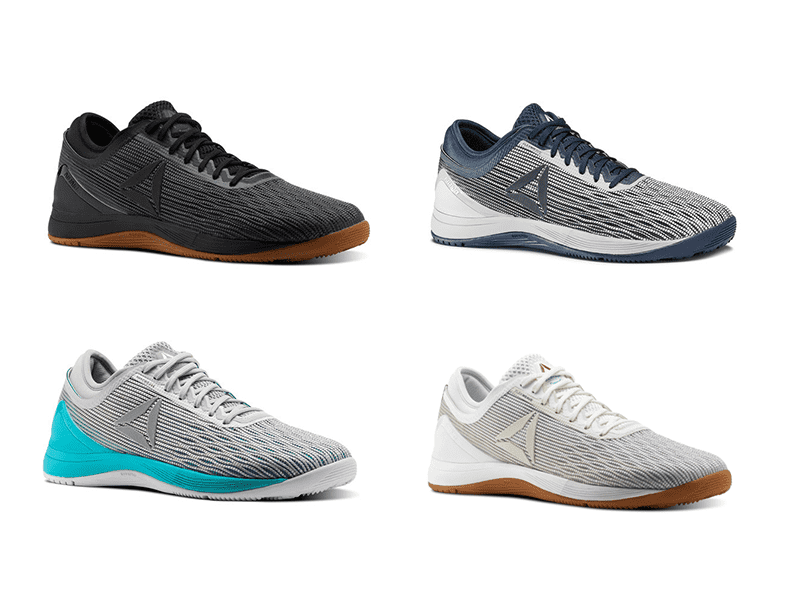 QUICK DETAILS
CMEVA moulded midsole adds cushioning
Designed for: CrossFit performance, flexibility sessions, gym workouts
High abrasion rubber outsole for traction
Toe tection adds durability to the toe area for sports specific activities
Forefoot flex grooves improve performance
Fit: low-cut design for freedom of movement and quicker transitions
Materials: NanoWeave upper for lightweight support and breathability
FLEXWEAVE UPPER
Flexweave is the latest landmark technology from Reebok. The material enables a revolutionary upper boasting a coveted balance of lightness, durability, fit and stability.
Reebok Flexweave interlocks strands of fibers into its open figure-8 construction in order to create a single unified surface. Specially tailored zones provide an improved fit and performance when and where you need it most because the material can be altered to provide areas that are more flexible and others that are more rigid.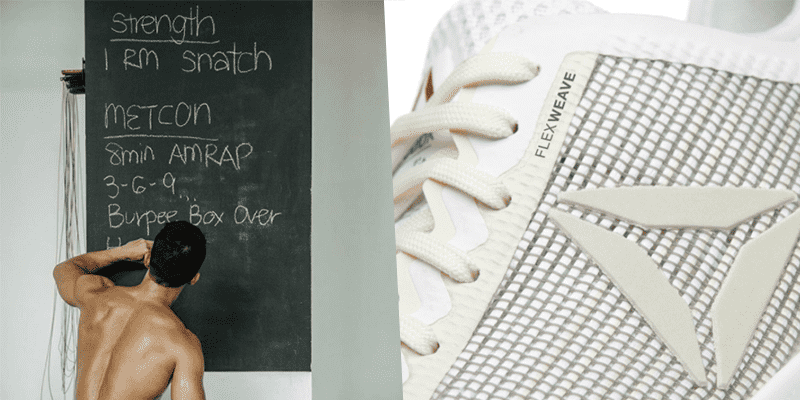 Camille Leblanc Bazinet: "I love how the material is more flexible then the Nano 7… they feel super snuggy and didn't feel like I had to break into them at all"
The weaves are different from the previous model as they run from heel to toe. This helps them to flex naturally with the movements of your feet.
INTERNAL BOOTY
Another change to the upper is that it is also separated at the ankle from an internal booty more similar to the design of the Grace TR. This creates a cushioned collar that separates your ankles from coming into contact with the Flexweave texture and creates a secure and locked in feel. This makes them the most comfortable and responsive Nano that I have ever worn and trained in.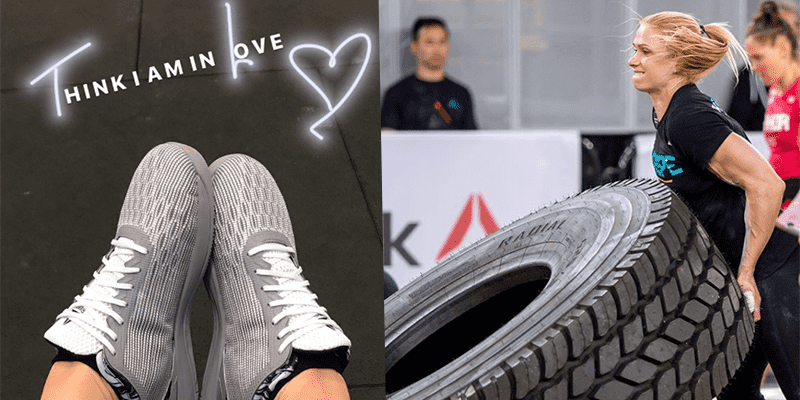 DURABLE COMFORT
One advantage of the Flexweave upper is the way that it hugs your foot and offers great comfort for workouts. The shoe also feels light, allowing you to move quickly and confidently during WODs, runs and lifts.
STRONG YET FLEXIBLE BASE
Part of the reason why the Nano 7 was stiff was from the combination of the midsole and Nanoshell midsole wrap. A single, stiff density midsole occasionally made the shoe feel like it was working against your foot, rather than with it. Previous Nano's were so successful was because they all used dual density midsoles. This combined softer, more flexible CMEVA in the forefoot for jumping and running and stiffer CMEVA in the heel for a stable base for barbell work.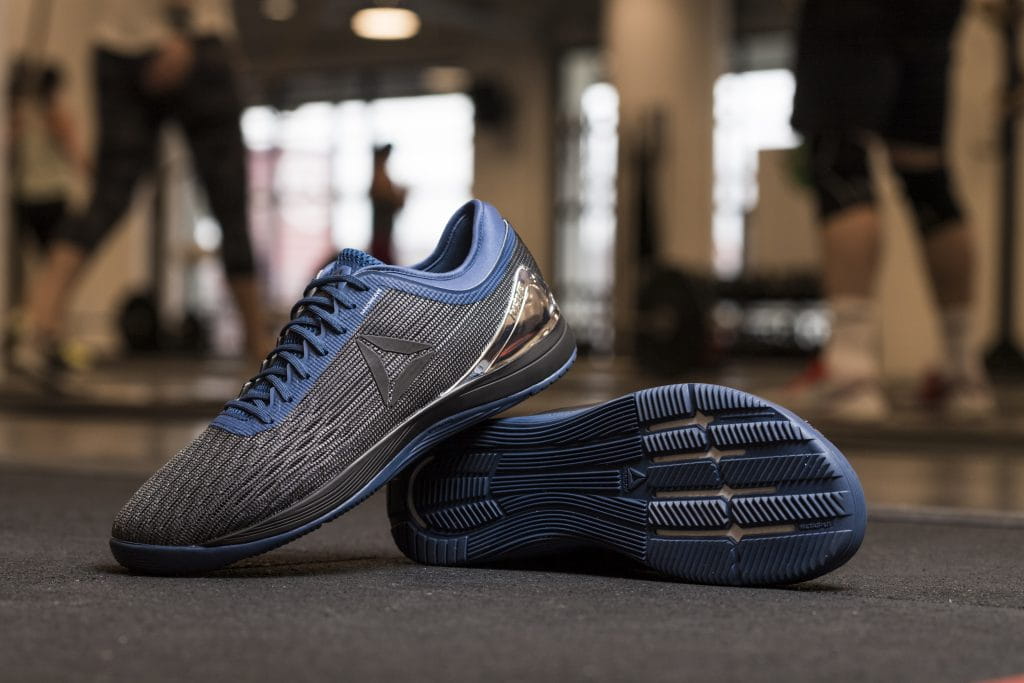 The Reebok CrossFit Nano 8 Flexweave also uses a dual density midsole and improves upon these previous models in order to provide an excellent platform for solid lifting and quick explosive movements.
With the improved flexibility of the upper on the Reebok CrossFit Nano 8 Flexweave, one question I had in my mind was whether or not it would be able to offer the same support, base and stability for lifting as the Nano 7 (or even the Nano 6 for that matter)?
The answer was yes. From touch and go snatching to heavier sets and Olympic Lifting accessory exercises, they were solid and supportive. I even tried deadlifting, squatting and pressing up to 90% of my 1 rep max to see how the shoes felt for stability in a powerlifting context. CrossFit Games winner and Olympian Tia Clair-Toomey was also a fan of how they felt for lifting:
Tia Clair-Toomey: "Absolutely love my Nano 8's, I would go as far to say they are my favourite Nano's to date!!!"
NEW INSOLE AND OUTSOLE
The tread is the same as the previous model, but the material is softer and more flexible. This gave me more grip for short sharp movements (think bar facing burpees) and trail running over rougher ground.
The insole is slightly thicker, which provides more comfort and cushioning for your feet. This detail is helpful for giving your feet extra support for running and jumping.
BREATHABLE UPPER
Another big advantage of the Flexweave / internal booty upper combination is that it stops your feet from ever overheating. These are some of the most breathable training shoes I have ever worn. Even in the depths of winter a long, tough WOD can seriously warm up your feet and make them overheat. Take advantage of the breathability and ventilation that The Reebok CrossFit Nano 8 offers.
Check out Dan Bailey post workout with his personally customised training shoes.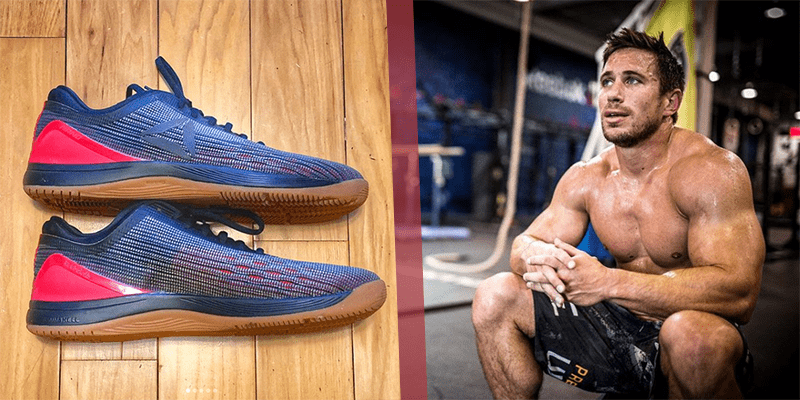 RUNNING
Read what Clemens – Account Manager at BOXROX – thought of the Reebok CrossFit Nano 8 Flexweave.
"As someone who did triathlon and running for several years, I have a good understanding of how a shoe should feel for running and how the sole should be formed to provide optimum power output.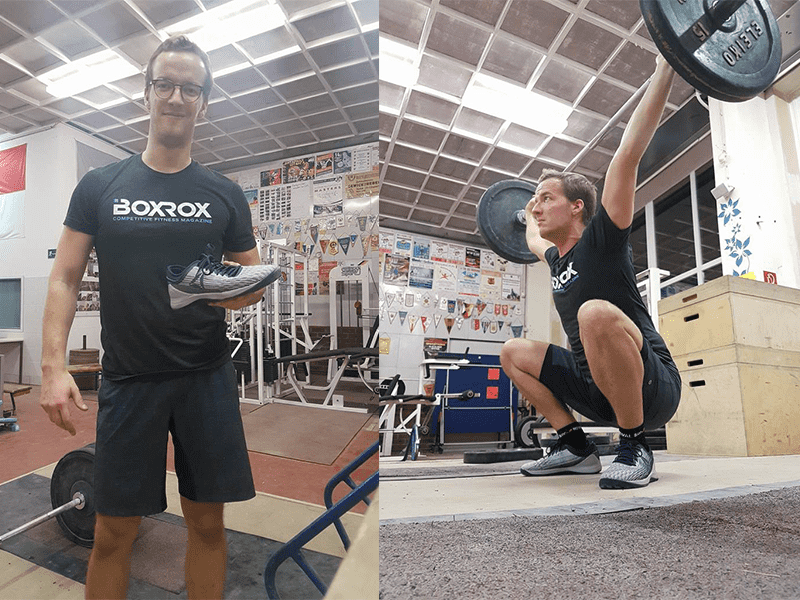 After having worn the first Nano 7 edition, which I considered very clunky – especially in the heel part – making me feel more like a bull in the china shop when running, I was pleasantly surprised about the new Nano 8. A soft but stable sole with freedom for my ankles gave me a better and more comfortable running flow at longer distances. There was enough grip for shuttle sprints and explosive movements made a great impression during testing. Taking into consideration that I did 12h hikes, Toughmudder events and 10+ km runs in my Nano 2's and 4's and knew them very well, the newest edition left me with the feeling that this one is the best Nano for endurance training so far."
WEIGHTLIFTING
"Next to my normal Crossfit classes I also train 1-2x a week at our local weightlifting club. I forget my Oly's from time to time in the box so I need to train my WL skills with my Nanos which is not always optimal. Since using the new Reebok CrossFit Nano 8 Flexweave I don't really worry anymore. The heel might be not the highest, but I feel grounded firmly with a solid feel. I don't worry about wobbling back and forth in my catch position or with explosive downward movements like the snatch or snatch balance."
CAMILLE LEBLANC-BAZINET
Check out how this Canadian former CrossFit Games winner has put her own personal style into her design. What colours would you choose?
Get your Nano 8 Flexweave now!