The Reykjavik International Games (RIG) put forward four teams of 1 male and 1 female to battle head-to-head in Iceland. Katrin Davidsdottir and her teammate Andre Houdet have won the tournament after 5 events.
The Reykjavik International Games is a week-long sports festival featuring multiple modalities from beach volleyball, through chess, to powerlifting. CrossFit was also part of the multi-sport competition with four teams of elite athletes competing in a 5-event mini-tournament.
Teams:
Katrin Davidsdottir and Andre Houdet
Annie Thorisdottir and Khan Porter
Lauren Fisher and Tola Morakinyo
Rebecka Vitesson and Gardar Olafsson
After 5 events Katrin Davidsdottir and Andre Houdet won the competition.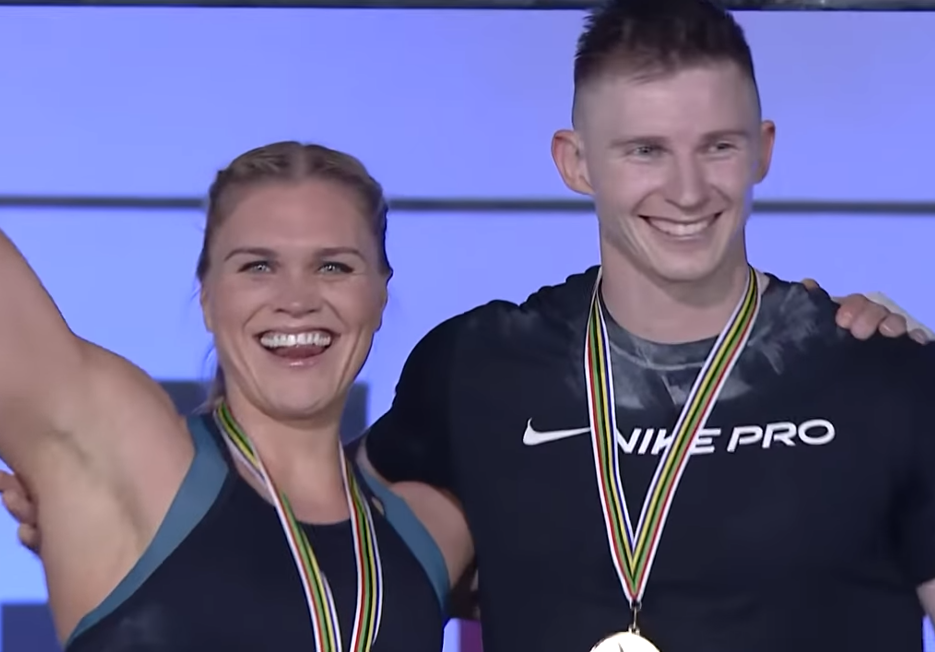 The Reykjavik International Games also served as a fitness check for four athletes who will be competing in the teams division this year during the CrossFit season: Annie Thorisdottir, Khan Porter, Lauren Fisher and Tola Morakinyo are part of Team CrossFit Reykjavik.
Reykjavik International Games
There were a total of 5 workouts prescribed for the competition. The most anticipated one, as expected, was the one-rep max. Female athletes had to perform a snatch, while men had to do clean and jerk.
One of the highlights was Annie Thorisdottir easily snatching 85 kilos (187 lbs). That is 5 kilos (13 pounds) less than what she lifted at the CrossFit Games, the same weight that Tia managed in the Coliseum.
Although impressive, Annie Thorisdottir was not the only female competitor to snatch 85 kilos. Swedish athlete Rebecka Vitesson tied in 1st place at the event.
Andre Houdet clean and jerked the most out of all male competitors: 165 kilos.
Reykjavik International Games Workouts
Event 1 – Feel the Burn
Female:
9-6-3
Clean and Jerk (50kg)
Burpees Box Jump Over
Male
9-6-3
Power Snatch (80kg)
Burpees Box Jump Over
Event 2 – The Breather
30/26 cal bike
30 synchro deadlift 110/75 kg
20/18 cal bike
20 synchro front squat 80/55 kg
Event 3 – Liftoff
Female:
Male
Event 4 – The Workhorse
9-7-5-3
D-ball clean and push press
Burpee over ball
Event 5 – The Relay
8 double dumbbell power snatch
8 dumbbell thrusters 22,5/15 kg
8 bar muscle-ups
3x 7-metre handstand walk
Watch the Full CrossFit Event of Reykjavik International Games
Read More: New 2022 CrossFit Games Rulebook Released: 5 Major Takeaways