The BOXROX Showdown brings you a unique online fitness competition! Start 2021 with a success, challenge yourself and interact with the community's leaderboard.
Take part in fifteen days of competition, three fun workouts and exciting prizes with a combined worth of up to $400!
To ensure everybody can compete, we designed all workouts to be easily performed from home (or anywhere else) with minimal equipment, so there's no excuses not to join.
All you'll need is a small place to work out, a jump rope and somewhere to jump up to.
???
Prizes from the BOXROX Showdown sponsors will be handed to the top male and female athlete in each workout, as well as the overall winners. Some prizes will also be given out at random, so there's always a chance you might win something fun!
The BOXROX Showdown is powered by:
[boxrox_challengeme_sponsors]
BOXROX SHOWDOWN WORKOUTS
Workout 1: BOXROX Burpee Galore – starts January 22
Workout 2: BOXROX Box Jump Bash – starts January 27
Workout 3: BOXROX Double Under Dare – starts February 1
Scores for each workout are to be uploaded by January 26 and January 31 and February 5 respectively.
You'll have five days to complete every workout and submit your scores, and you can try every workout as many times as you want within that time window in an attempt to improve your score.
Sign ups will stay open throughout the competition, but if you miss a workout you'll forfeit your chances of becoming the overall winner.
CHALLENGE YOUR FRIENDS
With ChallengeMe's exciting interactive leaderboard, you're able to watch your friends compete – and judge them if you want. Give kudos to incredible efforts and downvote sketchy attempts. You can also leave comments on anyone's try, just be nice.
Refer a friend and get a free 3-month BOXROX Pro membership! *
Uploading videos of your attempts keeps everyone accountable and it's a great way to interact with the community. For obvious reasons, only workouts with a video (time-lapse allowed) will be eligible for prizes.
Take part in the BOXROX Showdown
You can challenge yourself whenever, so why not start now? We're excited to have our community connect and to give you a reason to push yourself and start the year motivated.
Join the BOXROX Showdown for $10 now! Scaled and RX BOXROX Pro members get free entry. **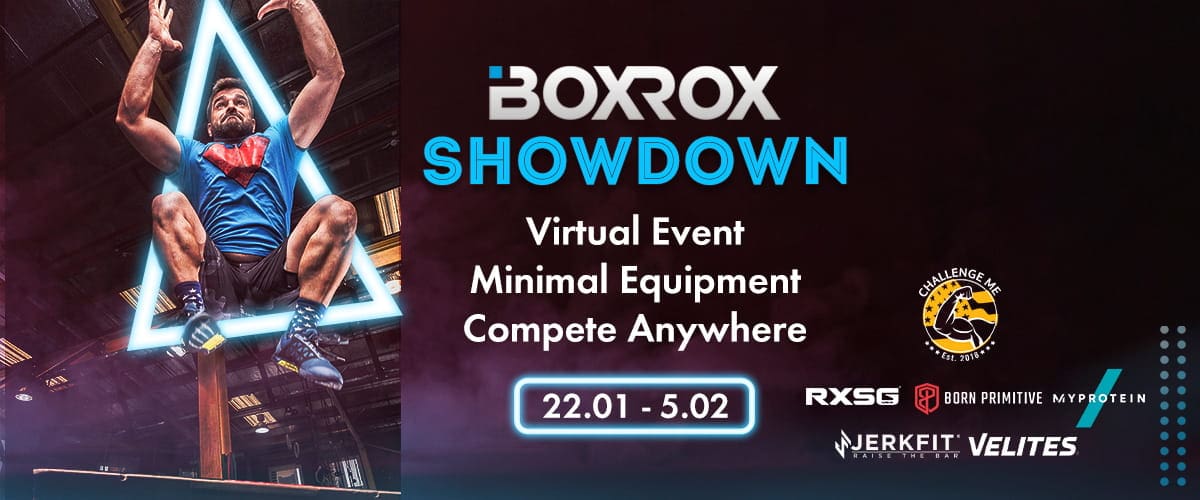 *Just email support@boxrox.com once they've signed up.
** Scaled and RX BOXROX Pro members: email support@boxrox.com to receive your invitation.