FRAN
21-15-9 Reps For Time
Thrusters (95/65 lb)
Pull-Ups
Perform the 21 Thrusters and 21 Pull-Ups, then 15 Thrusters and 15 Pull-Ups, then 9 Thrusters and 9 Pull-Ups, as fast as possible.
Score is the time it takes to complete all 90 reps.
Good Times for "Fran" (source)
– Beginner: 7-9 minutes
– Intermediate: 6-7 minutes
– Advanced: 4-6 minutes
– Elite: <3 minutes
Tips and Strategy
Prior to "3…2…1…GO!" pick a tough (yet realistic) rep scheme that allows you to go fast. If unbroken sets isn't appropriate for your fitness level yet, try this: Break the sets of 21 into 3 sets of 7 reps; break the sets of 15 into 2 sets of 8 and 7 respectively; and go unbroken on the sets of 9. Rest minimally during breaks.
Intended Stimulus
"Fran" should be fast and light. During the WOD, you should (at least once) wonder why the hell you agreed to this.
Scaling
This WOD is meant to feel light, fast, and evoke pain—the good kind of pain. Both the thrusters and pull-ups should be done in large or unbroken sets. Scale the movements so you can go FAST—sets of two and three repetitions won't get your lungs/legs/arms burning in the way they were intended to burn for this WOD.
Intermediate
21-15-9
Thrusters (75/55 lb)
Pull-Ups
Beginner
21-15-9
Dumbbell Thrusters (2×15/10 lb)
Ring Rows
FRACTURED FRAN
5 Rounds for Time
9 Thrusters (95/65 lb)
9 Pull-Ups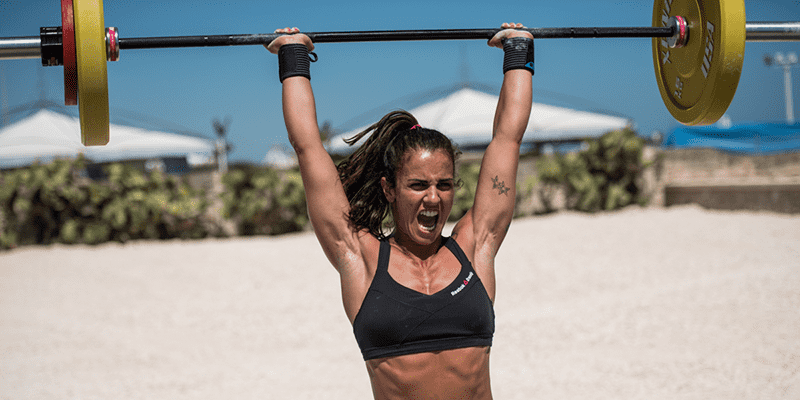 THRUSTER WOD – HEAVY FRAN
15-12-9 Reps For Time
Thrusters (135/95 lb)
Weighted Pull-Ups (45/30 lb)
For weighted pull-ups place a dumbbell between the legs or wear a belt with a kettlebell (1.5/1 pood) between the legs. Or use a weight vest.