2023 Wodapalooza is shaping up to be an enjoyable experience watching the teams competing. Elite CrossFit athletes Brooke Wells, Kristi Eramo O'Connell and Amanda Barnhart are teaming up for the competition in Miami next year.
The 2023 Wodapalooza is taking place in Miami on January 12-15. This tournament is regarded as the biggest one for CrossFit athletes that kicks off the new year. Although most of the time people are excited about the individual athletes competing, the team division will draw a lot of attention from lovers of the Sport.
That is, partially, because Wodapalooza organisers changed the competition format. The first two days of the tournament will be dedicated to teams only, while the remaining two days will have events solely for individual athletes.
That means that athletes, even at the elite level, can compete in both team and individual divisions.
Wells, O'Connell and Barnhart Teaming Up for Wodapalooza
Brooke was the first one to break the news about going team for Wodapalooza. On her Instagram stories, she wrote it was a "last-minute decision" to go team, and asked people to guess who are her two other teammates.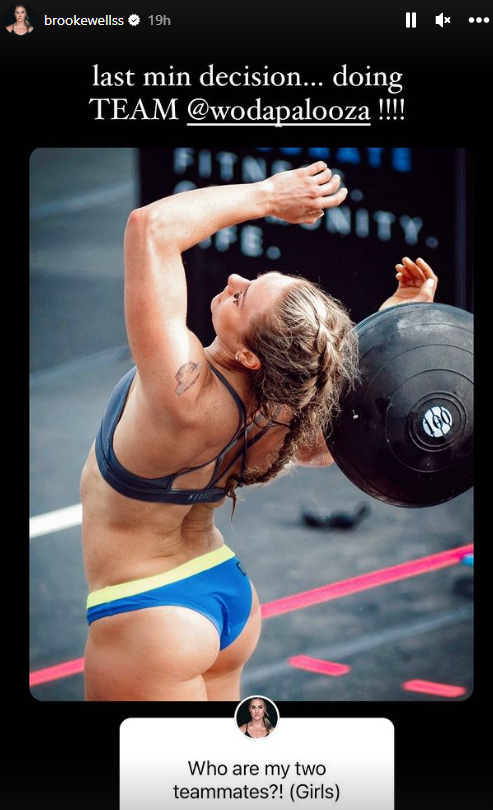 It didn't take long for Kristi Eramo O'Connell and Amanda Barnhart to confirm rumours that they were teaming up with Wells. O'Connell wrote "YES!!!! Central girls back together," while Barnhart said they needed to come up with a team name for WZA.
Wells, O'Connell and Barnhart are some of the best female CrossFit athletes in the world. This year, Wells finished 5th Fittest Woman on Earth less than a year after her elbow surgery. O'Connell and Barnhart finished 13th and 14th respectively.
More Elite Teams at 2023 Wodapalooza
This is not the first team comprised of elite-level CrossFit athletes that will compete at Wodapalooza in Miami. So far, these are the teams confirmed for the competition with notable CrossFit Games athletes:
For the women's side:
Danielle Brandon, Andrea Nisler and Taylor Williamson
Kari Pearce, Arielle Loewen and Alex Gazan
Christine Kolenbrander, Alexis Raptis and Fee Saghafi
For the men's side:
Rich Froning, Tyler Christophel and Samuel Cournoyer
Ben Smith, Alec Smith and Dane Smith
Brent Fikowski, Pat Vellner and Jeff Adler
Ricky Garard, Tim Paulson and Matt Dlugos
Cole Sager, Jayson Hopper and James Sprague
Noah Ohlsen, Travis Mayer and Chandler Smith
Are you excited about the 2023 Wodapalooza?