SuprfitEurope.eu aims at the special needs and requirements of athletes and box owners. The shop offers a wide range of training equipment, gear, accessories and apparel from numerous manufacturers. Additionally, Suprfit also offers support and advice on topics such as opening or enhancing a box and provides all the required equipment, from flooring to rigs and racks, out of one hand.
How to win a barbell and a set of plates?
Take a minute, go to www.boxrox.com/giveaways/suprfit and answer one simple question. With this simple task, you give yourself a chance to win one of the following prizes everyone wants to have:
#1 Prize: Suprfit Warrior Eco Bar + 150 kg of Bumper Plates
The Suprfit Eco Warrior Bar is the perfect compromise between quality and price. It's designed to meet the standards of the International Weightlifting Federation (IWF). The Eco Warrior Suprfit Bar (Bushing) has a black shaft with markings for weightlifting and powerlifting as well as silver sleeves.

The Eco Warrior Bar is perfect for beginners up to experienced athletes training weightlifting, power lifting and also functional training. This Olympic barbell is perfect for your favorite exercises from deadlifts to all Olympic lifts and other exercises usually included in Crossfit workouts.


Beside the first prize –Warrior Eco Bar + 150 kg of Bumper Plates, Suprfit is also giving away:
#2 Prize: SPRFT Shirt, Sweater and Sackpack
Update your Crossfit wardrobe with the Suprfit clothing line: SPRFT sackpack, comfortable training t-shirt and sweater.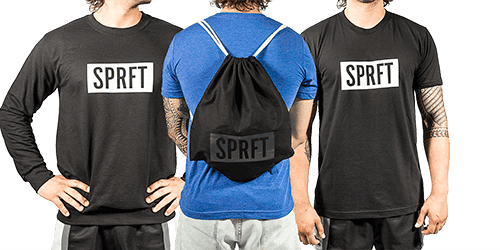 #3 Prize: 25 € Voucher
Stack on the latest Crossfit gear with this Suprfit voucher: shopping-code for the Suprfit shop in value of 25 €.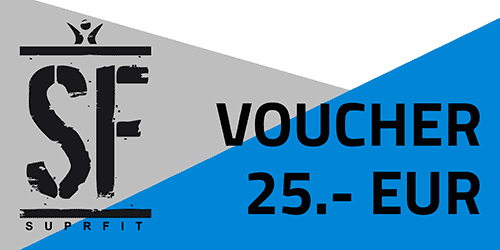 How to enter the contest?
Click on the button below and answer one simple question: how heavy is the men's Olympic barbell? Also, don't forget to invite your friends, coaches and box owners to let them know about the amazing prizes they can win!