If you've ever found yourself Googling "working out with your other half" or "fitness couples" it's highly likely your browser timed out due to boredom.
You're greeted with some pretty run-of-the-mill write-ups:
"Top 20 Hottest Fitfluencer Couples"
"How to Work Out with Your Partner" – which usually involves high fives between reps
Or advice stating to treat workout together like a date (just don't forget the flutes of BCAAs and a protein bar amuse bouche)
What do real-world couples who have been running, CrossFitting, and overall fitness-ing together throughout the years have to say?
I decided to find out just that. And, as you can imagine, there are a lot of dynamics at play.
Fitness Couples on all Levels
To begin to narrow it down, I asked three main questions:
How do extremely competitive "athlete" couples train together?
How do "normal" couples train together?
What can we learn from the aforementioned couples and apply it when training with our significant others, no matter each person's abilities or goals?
If you and your partner are in lockdown, fear not. You will finish this article with more insight on how to train together successfully.
I talked to four couples; two are world-class athletes, full-time coaches and personal trainers, while the other two are working towards a more general, but nonetheless important, continuum of health and fitness which encompasses their own individual goals.
1. Carmen Bosmans and Tom Walker – Elite CrossFit Athlete and Elite Triathlete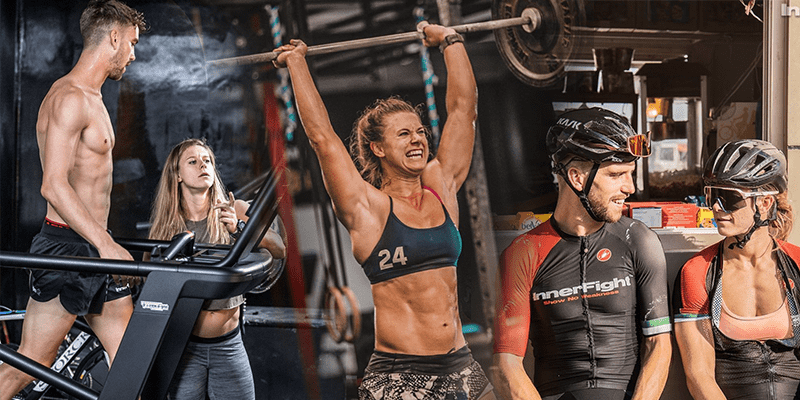 If you don't already know, Carmen is one hell of a CrossFit coach and athlete who has been to the European CrossFit Regionals three times and once to the CrossFit Games. Her other half? Tom is a full-time endurance and performance coach who is training for the Ironman World Championship; the Ironman Kona. They both work in Dubai at the prestigious InnerFight and yes, they're pretty legit.
You might already know that endurance and CrossFit athletes have training programs very specific to their individual sport. But, interestingly enough, Carmen and Tom make their training time work better than most.
They might grab their bikes on a Friday and head to the Dubai desert for a long cycle together. And, because of their different training modalities, they plan their session together accordingly.
For Tom that means an "active recovery" cycle while Carmen might approach it as one of her harder endurance sessions for the week. You can still be sure to catch Carmen in the gym working on her lifts and gymnastics but these days she can also be found running and cycling through the Dubai desert and mountains using her fitness to "enjoy just living."
Carmen's favourite thing about training with Tom?
"It's just nice to have someone there and he can push really deep with his mental resilience. I like to train with someone who can suffer."
Spoken like a true CrossFit Games athlete.
Tom's least favourite thing about training with a previous CrossFit competitor like his partner? 
"When she finishes a workout and is rolling and spitting on the floor."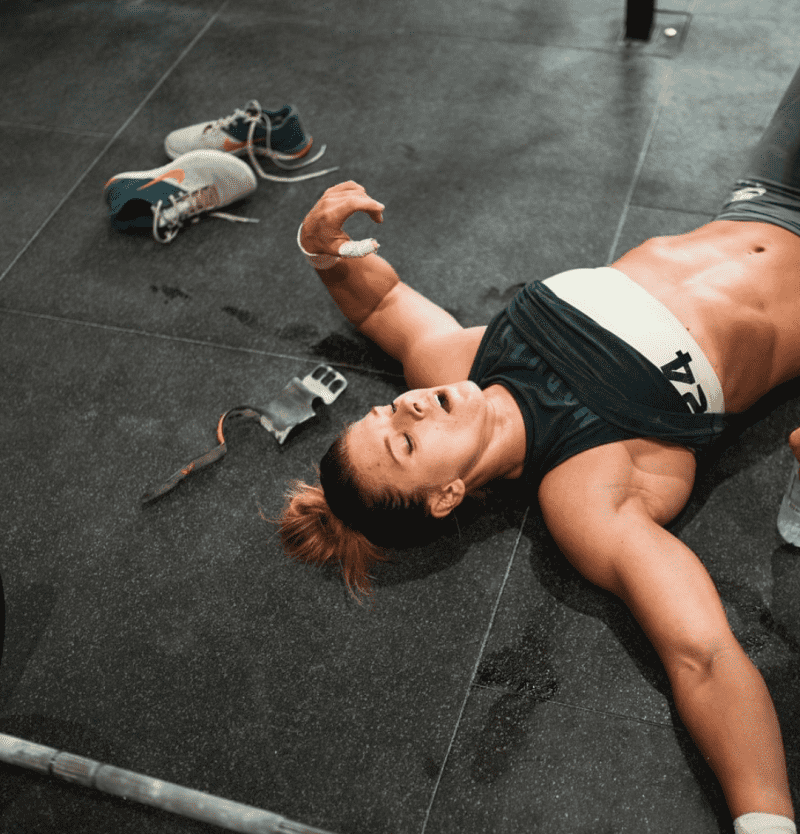 Jokes aside, they both know how to work hard and not sweat the small stuff. For Tom, he's learned from Carmen that he can mix going "full-gas" with enjoyment, and that his training can sometimes include a more laid back approach.
Don't let Tom fool you though, god knows what Tom's definition of "laid back" means for the general public.
What advice would they give other couples thinking of training together?
Tom says: "Train for yourselves not each other. If your schedules happen to align then great but don't force it."
2. Jen And Alex – Not Competitive Athletes, But Athletes and Awesome Humans Nonetheless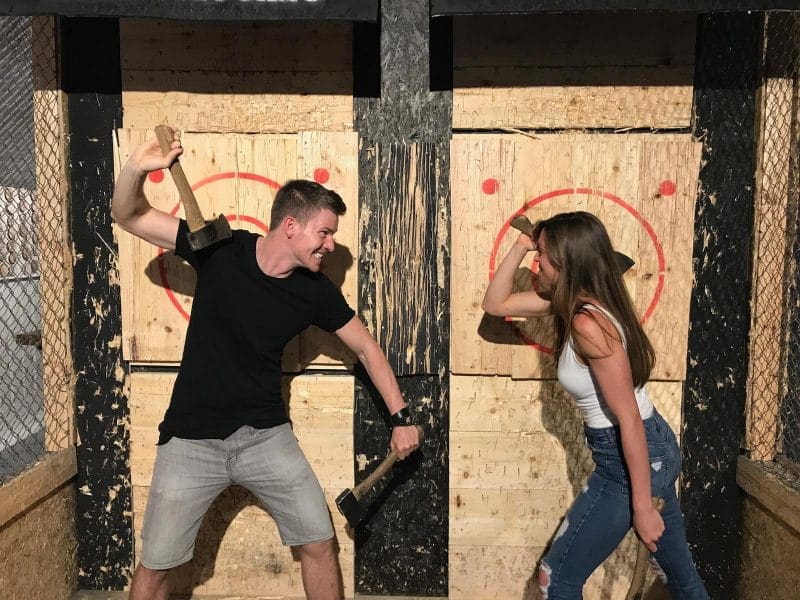 Alex works for Google and Jen for the NHS. When they aren't in the office or working from home due to the pandemic, they make sure to find time throughout the week to get out and moving.
Alex's goals include more muscle mass, while Jen wants to get stronger and increase her mental resilience. Jen's a quick and nimble runner, but sometimes she needs a bit of a push to step outside of her comfort zone when it comes to weights.
Jen's favourite thing about training with Alex?
"It really does help training with someone that wants you to do well and keep moving. It's just fun having someone to share your fitness passion with. He pushes me because he knows I'm more than capable and it's fun to see what you can do, I like being pushed – I just don't do it to myself often enough."
So, how do they manage it? Alex gets his programming done by a CrossFit Coach, which Jen happily follows along with during their sessions together.
While she knows they will be tough workouts, Jen can adapt the workout to fit her abilities while still working towards her own strength and mental resilience goals. If you've ever seen Alex and Jen at the gym, it's always with a smile on their faces.
They continue to enjoy their fitness routine because they also know how to make it fun. You'll often find Jen dancing during rest periods with the hope that one day Alex will join in.
3. Jess Towl and Luke Skippon – CrossFit Dynamic Duo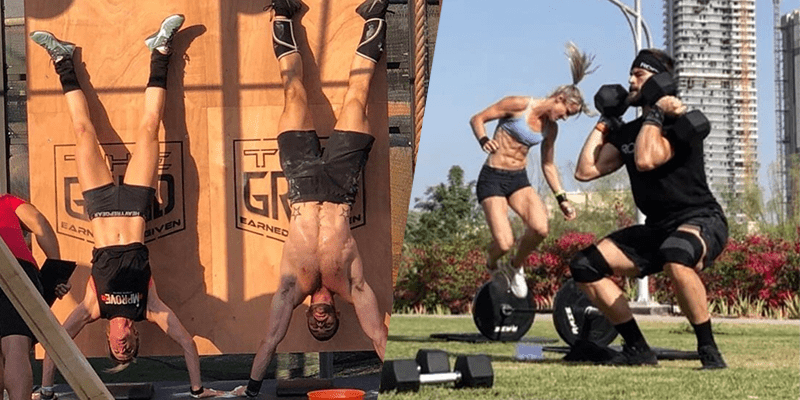 Jess Towl is a full-time CrossFit and triathlon coach who has been to CrossFit Regionals twice (she's the world record holder for the Triple 3 event) and she's competed for ten years in triathlons representing Great Britain.
Luke Skippon is a full-time CrossFit coach and personal trainer with a strongman background, and has placed Top 3 in the UK's Strongman under 21 division. He's also come third in the World Firefighter Championships.
You'd think being in a relationship with a fellow CrossFit coach would make training together simple, but it actually can make things more difficult.
Jess and Luke both have separate schedules that include a fair share of early mornings and late evenings spent working at their respective gyms. When their schedules do allow time to train together, they need to remove any guesswork.
As full-time coaches and personal trainers, they spend countless hours creating training sessions for clients; the last thing they have time for is designing their own training program on a daily basis.
The antidote? They follow the same online training program. All they need to do is open the App, read what the day's session is and start moving. It's pretty similar to using a meal prep company versus constantly cooking your own meals; the food prep and nutritional components get taken care of, so you just need to eat and stay fuelled.
However, if you're both extremely competitive and of similar abilities, make sure you can keep that competitiveness on the gym floor to avoid any domestic disputes.
How do Jess and Luke manage competitiveness? 
According to Jess: "It's not a coincidence that he always just beats me by 1 or 2 reps in a WOD. Luke pushes himself to make sure he beats me and I work hard to try and beat him so we both have to sometimes reel in our naturally competitive streaks. But having someone that pushes you to work harder definitely isn't a bad thing!"
What advice would they give other couples who are thinking of training together?
"Every relationship is different. If you spend a lot of time together outside the gym it might be nice to train separately, or on the other hand you could use your gym time to spend more time together!
"Don't try to be competitive unless you are at a similar level. Don't take it too seriously and have fun."
4. Jenny Wilson and Danny Hooper – A Super Adventurous Couple That Are Privy to Endurance Training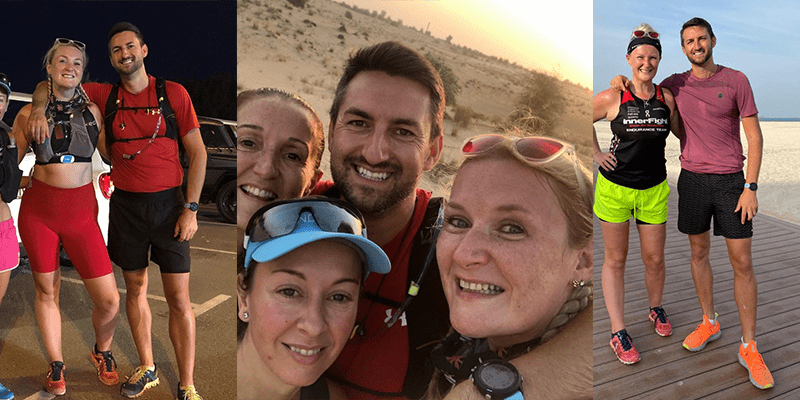 Jenny has 5 marathons and 11 half-marathons under her belt, which inspired Danny's newfound love of running. And it doesn't hurt that they live in Dubai, with sunshine all year round and miles of desert with some amazing tracks to take advantage of.
So, how do they keep clocking the miles together? They've got their own endurance coaches and make sure to factor in going to their gym's "Track Tuesday" and "Saturday Coffee and Run" groups together.
Besides training together, Jenny and Danny have decided to jointly push their limits in the real world. A few months ago they decided to sign up for InnerFights Into the Darkness Challenge (50km cycle, 50km run, 50km cycle).
Neither of them had completed a challenge of that size before, so they decided to tackle it together.
This is where it gets interesting.
Even if you've done the training and worked on your mindset for the competition, there is always going to be a few elements of surprise. Any new physical challenge can only be understood through lots of trial, a few errors, and a big portion of mental resilience.
With five marathons under Jenny's belt, she already had some experience with the distance the 50-50-50 Challenge would deliver, but she also knew speed would be an issue. For Danny, doing 50km of anything, let alone 3 of them, would be a big step in his training, but he figured he had nothing to lose.
Fast forward to 2AM, past the first 50km cycle and 10km into the run, things got tough. Both Jenny and Danny were beginning to struggle during different times in the run, which began to throw off their mental game.
This is completely understandable and common; having someone you care about struggling alongside you might cause a serious shift in your headspace.
Suddenly, your comfort zone seems too close for comfort, and your brain might begin to channel an emotional reaction to such a difficult challenge instead of a logical one. It might keep telling you this run isn't going to get easier. Even worse? You're suffering, and so is the person running next to you.
The nature of nurturing instead of grinning and bearing it starts to take over your thoughts.
Jenny and Danny didn't finish the race, but the important part of any learning curve? Learning from it. And not long ago they both had a half marathon to compete.
Their strategy? It was simple – to make their own plan and not worry about one another. They started the race together and completed it individually.
Jenny and Danny both finished at slightly different times, but while they knew and hoped the other would do well, their mental game was left entirely to themselves. Because of that they were able to exceed their own expectations and celebrate together at the finish line.
Training with Your Partner – Lessons Learnt
Surprise, surprise – every couple is pretty unique. There is no right or wrong way of working out together. The end goal is to find a routine that is enjoyable for both parties and turn it into a weekly habit.
What's more? You both don't need to have the same goals or same level of fitness to make it work, you just need a plan of action when you do come together.
Unsure what that plan is? Start by asking each other some questions regarding the training time you plan to have together, because it never needs to end in a domestic dispute (I've been there).
Are we training for general mental and physical health or competitive reasons?
What are our individual goals?
How do we both envision our training session together so we both have fun and benefit from it?
Do either of us want a push and extra motivation when the workout is getting tough? Or do we prefer to "suffer in silence?"
What kind of music should we listen to? (This is more important than it sounds!)
Then, make plan: 
Start small. Grab your calendars and make a plan that accommodates both of your schedules. It probably shouldn't be 5 times a week. Think about quality over quantity. Afterall, you wouldn't have date night every single day of the week. And, if you're worried about staying accountable when you can't train together, grab a friend or do a class. Stuck in lockdown? Do a YouTube workout or schedule one with a friend on Zoom. It might not be as good as the real thing, but it works.
Be a positive force for each other. When you both turn up and one of you is tired or not feeling it, be honest and open. But remember, you've shown up and committed to the session, so give that hour everything you're capable of and find enjoyment in those sweaty moments.
Plan ahead: Plan your session ahead of time. Planning ahead is crucial to minimise last minute decision making, logistical consideration regarding weights and machines and general pre-training faff. Even if it's a home workout, plan ahead. If you're unsure where to start, there are countless online resources – I would know as I create programming and PT clients online.
Find a class you both will enjoy: Whether they're online or in the gym, finding a class you both enjoy will be part of the fun. More than ever, there are boundless virtual resources at your fingertips. Simply plug in "home workouts for beginners" on YouTube, choose one that works with your allotted time frames and crack on. Eventually, you guys will find a channel full of workouts you love. Get experimenting and moving. Also, plenty of gyms are offering Zoom workouts requiring minimal equipment.
Hire a personal trainer: If it's financially viable, I can't recommend getting a PT enough. I know a few couples who have chosen the PT route and they love it. They're held accountable, not just to one another but also to their trainer who plans their session so both parties can benefit. Again, this can be done virtually (message me for more info) or face to face depending on your situation.
Bottom Line? Train together, get sweaty but don't sweat the small stuff!