CrossFit Semifinals are back! Workouts 1, 2, and 3 have been revealed by the organisation and all individual athletes across the globe will have to master them if they dream of getting an invitation to the CrossFit Games this August.
"Competitors across the world will take on standardized programming during Semifinals in their quest to secure a spot at the CrossFit Games," HQ has stated while revealing what tests 1, 2 and 3 of the 2023 CrossFit Semifinals are.
2023 CrossFit Semifinals Workouts
Although only 3 workouts have been revealed, CrossFit stated that the remaining events should be made public tomorrow, a week prior to the start of the first week of competition.
Workout 1
For time:
3,000-m Echo Bike
Hand-over-hand pull (84 feet)
2,000-m Assault AirRunner
Hand-over-hand pull (84 feet)
1,000-m SkiErg
Hand-over-hand pull (92 feet)
Time cap: 30 minutes
♀ 180 lb
♂ 225 lb
Workout 2
As many reps as possible in 3 minutes of:
5 ring complexes (1 toe-to-ring, 1 muscle-up, 1 ring dip)
20 single-leg squats
Max burpees over box
Complete 3 rounds, resting 1 minute between rounds.
Score is total reps across the 3 minutes.
♀ Wear a 10-lb ruck, 24-inch box
♂ Wear a 20-lb ruck, 30-inch box
Workout 3
For time:
Semifinals Linda — 10, 9, 8, 7, 6, 5, 4, 3, 2, 1 reps of:
Deadlifts
Dumbbell bench presses
Squat cleans
Time cap: 17 minutes
♀ 220-lb deadlifts, 60-lb dumbbells, 105-lb squat cleans
♂ 295-lb deadlifts, 90-lb dumbbells, 145-lb squat cleans
2023 CrossFit Semifinals Overview
After the leaderboard for the Quarterfinals was finalised, the top 30 athletes from Africa, Asia, Oceania and South America and the top 60 from North America East, North America West and Europe received an invitation to compete in their respective Semifinal tournament.
As BOXROX previously warned that the Quarterfinals was going to be important for the outcome of the CrossFit Games since it updated the new worldwide ranking system, we found out how many Games-qualifying spot each Semifinal will have.
North America East — 11 women, 12 men
North America West — 10 women, 9 men
Europe — 11 women, 11 men
Oceania — 3 women, 3 men
Asia — 2 women, 2 men
South America — 2 women, 2 men
Africa — 1 woman, 1 man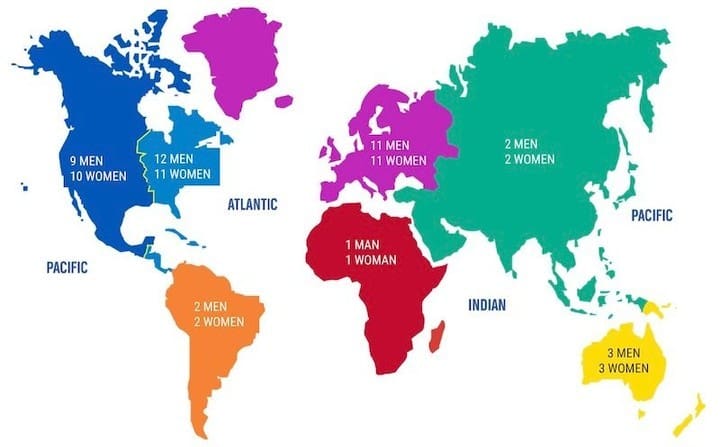 The dates of the competition will also differ depending on the region. Here is what you can expect for the 2023 CrossFit Semifinals in chronological order:
North America East – May 18-21
Africa – May 19-21
North America West – May 25-28
South America, Oceania – May 26-28
Europe – June 1-4
Asia – June 2-4
Read More: Rich Froning Won't Compete at the CrossFit Games This Year