We now know how many Games-qualifying spot each CrossFit Semifinal will have this year because of the updated top 100 athletes that feature in CrossFit's worldwide ranking system.
Remind me: Quarterfinals became one of the most important stages of the CrossFit season. After the leaderboard was finalised yesterday, the ranking worldwide system was updated, which dictates how competitive a Semifinal is and how many Games-qualifying that Semifinal can have in addition to the guaranteed spots.
If an athlete does not compete individually in the Quarterfinals, their name would be deleted from the worldwide ranking system which could affect the outcome of Games-qualifying spots for a Semifinal.
Previously, we named a few athletes who wouldn't be competing this year and now we know that changed the spots allocated for some Semifinals. Notably, in Oceania, the two fittest women there are not competing this year as they are both pregnant: Tia-Clair Toomey and Kara Saunders.
In North America, we saw Haley Adams taking a break for her mental health, Kristi Eramo O'Connell and Samantha Briggs announcing their retirement from competition.
Top 100 CrossFit Worldwide Ranking System for the 2023 Season
Women
There was a lot of movement in the worldwide ranking system in the women's division this year. Previously, CrossFit released what it was at the beginning of the season, but some names dropped out and some came back to the top 100 such as Annie Thorisdottir and Sara Sigmundsdottir.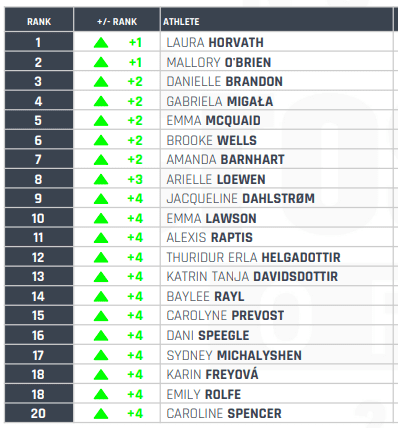 Check out the top 100 female athletes in the updated worldwide ranking system here.
Men
Unlike the women's category, in the men's we didn't see any change in the top 14 athletes. We also saw just a few names making a splash in the top 100 such as Samuel Cournoyer (he competed in Mayhem's team last year), Arthur Semenov, Tyler Lee, Tiago Luzes, and Luis Oscar Mora.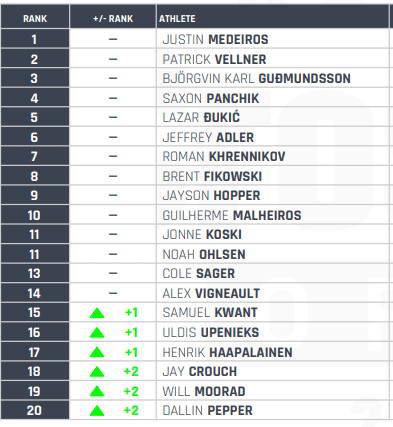 Check out the top 100 male athletes in the updated worldwide ranking system here.
If you want to check out all athletes who are part of the worldwide ranking system (7963 men and 5714 women), click here.