Conditional Workouts
Why are conditional workouts important. They are the best way to burn fat and build muscle. By increasing the intensity and working really hard for a certain time and then resting for a short time in between the heart rate keeps high while the muscle get time to recover for the next round and keep the intensity for a longer time.
After the workout your heart rate takes longer to slow down and your oxygen capacity will keep higher for longer. Meaning that you will burn more fat overall, both in the workout and for a many hours afterwards.
This type of workouts are often called HIIT, High intensity interval training. Builds up endurance and stamina.
Calorie Killer
25-50-75-100-75-50-25
Cal Rowing
Cal Air Assault Bike
Begin getting 25 calories on the rower before switching to the bike for another 25 there and so on until you finish 800 calories in total. If you are working with a partner the other one can start on the bike.
The goal is to finish within 60 minutes, but this is really long and I am very slow and almost threw up in the end so I finished in 90 minutes. The whole time I was just thinking about 5 cal at a time. Break it up into 5, even in the round of 100, just think of it as 20 rounds of 5. I always took a bit of a break between the bike and row just to catch my breath, just around 90 seconds tops.
Metabolic Monster
Pull Ups/Chin Ups
Burpees
Side-to-Side walking Plank
Burpees
Alternating Reverse-forward lunge
Side jump burpees
Dive Bombers
Burpees
Plyo Push Ups
Burpees
Do each exercise for about 45-50 seconds and then rest until the start of next minute. When the next minute start you start the next exercise until you finish the round. Then rest for 1-2 minutes and start again, aim for 3-4 rounds.
Terrific Tabata
Push ups
Air Squats
Sprint
Lunges
Ground To Overhead
Burpees
Row
Box Jumps
Tabata is a style of workout that is all about high intensity. You work as hard as you can for 20 seconds and then rest for 10, 8 times resulting in 4 minutes before a minute break. It is good to finish all 4 minutes with the same exercise or mix two together. So the first 20 seconds you do push ups then after the 10 second break you go for 20 seconds of air squats and then back.
This workout should take about 40 minutes.
Amraps
30 heal touches
15 wallballs
10 hand release pushup
–
15 Sit ups
10 Bicep curls
5 Deadlift
–
20 Russian Twist
10 Jumping squat
5 Dips
–
100 m Sprint
20 Mountain Climber
10 One Arm Row
–
15 Box Jumps
10 Toes To Bar
5 Strict Pull Ups
Each station has three exercises. You work at each station for 5 minutes then rest for 90 seconds before going to the next station. Only one round. It is also possible to reduce the time in each station to 2:30 or to your liking and do two rounds. If you shorten the working time, you must also reduce the resting time. But keep everything ready so no time is lost by finding the right weights or place to do the work.
One From Joe Taylor
12 Minute time cap.
-100ft Single Arm Overhead Lunge @ 22.5kg
– 75 Wall Balls
– 50 CTB Pull Ups
– 25 STOH 2 @ 22.5kg
– AMRAP Burpee Box jJump Overs
This is just one round but when you have finished the 12 shoulder to overhead the rest of the 12 minutes you do as many burpee box jump over as you can.
One From Sigurjón Ernir
5x2000m with 2 min break in between sprints on Air Assault Runner.
Another One From Sigurjón Ernir
The Challenge is
4 Miles on the Assault bike
2.400 m on the Rower
1.600m on the Air Assault Runner
Work in sets on each machine for 10 minutes and rest 2 minutes when switching machines.
One From Kari Pearce
100 Cal Air Assault Bike
75 Burpees
100 American Kettlebell Swings 24 Kg
One round is enough to feel the burn. If you want you can do a second round with half the rep scheme, either before, after or both.
One From Sara Sigmundsdóttir
8 rounds of :
20 KB Squats
30 Air squats
400m run
Rest 1 min
Do the Kettlebell squats like Sara is doing in the video, by putting them in the belt and lower the kettlebells between boxes as you squat. You don't need to as heavy as she does.
Bootcamp Conditioning Workout From Steinar
1-2-3-4-5-6-7-8-9-10
Front Squat
Push Press
Thruster
Sit Ups
Push Ups
Back Extension
Wall Balls
Burpee Over Bar
Time cap 15 minutes, if you finish 10 reps of everything before the time cap, you can keep going with 11 until you give up.
It is 55 reps of each exercise, in order to finish you need to go really fast. The first rounds will go by fast, while there are few reps but this workout gets harder the further you get. This is a conditional workout so the weight for the first three movement should be rather light. Try to go through them as a complex, meaning that you won't put the bar down in between.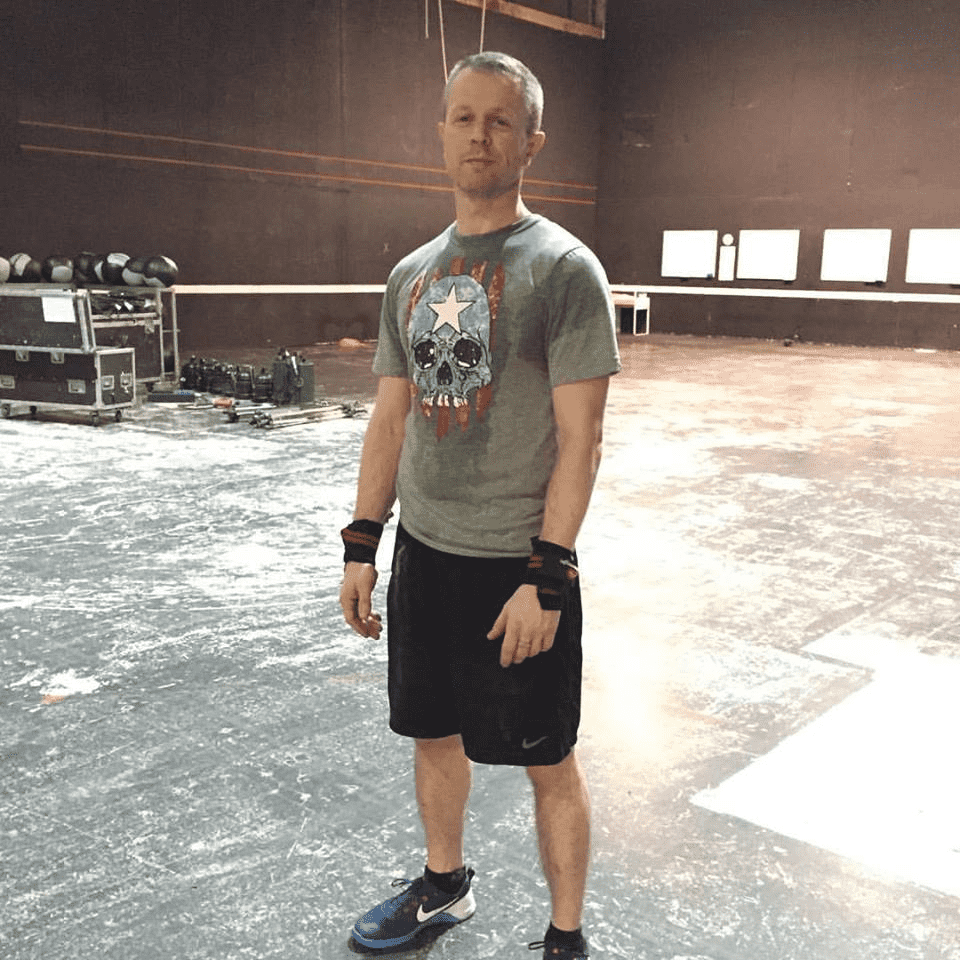 50 AMRAP Crossfit Workouts to Burn Fat and Improve Conditioning