The Age Group Online Qualifier (AGOQ) is the direct route to the CrossFit Games for Age Group athletes. The online competition is open to the top 200 athletes in each age group, and the top 10 in each category qualify to the CrossFit Games.
Athletes from around the world between the ages of 14 to 17 and 35 to 55+ will complete six workouts to establish this year's Age Group CrossFit Games qualifiers.
Similar to the CrossFit Open, the workouts for the AGOQ are released on a Thursday and athletes have four days, until Monday March 16 at 5pm PT, to submit their scores. The top 10 will be established after the video review process.
In the midst of the coronavirus, CrossFit HQ released the following statement on social media:
"With the start of this global competition, we realize that some athletes in areas affected by COVID-19 may not be able to compete due to constraints beyond their control.

"This is an unfortunate circumstance. However, to maintain the standards for this qualifier for the CrossFit Games, the published deadlines for score submission will remain in effect."
Good luck to everyone taking part.
AGE GROUP ONLINE QUALIFIER WORKOUTS
AGOQ Event 1
Complete as many rounds as possible in 6 minutes of:
8 thrusters
50 double-unders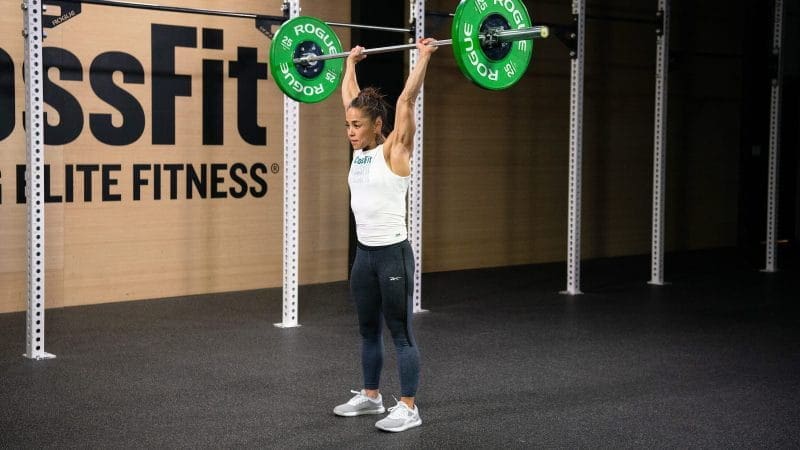 Source: Photo courtesy of CrossFit Inc.
Loading
Ages 16-17 and 35-54:
♀ 85 lb.
♂ 115 lb.
Ages 14-15 and 55+:
♀ 65 lb.
♂ 95 lb.
*The official weight is in pounds. For your convenience, the minimum acceptable weights in kilograms are 52 kg (115 lb.), 43kg (95 lb.), 38 kg (85 lb.), and 29 kg (65 lb.).
Notes
This event begins with the barbell on the floor and the athlete standing tall. After the call of "3, 2, 1… go," the athlete may begin performing thrusters. After 8 reps of thrusters are completed, the athlete will complete 50 double-unders before returning to the thrusters for the next round. Athletes will continue working through this sequence until the time cap is reached.
Receiving any assistance with the equipment is not permitted unless safety is an immediate concern.
The athlete's score will be the total number of repetitions completed before the 6-minute time cap. There is no tiebreak for this event.
Full movement standards here.
Find out what Event 2 is…