Age Group Online Qualifier Event 6
2 rounds for time of:
10 deadlifts
20 deficit handstand push-ups
30 front squats
Time cap: 20 minutes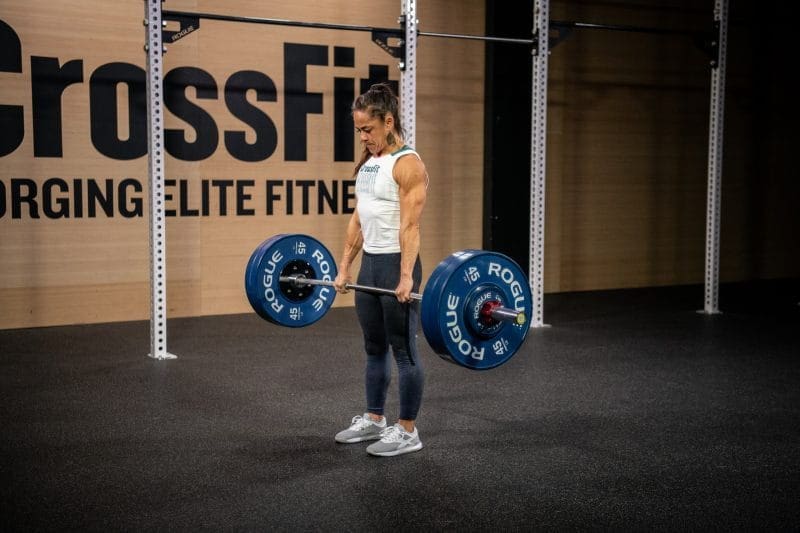 Loading and event variations
Ages 16-17 and 35-54:
♀ deadlift 225 lb., use a 3-inch deficit on HSPU, and squat 65 lb.
♂ deadlift 315 lb., use a 4.5-inch deficit on HSPU, and squat 95 lb.
Ages 14-15 and 55+:
♀ deadlift 175 lb., use no deficit on HSPU, and squat 55 lb.
♂ deadlift 255 lb., use no deficit on HSPU, and squat 75 lb.
*The official weight is in pounds. For your convenience, the minimum acceptable weights in kilograms are 142 kg (315 lb.), 115 kg (255 lb.), 79 kg (175 lb.), 43 kg (95 lb.), 34 kg (75 lb.), 29 kg (65 lb.), and 25 kg (55 lb.).
Notes
Prior to starting the event, each athlete will need to mark a box on the ground and a foot line on the wall, and create the deficit for the handstand push-ups (details in Movement Standards section).
This event begins with the barbell on the floor and the athlete standing tall. After the call of "3, 2, 1 … go!" the athlete may perform 10 deadlifts and 20 handstand push-ups, then move to the second barbell for 30 front squats. Once the 30 front squats are completed, the athlete will move back to the deadlift bar to begin the second round.
The athlete's score will be the time it takes to complete the event or the number of repetitions completed at the time cap. There is no tiebreak for this event.
Athletes may set up multiple barbells. If one barbell is used, the athlete may receive assistance changing the load on the bar. Receiving any assistance other than adjusting loading is not permitted unless safety is an immediate concern.
Do NOT use a countdown timer.
Full movement standards here.