GARLIC
One of the sickness killers with many other advantages is definitely garlic. It is difficult to pick the most beneficial ones among dozens of reasons why you should include garlic into your nutrition.
Garlic contains decent amount of manganese, vitamin B6, vitamin C, selenium, calcium, fiber and much more that makes it a natural antibiotic. Garlic is also highly nutritious but has very few calories.
It reduces blood pressure and lowers the risk of heart diseases. It works like a perfect prevention from flu and cold, as well as cancer.

Baked Eggs with Creamy Polenta, Spinach & Garlic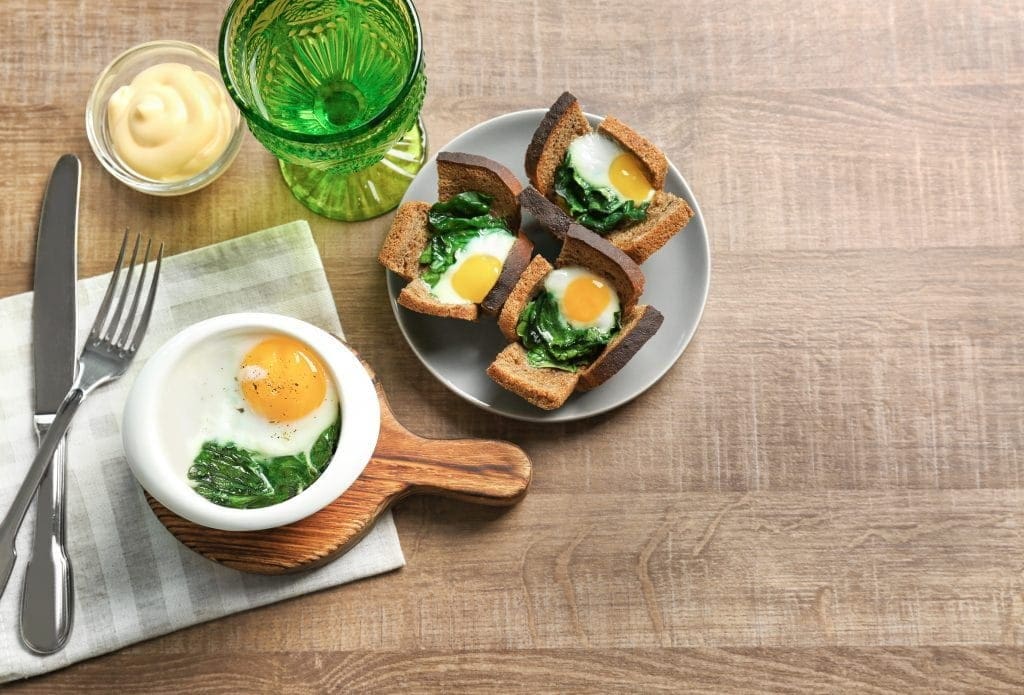 Ingredients:
1 cup polenta or fine-ground cornmeal
1 teaspoon salt
1 cup loosely-packed parmesan cheese, plus extra for topping
1/2 cup whole milk
2 teaspoons olive oil
4 cloves garlic, minced
Pinch red pepper flakes
10 ounces baby spinach
8 large eggs
Special equipment: 8 1-cup ramekins (See below for casserole version)
How To:
1. Bring 4 cups of water to a boil in a small saucepan over high heat. Whisk in the polenta and salt. Reduce heat to low, cover the pan, and simmer for 40-45 minutes. Stir the polenta vigorously every 10 minutes, being sure to scrape the bottom and sides of the pan and thoroughly mix the polenta.
2. When the polenta is done cooking, stir the parmesan and milk until the cheese is completely melted and the polenta is creamy. Cover the pan and set aside until needed.
Heat the oven to 175°C.
3. Warm the olive oil in a skillet over medium-high heat. Add the garlic and pepper flakes, and sauté until the garlic is golden and fragrant, about 1 minute. Stir in handfuls of the spinach, letting each handful wilt slightly before adding the next. Continue cooking the spinach until all the leaves have wilted and turned bright green. Remove the pan from heat.
4. Fill each ramekin half-full with polenta (roughly 1/2 cup polenta per ramekin; you may have some polenta left over). Divide the spinach evenly between the ramekins. Break one egg into each ramekin. Line a roasting pan or other oven-safe pan with a clean dishtowel and arrange the ramekins on top. Pour very hot water into the pan (tap water is fine), filling it to about halfway up the sides of the ramekins. The cloth will prevent the ramekins from sliding.
5. Bake for 15 minutes, then cover with aluminum foil and bake for another 5 minutes for runny yolks or 10 minutes for set yolks.
6. Carefully remove the ramekins from the water with oven mitts. Top each ramekin with extra parmesan cheese, and serve immediately.
You can also make this dish in an 8×8 square baking pan. Add enough polenta to come halfway up the sides of the pan and spread the spinach on top. Make eight wells in the spinach and crack one egg into each. Bake as directed. If the eggs on the outside are finished before the eggs in the center are set, cover with foil until all eggs are finished baking.¹
SWEET POTATOES
Sweet potatoes are rich in vitamin B, vitamin C as well as vitamin D. Therefore they are a great source of immune system support, bone and tooth health, energy level and wound recovery.
Sweet potatoes are also full of magnesium, which is the relaxation and anti-stress mineral. They support weight loss and and have anti-cancer effects.
Sweet Potato and Spinach Quesadillas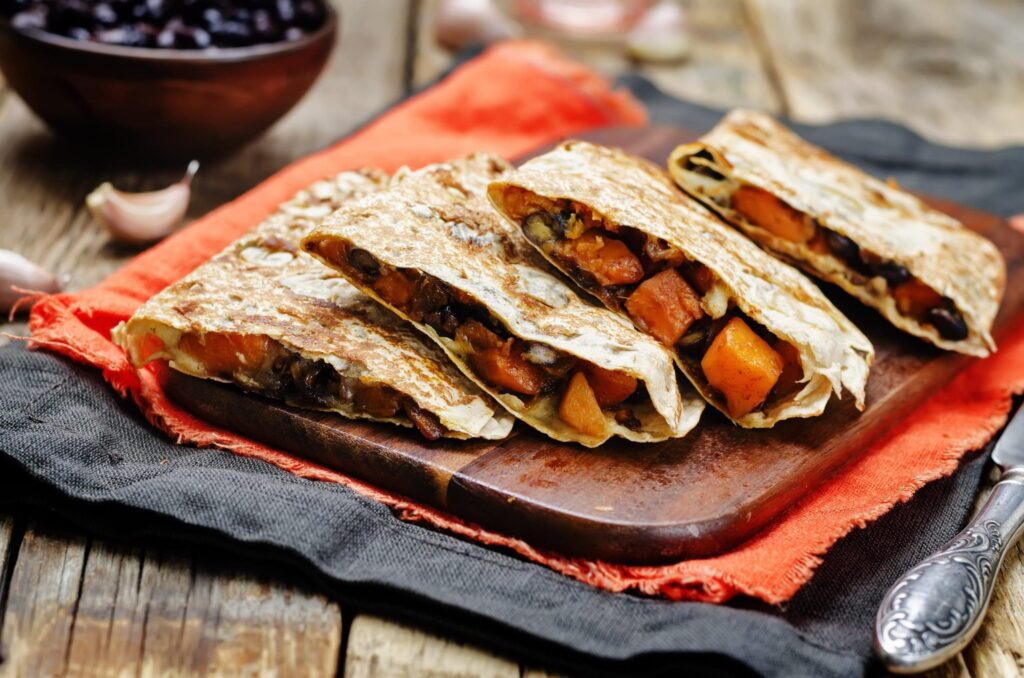 Ingredients:
2 medium sweet potatoes (1 pound total)
1 cup red-wine vinegar
1/2 cup sugar
4 black peppercorns
1 large red onion, sliced
1/4 teaspoon salt
1/4 teaspoon freshly ground black pepper
8 (6-inch) flour tortillas
5 cups baby spinach (about 4 ounces)
1 cup shredded part-skim mozzarella
4 teaspoons olive oil
How To:
1. Microwave potatoes on high until tender (about 15 minutes).
2. Meanwhile, in a medium saucepan, combine vinegar, sugar, and peppercorns; bring to a boil and stir to dissolve sugar. Place onion slices in a medium heatproof bowl; pour hot vinegar mixture over onion and let stand 10 minutes. Drain onion slices and transfer to a plate to cool.
3. Split cooked potatoes open with a knife; remove flesh and transfer to a bowl (you should have about 1 cup). Use a fork to mash potato with salt and pepper; divide potato filling among 4 tortillas. Top each with 1 heaping cup spinach, 1/4 cup cheese, and another tortilla.
4. Heat a large nonstick skillet over medium-high heat. Working in batches, heat 1 teaspoon oil and transfer 1 quesadilla to skillet; cook until quesadilla is crisp and cheese is melted (about 3 minutes per side). Transfer cooked quesadilla to serving plate. Repeat with remaining oil and quesadillas. Cut quesadillas in quarters and serve each with 1/4 cup pickled onions.²
GINGER
We all know ginger for the combination with hot water and lemon that we drink when getting cold. Besides cold and flu prevention and treatment ginger is known for it´s ability to reduce your muscle post-workout pain and helping with various forms of nausea.
Ginger is used to treat inflammation and lower cholesterol.
Low Fat Honey & Ginger Chicken Breasts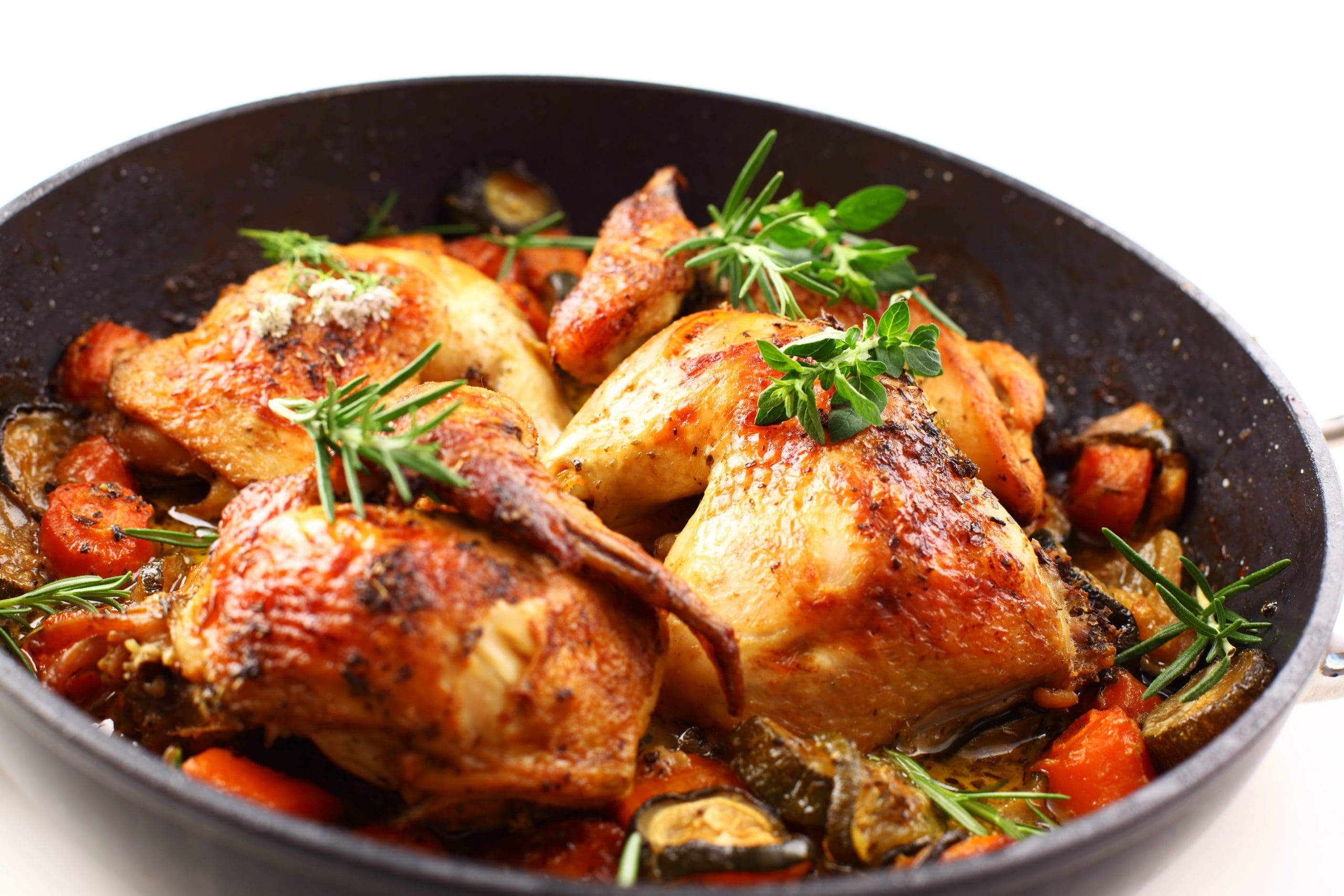 Ingredients:
4 large boneless skinless chicken breasts
2 tablespoons honey
1 -2 tablespoon Dijon mustard
4 tablespoons water
2 -3 teaspoons ground ginger or 1 tablespoon freshly ground gingerroot
2 -4 garlic cloves, peeled & crushed
salt, to taste
fresh ground black pepper, to taste
1⁄2-1 teaspoon cayenne pepper (optional)
How To:
1. Preheat the oven to 180°C.
2. Select a sturdy oven dish – preferably non-stick.
3. Place the chicken breasts into the baking dish.
4. Mix the honey, mustard, water, ginger & crushed garlic (and cayenne pepper if using) together in a measuring jug.
5. Pour over the chicken breasts, easing them up slightly so the mixture runs underneath them.
6. Season with salt and freshly ground black pepper to taste and bake in the oven for 45 to 60 minutes.
7. Serve one chicken breast per person with some of the cooking sauce drizzled over the top of the chicken. Garnish with chopped parsley & serve with a medley of steamed vegetables & pasta.³
¹https://greatist.com/health/healthy-garlic-recipes
²http://www.health.com/health/gallery/0,,20600272,00.html#sweet-potato-and-spinach-quesadillas
³http://www.geniuskitchen.com/recipe/ginger-me-up-chicken-low-fat-honey-ginger-chicken-breasts-211485