If you are passionate about Crossfit, then this is the ultimate: travelling to the Games for free! Last year we saw Ben Smith Smash his way to victory in the Men's competition, and Icelandic powerhouse Katrin Davidsdottir storm through to take the top spot in the female division. But what does 2016 hold?
Enter the contest here for your chance to find out.
First prize valued at AUD $2999
Second Prize: Voucher worth AUD $750
Third Prize: Voucher worth AUD $500
EVERY entrant receives a AUD $250 discount on any Adventurefit Travel Trip
2015 CrossFit Games highlights
So, in case you need anymore persuasion, here's a little taster of what you will be watching:
The Women
This year's roster of athletes is incredibly competitive. Once again, the Icelandic girls are proving formidable, can Sara Sigmundsdottir or Sam Briggs knock Davidsdottir off the top spot this year? Canadian Camille Leblanc-Bazinet is also staking her claim, and with her solid record and experience, has her eyes firmly set on the prize. Moving outside of the favourites, could we see an upset? Tia Toomey or Chyna Cho perhaps? The only certainty is that things are going to get crazy.
The Men
In the Male Category, can Ben Smith defend his title from the onslaught of Jonne Koski, Mat Fraser, Dan Bailey, Josh Bridges Jason Khalipa, BK Gudmundsson and many many more exception athletes?  There is no doubting that 2016 is going to be brutal, and the fighting intense. 2015 also saw the introduction of Atlas Stones and other torturous and testing new WODs to push the Athletes beyond their limits.
This contest from Adventurefit offers you the chance to be there and to watch history being made in the Californian sunshine. Click the button to sign up now: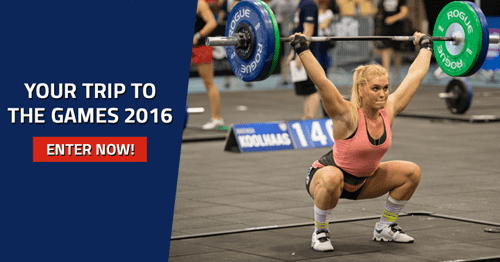 *Images and video from CrossFit.com