TRUTH: Whether it is sitting on a toilet or thrusting a barbell, it is generally accepted that no matter what movement we make in life, each of our muscles have a role.
TRUTH: People understand that everything that they do (or DON'T DO) on a regular basis can influence how they move, feel and perform.
TRUTH: People (especially those in Crossfit) want to THRIVE.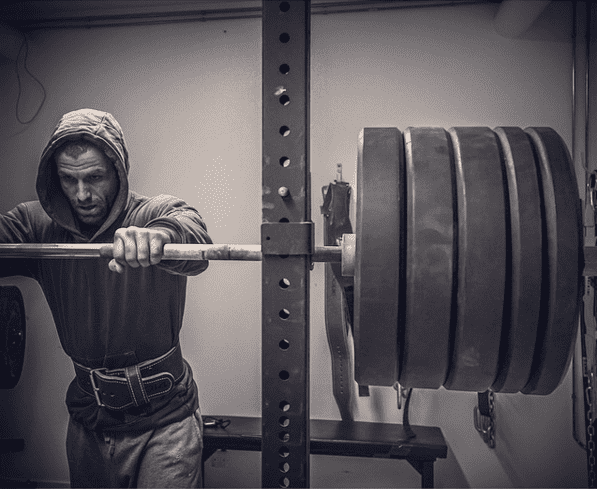 So given these three pieces of gold, my question remains:
Why is "mobility" work is such a chore for so many people? Here are 3 reasons:
1 EMOTIONAL:
Plain and simple it is boring. People think about the gym all day long. They think about crushing a PR and overcoming a challenge. Maybe they use the use the stresses of their personal life or a weight-loss goal as motivation to "GO….GO….GOOOOOO!!" I mean there is no WOD that starts with "3………2…….1….." and has a community of people racing to lay on a LAX BALL or FOAM ROLLER. No…..self-massage and joint centration techniques are just not the thrill of anyone's day.
2 PSYCHOLOGICAL:
Honestly, for some people it just DOESN'T MATTER TO THEM. Most people only get interested in this part of fitness after a BAD THING has happened. Frankly, it just isn't important to them. It is very typical for people to become more interested in techniques to lengthen tight muscles and activate underworked tissue following an injury or a decline in your performance. While this seems reasonable, the problem is that injuries are normally the result of many repetitions in which people didn't realize there was a problem.
3 EDUCATIONAL:
Some people (most people) just don't understand what they are supposed to do or why. They get the feeling that there is some pain that is not productive. Maybe, they have reached out for help or scowled through 49 MILLION HITS that come up when you GOOGLE "mobility." If it is too much information or just way too many scientific principles or facts, many people just get BLOWN away and are left in PAIN AND CONFUSED.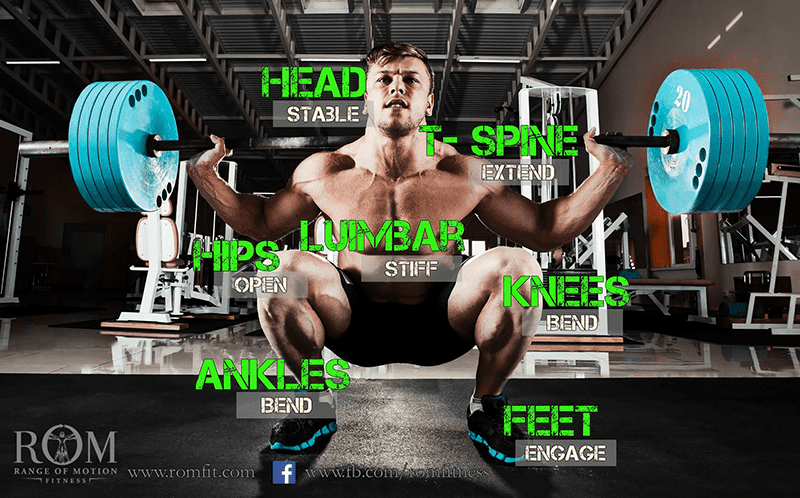 So, it really isn't anyone's fault. I mean to make it simple we have people that are burning on the inside to MOVE at a high level, who may have NO history of injury and simply JUST can't understand all the jargon that medical and fitness "professionals" toss around. It is like that moment the car dealer wants to tell you all about the workings of the transmission of the engine and all that you want to is race that new car off the lot!
BUT, it really is everyone's fault. Too many people suffer chronic pains and injuries for the simple fact that we are not good TEACHERS AND STUDENTS. Of course the human body is very complex and difficult to grasp, but we each own one so there are some very basic principles we owe it to ourselves to understand. At the same time, those of us who are coaches, trainers and educators have a huge task to not only GRASP all these concepts, but make them UNDERSTANDABLE. Think about it, our members or clients TRUST us with their body and future. In most cases we know MORE about their body than their OWN doctors do, for the simple fact that we see them more often.
SO, where do we start?
PREVENT PAIN BY NOT TALKING ABOUT PAIN
Nobody wants to be pain, but if you aren't in it then it won't be important to you. For most people this is kind of like the whole "lie, lie and deny thing," because MOST athletes and non-athletes have a little nag here or nag there. Regardless if we focus on PERFORMING better or personal improvement (in other words, THRIVE) then more ears will turn our direction. IT IS MUCH EASIER FOR SOMEONE TO RUN TO A FOAM ROLLER WHEN THEY UNDERSTAND THAT IT WILL MAKE THEM MORE EXPLOSIVE OR HAVE GREATER ENDURANCE WHICH WILL ALLOW THEM TO LOSE FAT.
MAKE IT SIMPLE – NO BIG WORDS
Outside of fitness geeks (author included) who cares about the thoracolumbar fascia or the sacrotuberous ligament. When it comes down to it, ANATOMICAL PARTS are places that we can point to and in most cases we can touch the general area we are talking about. Same goes for the actions that muscles and joints. How about we reduce the verbs we use to SIMPLE terms like BEND, TWIST, AND RAISE, leaving stuff like posterior translation and anterior tilt to the enquiring minds who have the time to decipher ancient codes.
MAKE IT RELEVANT
Believe it or not, this where thing might get a little tricky and really what this article is supposed to be about. You see, many of us exercise but don't get how what we do in the gym transfers over to the real world. Believe it or not, most school's that use movement as therapeutic care are based upon how we learned to move as we developed from a crawling infant (core strength, upper body co-ordination) to a running and jumping toddler. When you understand that, it becomes easier to see that a power clean is the same motion as picking up a box of Christmas decorations and placing them on a shelf in your garage.
"EVERY-TIME WE SIT ON A TOILET, WE ARE SQUATTING."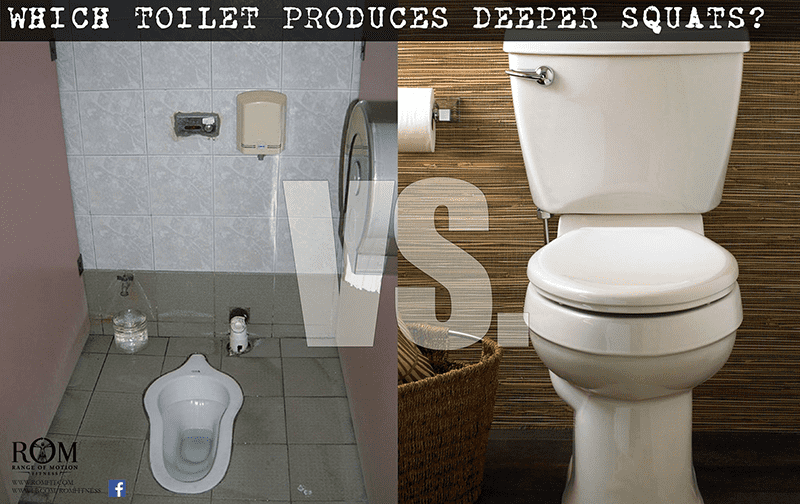 Of course, there are many different squats that are performed as an exercise. Powerlifters will often choose a sumo stance. American football players will choose an Olympic style, whereas a "go-to" exercise in CrossFit is a front-squat. Think of it this way, the kind of toilet you sit on determines the style of stance you choose and how you move. There really is nothing wrong with any of them, and each has a sometimes subtle difference in demand, but for our purposes we can define a squat this way:
'ANY MOVEMENT IN WHICH WE LOWER OUR BODY BY BENDING AT THE ANKLES, KNEES AND HIPS.'
So with that being said there are two things we have to make clear:
Each muscle in your body has a job when we squat.
While, out of tradition, we use squats as part of our "leg day" we all understand that they are a full body exercise, and that our upper body must play a role if a load is placed upon our shoulders or in a rack position.
Muscles do more than one thing. Obviously when they contract (get shorter, "flex") they produce force, but they also lengthen (stretch). Think of it as a rubber band, the farther you pull the rubber band back, the more energy it builds to fly further when you let it go.
Everything is connected and everything matters. If one part doesn't do its job, then every other part feels the effects.
WHAT YOU NEED TO KNOW ABOUT YOUR JOINTS WHEN YOU SQUAT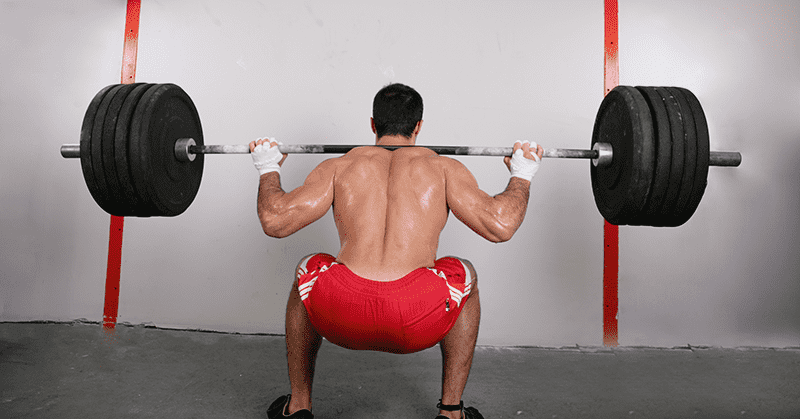 'From your feet to your head, all our joints have a role.' Here are the FOUR places that have biggest impact upon whether you crush a PR or yourself:
FEET – 'If the base isn't stable the house will fall.'
1 WHAT THEY ARE SUPPOSED TO DO?
I refer to the feet as one of the windows for human movement. I say this because our when we squat our feet are on the ground and if they don't function correctly, then every muscle above them is going to have to work overtime to keep every joint in its proper place.
2 WHAT GOES WRONG?
The biggest error that we see with foot function and squatting is the feet rotating out too much, or what is commonly referred to as duck feet. It is generally accepted by most in the profession that up to a 12 degree turn out is optimal, what is not acceptable is the feet rotating outwards while squatting or between repetitions.
3 WHY IT HAPPENS?
Most often what happens is that the person whose feet rotate outwards do so because they lose their arch while they are lowering into a squat. The foot will turn out as tension builds up in the long strap (achilles tendon) that attaches the calf to the bottom of the foot.
4 SIMPLE FIX:
Probably the first thing to do is get fitted for a custom made orthotic. This will act as block so that your foot doesn't lose its arch. You can work some soft tissue with a golf ball on the bottom of your foot, but for the fascia to reclaim itself generally takes seven months, if not more, to fix.
ANKLES and KNEES – "If they don't bend, the rest will break."
1 WHAT THEY ARE SUPPOSED TO DO?
Plain and simple your ankles and knees need to be able to bend. In doing so the big muscle in the back of your lower leg (gastrocnemius) is needs to be able to lengthen out, this allow the knee to slow down. Same can be said the for the muscles in the front of your thigh.
2 WHAT GOES WRONG?
When ankles aren't able to bend well, it is very common to see the heels raise up. Obviously this becomes a problem when we understand that our feet are kind of like the base to a house. If we lose space without how much area that our base covers when we squatting we will "fall forward." Like a house on hill during a mudslide, disaster awaits.
3 WHY IT HAPPENS?
Your calf muscles run the length of your lower leg into the bottom of your foot and when they "shorten up" they make you stand on your toes (ie heels raise).  When this happens, the calf knee will rely on the thigh muscles to slow the knee down more than it should. One way to determine whether or not your it is your calf muscle or quads that is the culprit to is test by squatting with your heels raised. If you are able to squat without knees traveling forward with heels raised then daily corrective techniques will be recommended.
4 SIMPLE FIX:
Squat in flat soled shoes, better yet LIVE in them. Even the raise in heel from a running shoe can further tighten up your calf.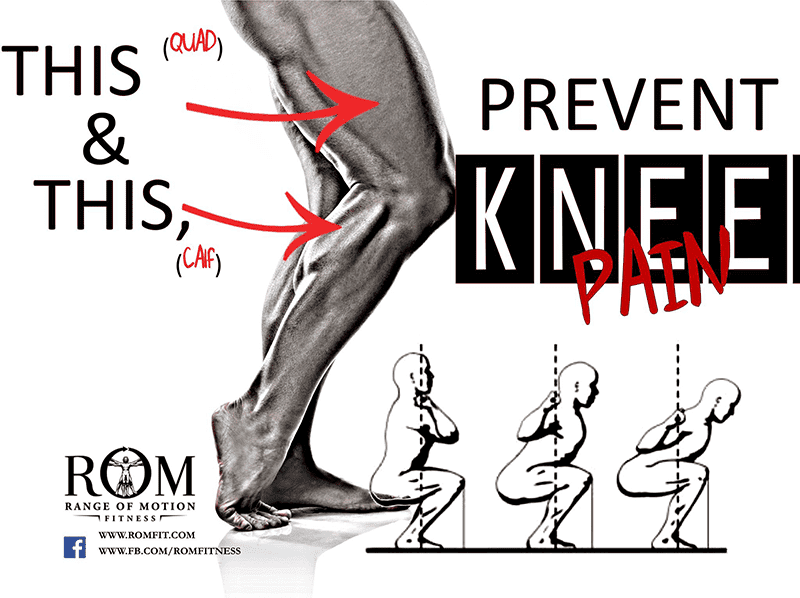 HIPS – "The engine that moves the rest."
1 WHAT THEY ARE SUPPOSED TO DO?
Your hips are in charge of pushing your knees out (opening the hips) and pushing pelvis back (extending your hips) while you descend into the depth of your squat. Remembering the rubber band example, when you adequately stretch the muscles attached to your hips while descending your build up the force to drive you back upwards.
2 WHAT GOES WRONG?
There is a lot we can talk about here but one of the biggest observations we see in those whose hips aren't working correctly is an inability to keep one (or both) knees out. In doing we put more stress on the lower back and lower leg to keep the knees stable.
3 WHY IT HAPPENS?
A combination of a lack of mobility and inability to keep your knees out is often times related to weakness in a smaller muscles of your butt (glute medius).  This a muscle that  isn't often directly addressed with some of the bigger movements that we make, so it has a tendency to become lazy. PLUS in those of us that sit for many hours throughout the day this muscles easily grows weak. So while it is obvious to many of us that our hips are tight and need to improve mobility the limiting factor may actually indeed be weakness.
4 SIMPLE FIX:
Use the video for some ideas on how to get mobile enough to be able to open to keep your knees in alignment. Mobility work is like all exercise in that it needs to be progressive. Don't just jump on a lacrosse and think that it is doing its jump if you are screaming bloody murder. No, there will be some discomfort and tightness but be progressive by choosing a softer ball or less time. Going too hard or too long can be very counterproductive and lead you to believe that corrective techniques don't work. In addition I would also recommend turning on the glute medius prior to squatting as a way of "priming" your butt to lift heavy weight.
So the TAKE-HOME message, if something doesn't feel right…then something isn't moving right. Do something about it before it is too late.