Alex Caron and Korby Foxall both were not allowed to continue their pursuit for a ticket to the CrossFit Games this past weekend at the North America East Semifinal. Both athletes were pulled out of the competition after the 2nd test, but the reason for that decision differs from athletes to CrossFit Inc. Elite-level athletes and people in the industry reacted to the news.
Alex Caron and Korby Foxall both flew to Miami to compete at the North America East Semifinal this past weekend. Both athletes went in knowing they were injured and would probably not be able to finish workout 2 because of the muscle-ups.
Workout 2
As many reps as possible in 3 minutes of:
5 ring complexes (1 toe-to-ring, 1 muscle-up, 1 ring dip)
20 single-leg squats
Max burpees over box
Complete 3 rounds, resting 1 minute between rounds.
Score is total reps across the 3 minutes.
♀ Wear a 10-lb ruck, 24-inch box
♂ Wear a 20-lb ruck, 30-inch box
Caron said he tore his pec "a little by practicing the muscle-up complex" with the ruck, so he knew he would have a hard time completing any reps for the movement.
Korby had a similar problem as he hurt his "shoulder on the muscle-ups a week ago."
CrossFit stated prior to the Semifinals' weekend that there would be "no minimum work requirements," so the athletes believe they would be safe to continue competing and maybe punch their tickets to Madison via the other events. But that is not what happened.
Both athletes were pulled from the competition before event 3 was underway. And this is where the story differs from athletes to the Sport's organisation.
What Does CrossFit Say?
CrossFit released a statement explaining why the athletes were withdrawn from competition explaining, in short, that it was due to their injuries.
"Both Alexandre Caron and Korby Foxall had preexisting injuries that prevented them from being able to perform the ring complex. Both athletes' situations were assessed and they were withdrawn from the competition," the statement read.
"My heart goes out to both Alex and Korby. There's nothing we enjoy about having to make these decisions, but there's no way, in good conscience, that we could let any athlete with an injury move on and compete in a benchmark workout like Linda," said CrossFit General Manager of Sport Justin Bergh.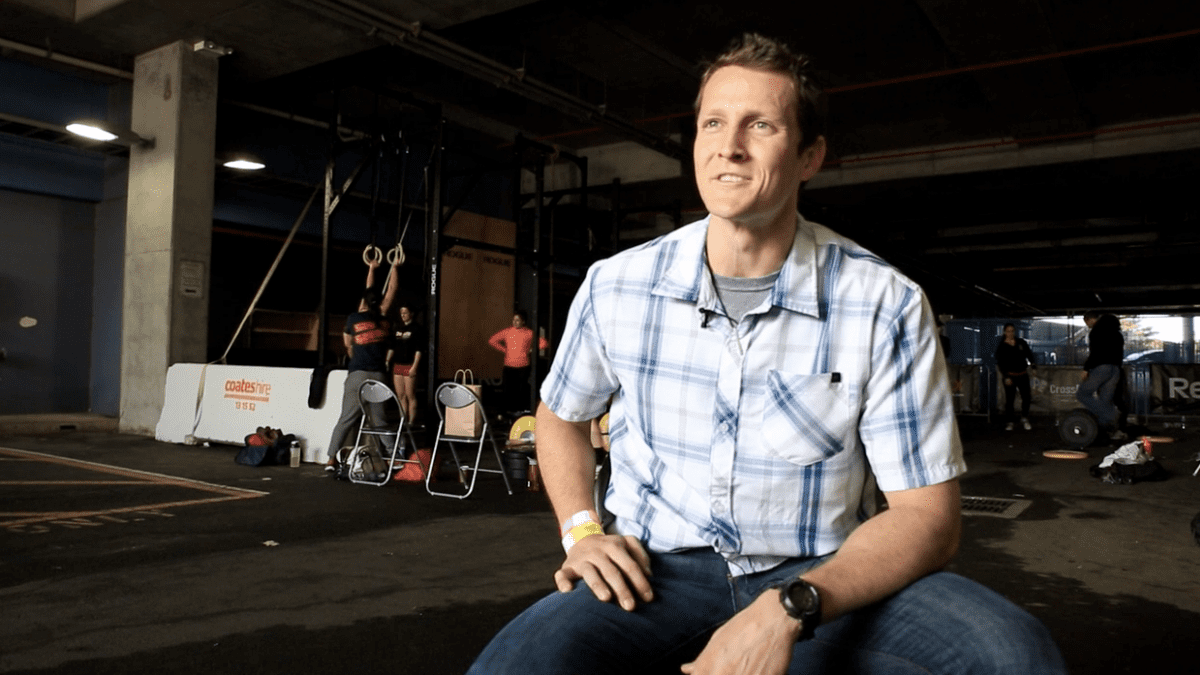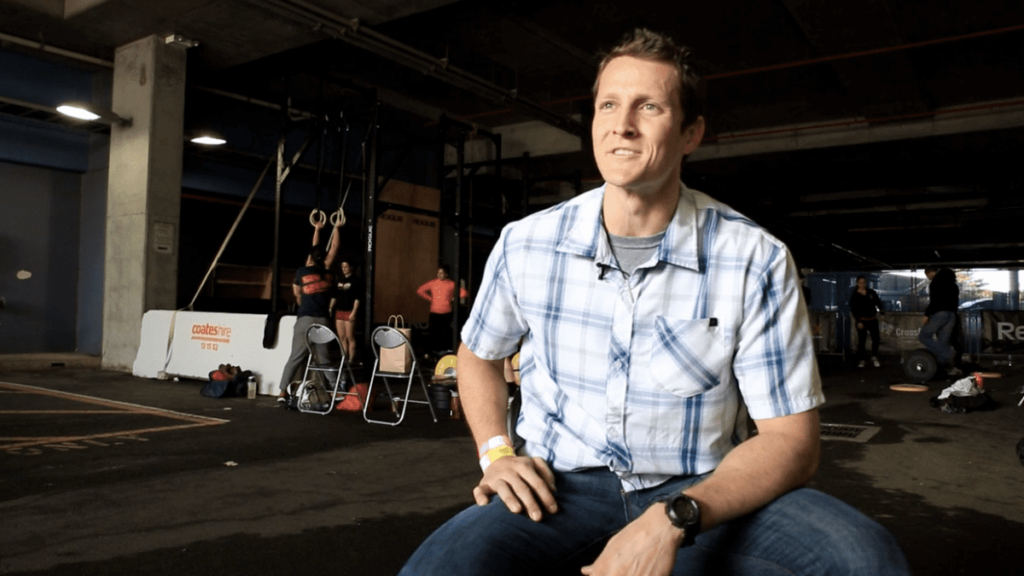 CrossFit continues to say that, although there was no minimum work required for the North America East competition, "athletes are expected to put forth an effort to complete each test throughout the duration of their respective heat."
The press release goes further. "CrossFit's Head Judge has the authority to remove any athlete from competition based on injury severity, likelihood of further injury, and/or other factors that could impact the health and safety of an athlete or the integrity of the competition."
You can read the full statement here.
What Do the Athletes Say?
Caron and Foxall said they were not removed due to injury, but rather arbitrarily by CrossFit because they didn't push themselves hard enough. On Instagram, Caron wrote:
"They told me that my "effort" during the muscle up event was not good enough for a semifinal athlete and that I clearly had an advantage over my competitors for the rest of the weekend from not doing any repetition in that workout."
Foxall said the same thing happened to him, that just minutes before going into the next workout the following day he was told about being forced to withdraw by CrossFit due to "an unfair advantage based on the work I didn't do in event 2 and the events that were coming up."
You can read Caron's post in its entirety here.
You can read Foxall's explanation in its entirety here.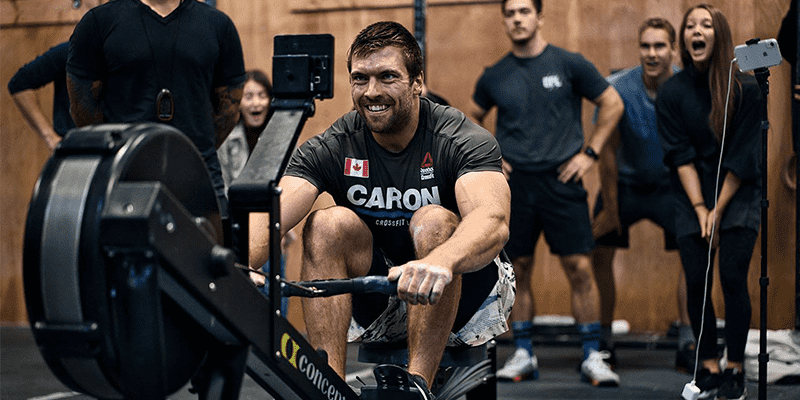 Both athletes say they were blindsided by this decision by CrossFit. While Foxall says he was told by the head judge that he just needed to stay on the competition floor after finishing just one ring complex and things would be ok, Caron said he questioned the organisation about removing every other athlete who scored 0 on the same event. "The answer was: 'We won't have this argument with you, but the decision is final."
You can see the entire event below in the video. Korby Foxall was in heat 3 at lane 5, Caron was in heat 5 lane 2.
And just like Caron questioned about other athletes not scoring a single rep on event 2, inexplicably only he and Foxal were withdrawn from the competition. Below is a screenshot of the points rewarded to athletes at event 2.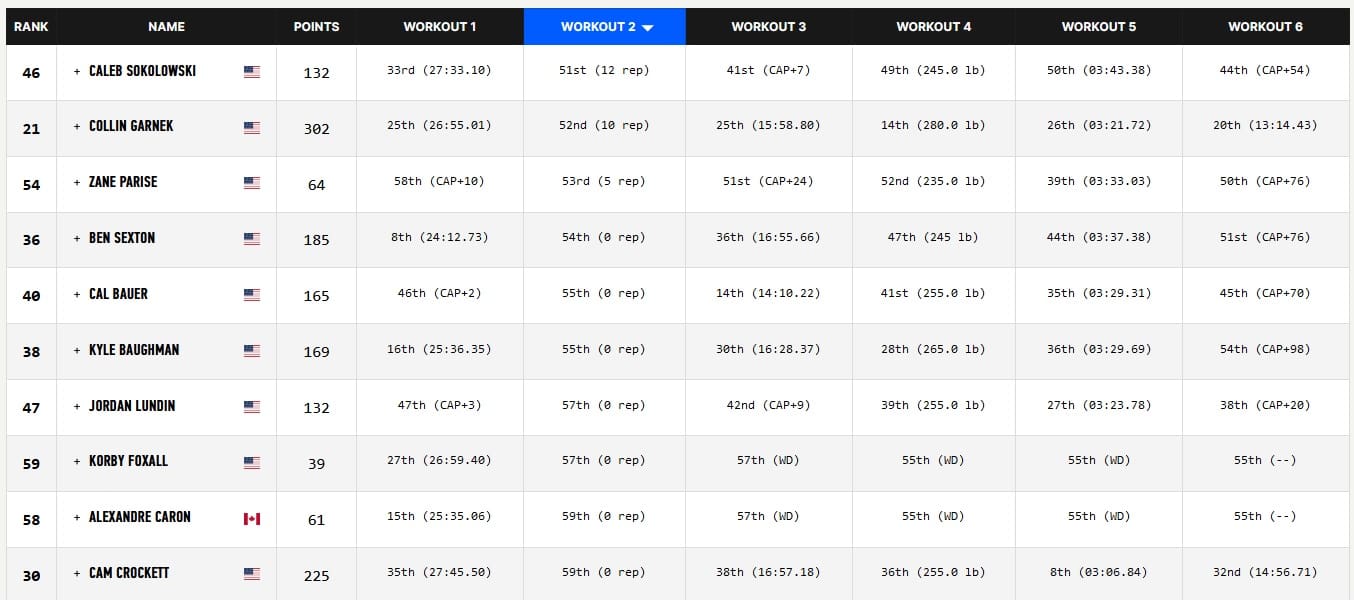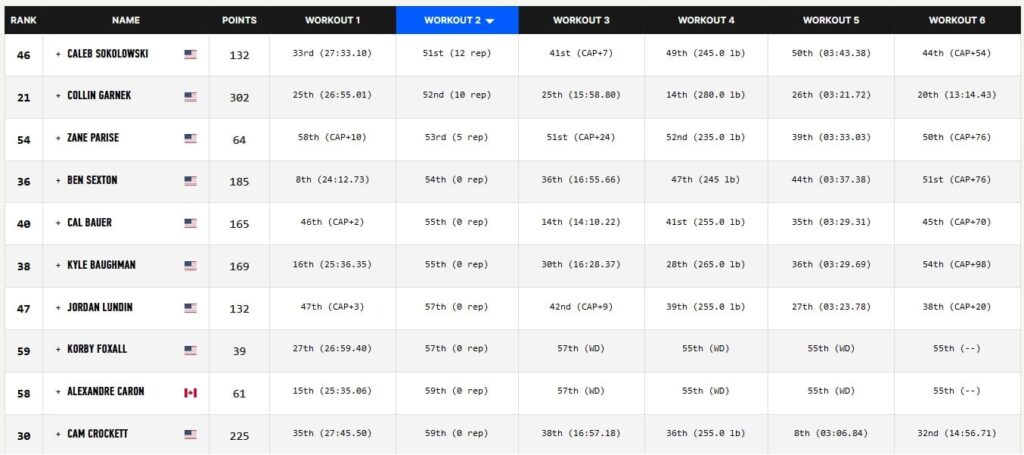 As you can see, only Caron and Foxal were withdrawn (WD) from competition. However, there were 6 other athletes who also scored 0 on the event and were allowed to continue competing. They "clearly had an advantage too," according to Caron and his understanding of CrossFit's logic to pull him out of the competition.
The other athletes who scored 0 and continue competing were Ben Sexton, Cal Bauer, Kyle Baughman, Jordan Lundin, and Cam Crockett.
Community Reacts to Alex Caron and Korby Foxall Being Pulled Out of North America East
Many athletes and people from the CrossFit community reacted to the news of Alex Caron and Korby Foxall being pulled out from the competition after event 2. And all comments we managed to track down were in defence of the athletes and against CrossFit's decision.
Brent Fikowski
"This is beyond comprehension Alex. As a sport we need to do better."
Armen Hammer
"The more things change, the more they stay the same. This sucks."
Facundo Etchecolatz
"Incomprehensible that this happened. Really brutal. I don't doubt that you'll come stronger out of this."
Pat Vellner
"This is brutal. I'm sorry Alex."
Chyna Cho
"WOW. This has to be beyond frustrating."
Carol-Ann Reason-Thibault
"Ridiculous. I don't even know what to say. We're with you Alex."
Justin Cotler
"This is an embarrassment. You are right brother. We have a long way to go for our sport to be 'professional'."
Andre Hiller
"Unbelievable."
What do you think?