The 2020 CrossFit Games are well underway and the last workout that athletes will face was announced last night, Awful Annie.
Awful Annie
For time:
50-40-30-20-10
5-4-3-2-1
W 185 lb. // M 275 lb.
Athletes start with 50 double-unders (with a special heavy rope), 50 GHD sit-ups and 5 cleans, they then move on to 40 double-unders, 40 GHD sit-ups, 4 cleans, and so on.
https://www.instagram.com/p/CFQWvKHAhGM/
CROSSFIT GAMES PROGRAMMING
The event was announced last night during the CrossFit Games preview show, where Dave Castro, CrossFit Director of Sport, also discussed the other events athletes will face these two days of competition.
Castro admitted he had minimal time to create the programming before the event started and had to make the decision to preserve the programming for the complete event or alter it. He stuck to the original plan and worked to adapt it for the online format.
"Creating programming for an event, especially an event like this, is not an easy task," Castro said. "It takes a lot of work and a lot of thought."
He decided to make the base of the programming all benchmark workouts with "little twists and turns."
The reason the competition is only two days is to give athletes a lot of events and a lot of volume, to give them a taste of the actual Games and test their recovery and "ability to stay mentally engaged throughout multiple workouts in one given day," said Castro.
"The top 5 fittest men and fittest women will advance to the next stage, and I have no doubt about that," he said later in the interview with certainty. "This test, this series of tests at this stage, is very well rounded and will expose some weaknesses. And if you don't advance you didn't earn it and you didn't deserve to advance.
"I'm really excited about these challenges and where they're going to be pressed and where they're going to be tested in ways that they weren't quite expecting," he continued.
All CrossFit Games workouts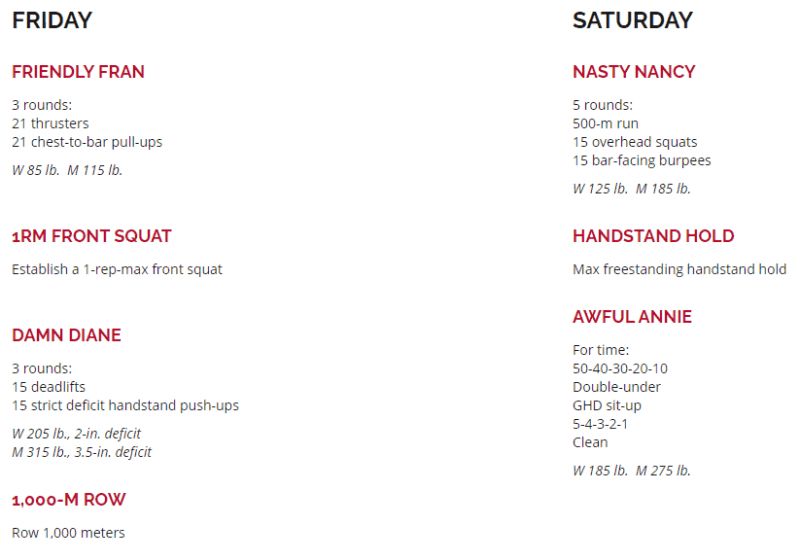 2020 CrossFit Games format explained
Stage 1 of the 2020 CrossFit Games is an online competition. It takes place between September 18 and 19 and will see 30 athletes per division, men's and women's, compete in seven events. The best 5 athletes after this stage will then advance to an in-person final in Northern California scheduled for October.
The first stage will determine prize money and placing for athletes from 6th through 30th place.
How Much Money Will Athletes Win at the 2020 CrossFit Games?
The top 20 men and top 20 women from the CrossFit Open, as well as the 10 Sanctional events champions will compete at this year's Games. CrossFit cancelled the Age Group and team divisions, as well as National Champion invitations, earlier in the year due to the global pandemic.
2020 CrossFit Games Line-Up – Who Is Competing?
As athletes are competing in their local time zones, there will be no live feed to follow. However, CrossFit will provide update shows with results, highlights and guest appearances at the end of every competition block.
You can watch these on the CrossFit Games website.
https://www.instagram.com/p/CE958lsHOop/