Elite CrossFit athlete Noah Ohlsen, 3x Mr. Olympia Chris Bumstead, and other athletes from Gymshark decided to do a strength test to see who was the strongest among them. They did a 1 rep max of the standing push press, progressively upping the weight until failure.
David Laid, a bodybuilder and powerlifter with almost 2 million followers on his Instagram, explained that the athletes had to come up with a movement that wasn't focused too much on bodybuilding or CrossFit, to keep the level of competition equal to everyone involved.
"We decided to do the push press because it incorporates the deltoid strength of the bodybuilder and the momentum and athleticism of a CrossFit movement," Laid explained at the beginning.
WATCH Strength Test with Christ Bumstead, Noah Ohlsen and More
Strength Test Results
Chris Bumstead – 120 kilograms (264.5 lbs)
Noah Ohlsen – 110 kilograms (242.5 lbs)
George Bamfo Jr – 110 kilograms (242.5 lbs)
Julian Marquez – 110 kilograms (242.5 lbs)
Ashton Hall – 110 kilograms (242.5 lbs)
Will Tennyson – 100 kilograms (220.5 lbs)
Jah'Son Patterson – 80 kilograms (176.4 lbs)
Elika Bang – 60 kilograms (132.3 lbs)
David Laid – 50 kilograms (110.2 lbs)
At the end of the video, cameraman Kofi Yeboah wanted to see how he would do and you can see him starting the push press with 100 kg and progressively upping to 130 kg, which is more than any other athlete managed to lift.
For the lift to count, Noah Ohlsen explained the rules:
Both feet have to be hip-width.
Dipping the knees is allowed to create momentum to lift the barbell.
Elbows must be locked out.
The lift has to be done in one motion.
Who Are The Athletes Involved In the Strength Test?
Chris Bumstead is the reigning Mr. Olympia Classic Physique winner, having taken the top spot for the last three years in a row (2019, 2020, 2021).
Noah Ohlsen is a legend in the sport of CrossFit and one of the most consistent athletes. In 2019 he finished in second place at the CrossFit Games.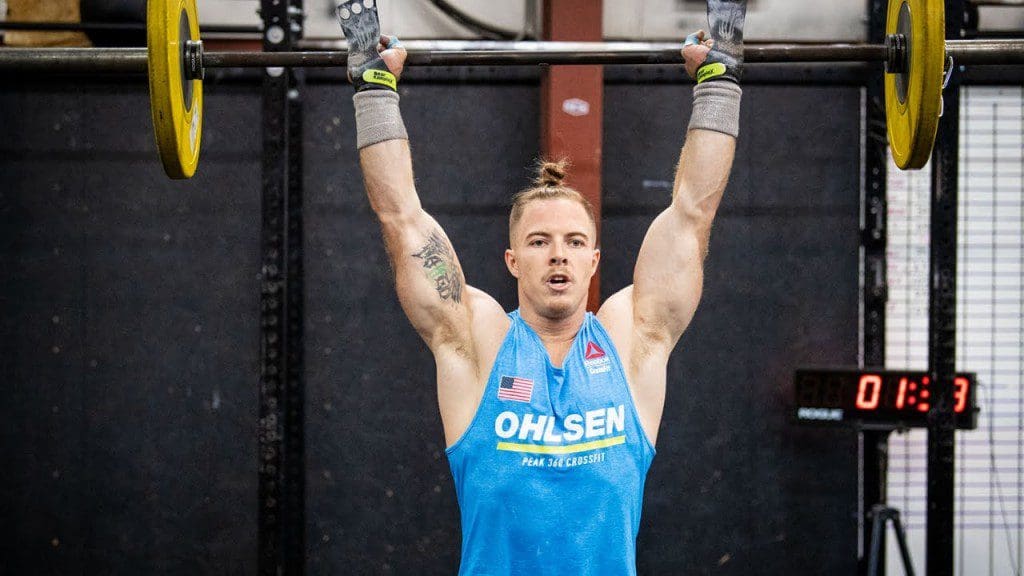 David Laid is a bodybuilder and powerlifter with nearly 2 million followers.
George Bamfo Jr. is a fitness influencer from Ghana with over 1 million followers.
Julian Marquez is a guy who loves fitness. He is friends with many CrossFit athletes such as Fittest Man on Earth Justin Medeiros and legendary athlete Mat Fraser.
Will Tennyson is a YouTuber who focuses on sharing fitness videos. He loves workouts challenges and diets.
Jah'Son Patterson is a fitness trainer.
Elika Bang is a Gymshark athlete who likes to share workout tips on his Instagram profile.
Read More: Noah Ohslen Train (and Eat) with 3x Mr Olympia Chris Bumstead