Wodapalooza 2022 is around the corner and with a stacked field of CrossFit athletes competing individually or in teams, it is no easy feat to discuss who will win this year's edition. Here are BOXROX picks for the top contenders at Wodapalooza 2022.
The CrossFit competition starts this Thursday and goes through Sunday 13-16. Find out how to watch the Livestream of the events.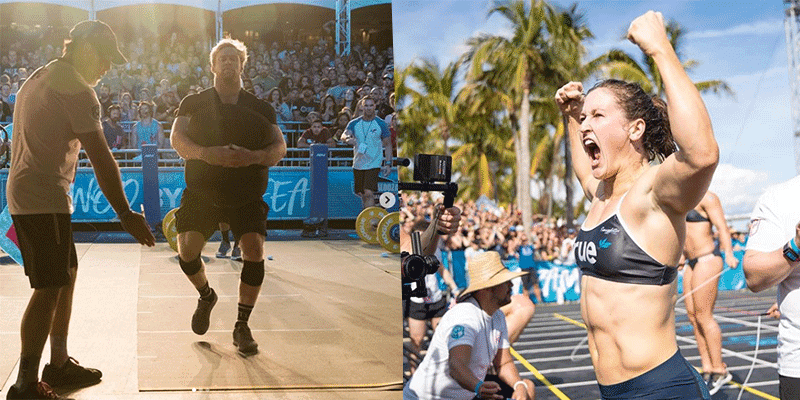 Who Could Win Wodapalooza 2022?
Elite Women
The defending champion Tia-Clair Toomey is focusing on her bobsled skills and will not be participating this year, leaving the crown up for grabs.
Emma McQuaid could be the new champion at WZA this year. She has proven her skills by winning the Lowlands Throwdown CrossFit Semifinal and finished 12th at the 2021 Games (her best placement so far).
Sara Sigmundsdottir has warned us about the most epic comeback in CrossFit and has already made a statement during the Dubai CrossFit Championship in which she finished 7th months after having surgery on her ACL rupture. What better way to write a comeback story than to win a tournament less than a year after surgery?
Bethany Shadburne is another name we will not be shocked to see among in the podium come to the end of the competition. Sadly she contracted COVID and was not able to compete at the Games in 2021, but has since recovered and focused on training her weaknesses.
Keep an eye out for Arielle Loewen, Dani Speegle and Emily Rolfe as well.
Elite Men
Justin Medeiros, 2021 Fittest Man on Earth, will not be competing this weekend at Wodapalooza 2022. However, the men's division is stacked with elite athletes which will make it for an interesting tournament.
Patrick Vellner has got to be the leading name among men to win Wodapalooza. He is the defending champion of the last edition and was crowned 2nd Fittest Man on Earth last year. During the Rogue Invitational, he finished 2nd, also behind Justin Medeiros.
Saxon Panchik finished 2021 strong with 5th place finish at the CrossFit Games, his best placement yet. Although he struggled during Rogue (10th place), he has consistently improved his game since 2018, when he first came into the spotlight of the CrossFit Games.
Guilherme Malheiros * is the new kid on the block who has gathered thousands of new fans after the CrossFit Games last year. If there is a lifting event, Malheiros will probably win the workout. At the Rogue Invitational he finished 5th and starting this year we should see if training with Rich Froning has helped him with his weaknesses.
*Update: Malherios has withdrawn from competition since the publication of this article.
Also fighting for their place on the podium are Scott Panchik, Samuel Cournoyer, and Ricky Garard.
Women Team
The biggest surprise for the women's team division was Haley Adams decision to not compete as an individual, but rather partner up with Andrea Nisler and Taylor Williamson as the Mayfem team.
Running after them is Team GOWOD (Mia Hesketh, Sólveig Sigurðardóttir, Julie Hougård Nielsen) and Team Kriger (Kristin Holte, Lena Richter, Ingrid Hodnemyr).
Men Team
As expected, Rich Froning put together his team to fight for the winning prize and are seen as the biggest contender for Wodapalooza 2022. Mayhem in Paradise put together Rich Froning, Angelo Dicicco, and Luke Parker.
Trying to snatch victory from Rich's team is the Smith Bros (Ben Smith, Alec Smith, and Dane Smith). Another team everyone should be excited to see on the competition floor is The Boys (Noah Ohlsen, Travis Mayer, and Chandler Smith).
How to Watch Wodapalooza 2022 (Livestream)