EVENT 1
The day on the Ranch began with Mat Fraser wrapping up his 20th career event win by smashing Event 1 "2007 RELOAD". As a nod to CrossFit Games history, Dave Castro re-programmed the first event of the 2007 Games.
2007 RELOAD
For time:
1,500-meter row
Then, 5 rounds of:
10 bar muscle-ups
7 shoulder-to-overheads
W 145 lb. M 235 lb.
In an incredible twist of fate, Fraser finished in 13:07, the exact same time that Brent Marshall, the winner back in 2007, completed the earlier version.
https://www.instagram.com/p/CGsQ6ThHvmi/
Rookie Justin Medeiros was chasing Fraser the entire time, finishing only 8 seconds behind. He competed with fire in his belly and gave everything to try and chase down the champ.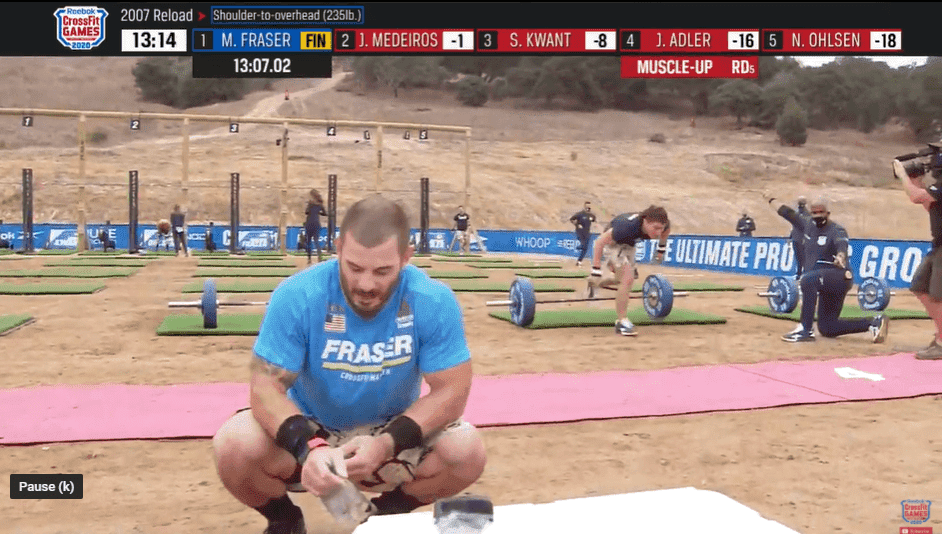 The athletes paced carefully on the row and quickly transitioned between the shoulder to overheads and bar muscle ups. Noah Ohlsen dropped off the pace towards the end, finishing over three minutes behind the winning time.

Kwant worked steadily and paced well, looking strong on the barbell. Both Fraser and Toomey failed reps during the final set as they attempted to go unbroken throughout.
https://www.instagram.com/p/CGsNxgVHrh2/
On the female side, reigning champion Tia-Clair Toomey looked strong and focused throughout the entire event, wrapping up a comfortable win. She took the lead in round one and maintained throughout.
19 year old Haley Adams chased well after finishing the row in first place.
Tia-Clair Toomey 12:47.98
Haley Adams 13:17.79
Kari Pearce 13:59.51
Katrin Tanja Davidsdottir 15:16.76
Brooke Wells 15:45.13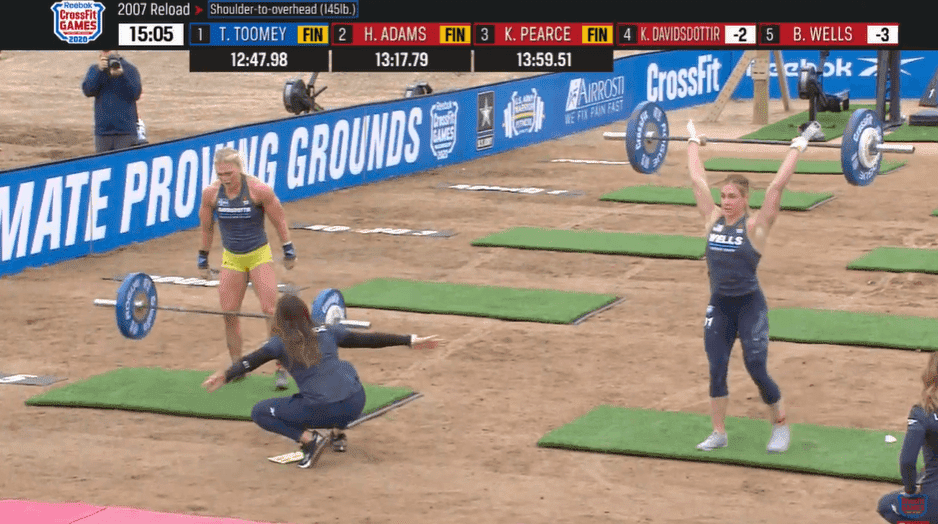 Brooke Wells struggled with the final rep on the barbell, failing twice before jogging forward across the finish line.
EVENT 2
To put it plainly, Event 2 was brutal.
CORN SACK SPRINT
For time:
320-meter hill sprint with a corn sack
W 30 lb. M 50 lb.
Men
Mat Fraser 2:51.54
Samuel Kwant 3:07.90
Noah Ohlsen 3:18.24
Jeffrey Addler 3:20.87
Justin Medeiros 3:21.09
Fraser and Kwant fought for first place, with Fraser shuffling into the top spot to round out his second victory in a row. Fraser slowed tactically at the beginning, speeding up on the only flat section and carving up the hill following the straightest line possible. Other athletes curved wide following the track, making their routes slightly longer.
The route narrowed towards the top of the course as the athletes had to scamble through trees across the rocks, sand and soil.
Most athletes could barely stand up by the time they finished. Sam Kwant commented afterwards that that it was exceptionally difficult to even coordinate his legs.
Justin Medeiros lost out on fourth place as he slowed towards the line, allowing Candian Jeffrey Addler to trudge past.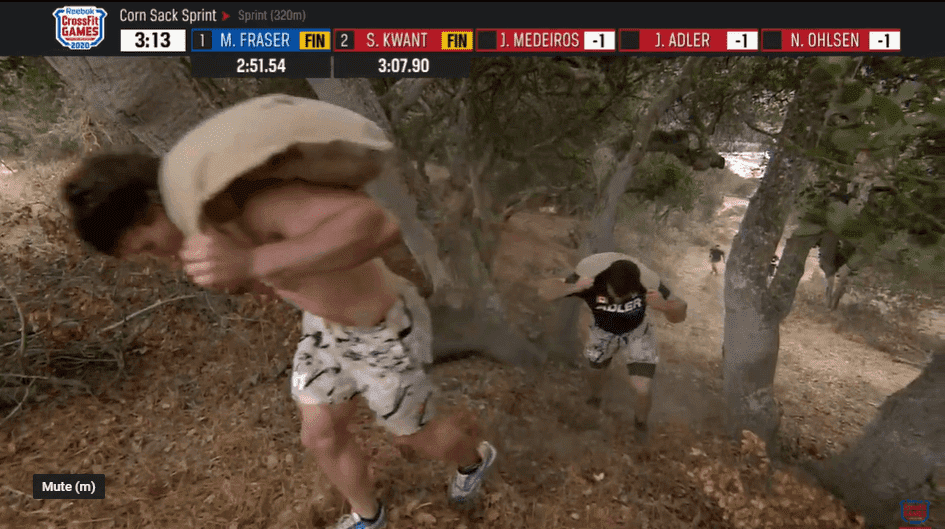 https://www.instagram.com/p/CGsXdJMH_nm/
Women
In the women's event, Tia-Clair followed a similar route to Fraser. Wells swung wide, ending up in last place for the second time in a row.
Tia-Clair Toomey 3:05.55
Katrin Tanja Davidsdottir 3:13.18
Haley Adams 3:24.49
Kari Pearce 3:28.17
Brooke Wells 3:25.02
Katrin fought hard to chase down Tia-Clair, but the reigning champion proved too good for the sled dog to beat.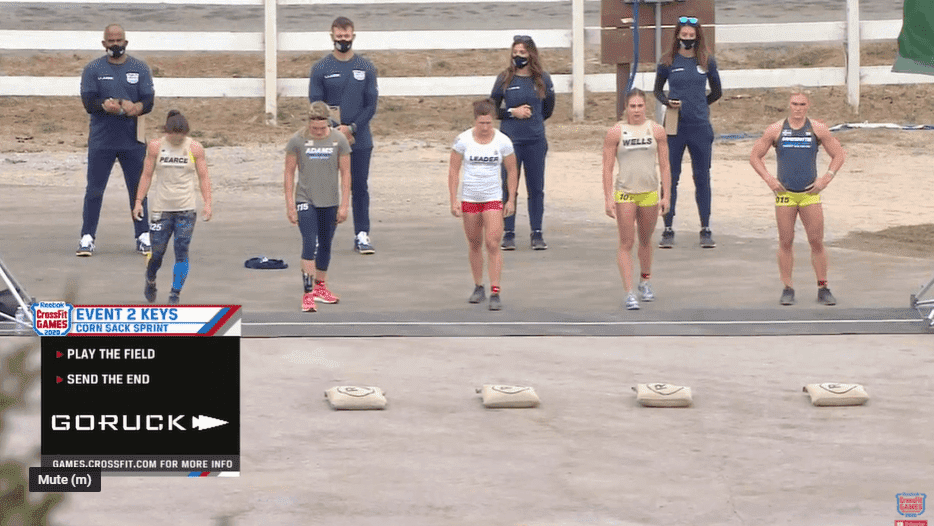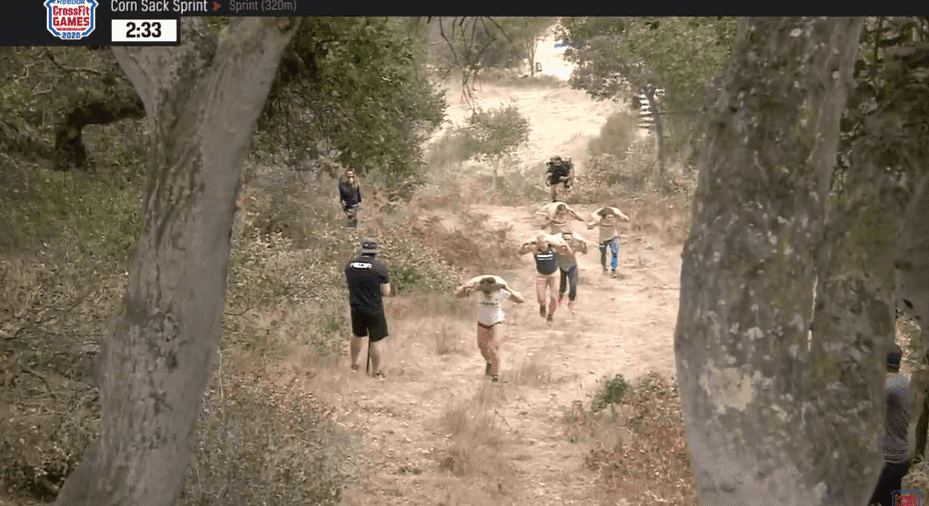 Haley Adams dropped her corn sack right at the top of the course, however she still secured third place.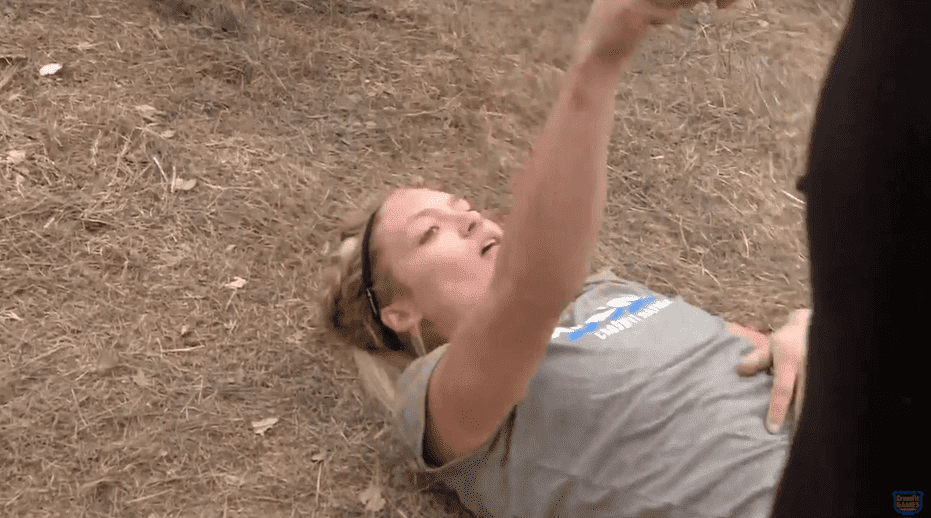 https://www.instagram.com/p/CGsZ-Mxn6Gh/
For the next event of the day, the athletes left the Ranch.
As they travelled, the dust settled and the leaderboard went as follows…
Men
Mat Fraser 200
Sam Kwant 130
Justin Medeiros 90
Noah Ohlsen 70
Jeffrey Addler 70
Women
Tia-Clair Toomey 200
Haley Adams 130
Katrin Tanja Davidsdottir 110
Kari Pearce 90
Brooke Wells 30
EVENT 3
Jeffrey Adler's Herculean performance earned him the top spot for Event 3!
https://www.instagram.com/p/CGsm79Zn-ID/
The Canadian National Champion slipped into the top 5 in the last event of the CrossFit Games Stage 1, securing his spot in the finals by two points.
Jeffrey Adler is the only Canadian athlete competing in the men's field of the CrossFit Games Finals.
The 26-year-old athlete made his breakthrough last year, qualifying to the CrossFit Games through the CrossFit Open and finishing in 33rd place overall, with a 5th place finish on event 1, First Cut.
CROSSFIT TOTAL
For total load:
1-rep-max back squat
1-rep-max shoulder press
1-rep-max deadlift
All the weight is in lbs. Check out the results…
MEN
Squat
Fraser 492
Medeiros 480
Adler 470
Kwant 460
Ohlsen 455
https://www.instagram.com/p/CGslbrPHXs-/
Strict Press
Fraser 210
Kwant and Addler 207
Ohlsen 205
Medeiros 175
Deadlift
Adler 567
Ohlsen 540
Medeiros 537
Fraser 535
Kwant 525
https://www.instagram.com/p/CGso0TLH0mt/
TOTAL
Jeffrey Adler 1244
Mat Fraser 1237
Noah Ohlsen 1200
Sam Kwant 1196
Justin Medeiros 1192
WOMEN
https://www.instagram.com/p/CGst3CaHCvu/
Squat
Tia-Clair Toomey 335
Brooke Wells 315
Kari Pearce 272
Katrin Davidsdottir 269
Haley Adams 265
Strict Press
Kari Pearce 157
Tia-Clair Toomey 140
Brooke Wells and Katrin Davidsdottir 137
Haley Adams 127
https://www.instagram.com/p/CGssBgknxKO/
Deadlift
Brooke Wells 432
Tia-Clair Toomey 415
Haley Adams 327
Kari Pearce 335
Katrin Davidsdottir 295
TOTAL
Tia-Clair Toomey 890
Brooke Wells 884
Kari Pearce 764
Haley Adams
Katrin Davidsdottir 701
EVENT 4 – HANDSTAND SPRINT
https://www.instagram.com/p/CGswkfTB0v-/
For time:
100-yard handstand walk
https://www.instagram.com/p/CGtBjESn0ET/
In the Men's division, Mat Fraser dominated. Rookie Justin Medeiros adopted a novel tactic of coming down off his hands every 5 yards and the idea paid off! He moved like lightening across the pitch to secure econd place.
Mat Fraser 1:20.85
Justin Medeiros 1:26.19
Noah Ohlsen 1:39.45
Sam Kwant 1:43.77
Jeffrey Adler 1:54.39
Over on the Women's side, Haley Adams was highly impressive during this event! Brooke sprinted consistently and convincingly took the win.
Tia-Clair was left far behind against arguably the best four athletes on their hands in the game.
Brooke Wells 1:21.22
Kari Pearce 1:23.32
Haley Adams 1:24.25
Katrin Tanja Davidsdottir 1:40:00
Tia-Clair Toomey 2:05.67
EVENT 5
Trail Run
3 mile Run (with a twist)
https://www.instagram.com/p/CGtIrPBntOI/
The Athletes all set off together, however once they reached the end of the 3 mile loop, Dave Castro was waiting for them at the end to explain that they had to turn round and run the entire thing in reverse again!
https://www.instagram.com/p/CGtKbyeh4-5/
https://www.instagram.com/p/CGtD6T3BA4-/
Mat Fraser took an early lead but rookie Justin Medeiros caught up with the reigning champ and passed him. Fraser then caught back up and the two jostled for position throughout the entire distance of the trail. At the end (or so the athletes thought) Fraser sprinted ahead and crossed the line first. However he then had to turn right around and set off running again.
Tia-Clair Toomey and Haley Adams battled each other. On the second leg, Katrin passed both athletes. Haley Adams then caught her up again and went out into the front. Brooke Wells was a long way behind.
Sections of the course were so steep that the athletes had to crawl up the hills.
Men
Mat Fraser
Justin Medeiros
Noah Ohlsen
Jeffrey Addler
Sam Kwant
Women
Katrin Davidsdottir
Haley Adams
Tia-Clair Toomey
Kari Pearce
Brooke Wells
If you missed any of the events, check out the videos here.
Once the dust had settled and the points had been awarded, the final results from Day 1 went as follows:
Men
Mat Fraser 475
Justin Medeiros 255
Noah Ohlsen 235
Jeffrey Addler 220
Sam Kwant 215
Women
Tia-Clair Toomey 370
Haley Adams 295
Katrin Tanja Davidsdottir 260
Kari Pearce 255
Brooke Wells 220