Your three options for CrossFit Open Workout 18.5 are…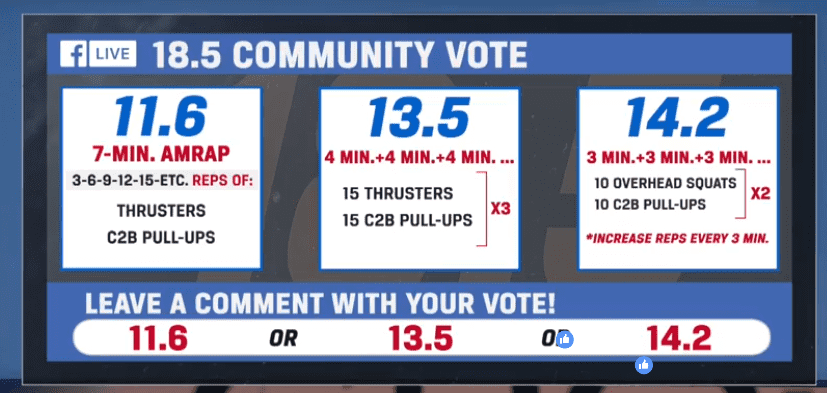 You must vote on the official CrossFit Games fb page.
https://www.instagram.com/p/BgoPxjYlizU/?hl=en&taken-by=crossfitgames
CROSSFIT OPEN WORKOUT 18.5 – MORE ABOUT DAVE CASTRO
Dave Castro generally cuts a mysterious figure, especially when he is announcing CrossFit Open Workouts, but he has been heavily involved in CrossFit right from the beginning. Learn more about the man behind the WODs.
Timeline for Dave Castro
Dave Castro knew he wanted to become a Navy SEAL before graduating from high school, and it wasn't long after that he enlisted in the Navy, graduated from BUD/S and began his service as a SEAL from 1998-2010.
In 2005, he first caught wind of CrossFit and started following CrossFit.com to support his training.
By 2006 he had begun training at the original CrossFit HQ affiliate in Santa Cruz, CA and was soon helping out at Level 1 seminars.
in 2007 he hosted the first ever CrossFit Games competition at his family's Ranch in Aromas, CA. Since that time, the CrossFit Games competition has grown exponentially into a professional sport under Dave's direction.
Now Dave serves as the Director of the CrossFit Games and Co-Director of Training alongside Nicole Carroll.
If you still feel worried, anxious or just plain excited about what CrossFit Open Workout 18.4, then read this article:
Should you Really Be Worrying about The CrossFit Open?
WHAT IS THE PURPOSE OF THE CROSSFIT OPEN?
The Open is the first qualifying stage of the CrossFit Games. Any athlete who wants to compete at the Games must first make it through the Open in their region.
While the purpose of the Open is to find the fittest athletes in each region to move on to the regionals, it's also an opportunity for any athlete at any level to participate in the competition. It can add meaning and purpose to your training while also bringing your gym's community closer together. (As a rule of thumb, the Open is the time of year where we see many people achieve important firsts: bodyweight snatch, muscle-ups, toes-to-bars, handstand push-ups, double-unders, etc.)
Most importantly, the Open will also give you some interesting data on your performance in the gym, which can be a guide for setting realistic goals for the following year.
If you want to learn more about the effects of CrossFit, click on the article link below:
20 Amazing Body Transformations of CrossFit Games Athletes