The ideas expressed here about post wod nutrition are extrapolated from Ben Bergeron, head coach and owner of CrossFit New England. These are the principles that he applies to himself, his coaching philosophy and the athletes that he trains. 2016 has been a pretty successful year for him as two of his athletes, Katrin Davidsdottir and Mat Fraser, both took first place at The CrossFit Games.
Everyone is unique, so experiment with these principles to find the right way that works for you.
TIMING: HOW SOON SHOULD YOU HAVE YOUR POST WOD MEAL?
After your workout, you have a 15 minute window for peak protein absorption.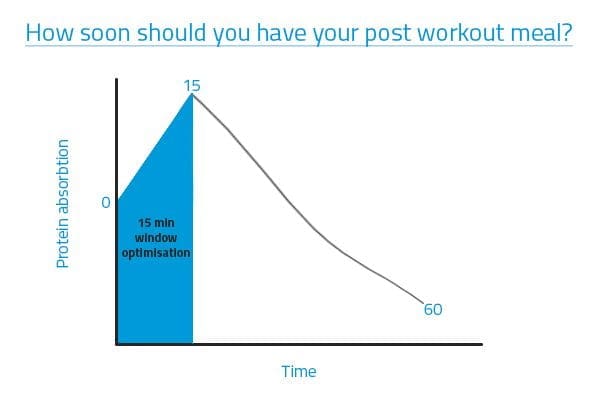 POST WOD NUTRITION: WHAT SHOULD YOU EAT?
What you should eat is dependent on what you did during your workout. You need to refuel with both protein and carbohydrates.
PROTEIN
Whether it was a strength session or a metcon, you should always aim for 25 – 40g of protein. The following are good sources:
Whey protein (try mixing with water, milk, coconut water or coconut milk)
Chicken
Meat
Eggs
Fish
CARBOHYDRATES
The amount of carbs that you need to eat are determined by how long and intense that workout is: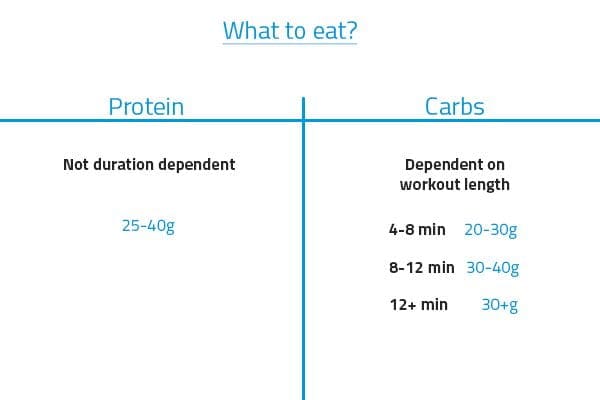 CARBOHYDRATE SOURCES
Sweet potatoes
Bananas
Chocolate milk
Corn on the cob
As mentioned above, this is a guide, and you must use it in a way that suits you. If you are a vegan, then obviously meat is off the menu for the post wod nutrition protein for example.
"As to methods there may be a million and then some, but principles are few. The man who grasps principles can successfully select his own methods. The man who tries methods, ignoring principles, is sure to have trouble" Harrington Emerson
Here is another useful article on Nutrition to help you improve your health, recovery and performance:
5 World Class Basics for Crossfit Nutrition