Meet Rodrigo Candeias and Rafael Candeias, the fittest teenage twins in the world. They are 15-year-old brothers from Portugal who will be going to the CrossFit Games for the first time in their lives. To help with the costs of the trip, the athletes have started a fundraising campaign.
If you want to help Rodrigo and Rafael, click here to donate to their trip.
In 2016 they started CrossFit and five years later they have qualified for the CrossFit Games for the first time in their lives. It will be the first time they leave Portugal.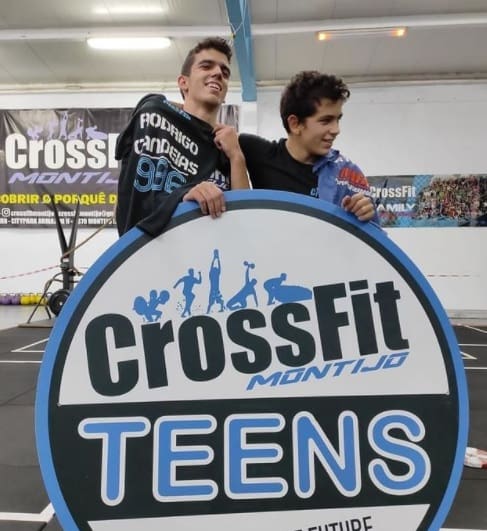 "It just happened to be one of the biggest and most important trips of our lives," Rodrigo told BOXROX.
Fundraiser to Help the Fittest Teenage Twins
At 15 years-old, the twins do not have sponsors to help them with the costs of travelling. Their parents are their coaches and they are coming together to Madison at the end of the month to help them compete for title of Fittest Teen on Earth.
Four plane tickets, stay for two weeks in Mexico (due to Corona restrictions) and flight back from United States, Rodrigo and Rafael Candeias have started a GoFundMe page encouraging people to help them pay their trip.
At the time of publication, 25 donors have helped with 830 euros. The goal is to receive 3,000 euros.
"We don't know exactly the costs, as I'm not in charge of it," Rodrigo said, "but it is a very expensive trip."
Newcomers at the CrossFit Games
Last year, the fittest teenage twins managed to get through to the Age Group Online Qualifier. Sadly, due to COVID, CrossFit Inc. decided to cancel any Games event except for individual athletes. That means that teams, masters and teenagers could not compete for the title of fittest in their own category.
Rafael and Rodrigo Candeias' dream of competing in the United States had to be postponed. This year, they made it.
"We worked extra hard in 2020 until now and we feel like the hard work has paid off," Rodrigo explained.
2021 Open leaderboard position:
Rafael Candeias – 18th
Rodrigo Candeias – 34th
2021 Age Group Online Qualifier leaderboard position:
Rafael Candeias – 14th
Rodrigo Candeias – 12th
They both travelled to Mexico where they will stay for two weeks before entering the United States due to COVID restrictions.
Who Are Rodrigo Candeias and Rafael Candeias?
The twins were born prematurely at 32 weeks (less than 7 months and a half) and doctors told them they would have health issues for the rest of their lives.
They tried out judo and swimming but found their passion with CrossFit five years ago. "CrossFit always put together different movements, and that is what got our attention," the twins said in a radio interview.
Last year they both finished in the podium of the iF3 World Cup, an event hosted by the international governing body for competitive functional fitness. Rodrigo won and his brother finished 2nd.
Rodrigo Candeias
Height: 180cm
Weight: 64kg
Clean and Jerk: 95kg
Snatch: 80kg
Deadlift: 135kg
Strengths: Gymnastics
Weakness: Burpees
Rafael Candeias
Height: 170cm
Weight: 60kg
Clean and Jerk: 102kg
Snatch: 80kg
Deadlift: 135kg
Strengths: Handstand walk
Weakness: Running
Read More: How Expensive Are the CrossFit Games for International Athletes?