Have you ever wondered how professional athletes fuel their training? Exactly what they eat is just as interesting as how much they eat, so we're sure you'll enjoy this grocery shopping trip with CrossFit Games athlete Kristi Eramo O'Connell.
Grocery Shopping with Professional Athlete Kristi Eramo O'Connell
Kristi tries to go shopping once a week for a big shop, which she admits right at the start of the video usually ends in failure and she's back shopping after four days.
She also talks about what she usually buys, gives tips on how to do a grocery haul, and how to steer away from sweet treats when you're in the shop.
Grocery shopping tips include:
Never go grocery shopping when hungry
Shop the perimeter
Have variety in your shopping
Have a list to know what you'll buy
Cook and prepare your food the same day
Don't go grocery shopping when hungry
Hunger makes it harder to control willpower. Quick trets look much more appealing if you're hungry, so shopping while satiated might help you keep on track with your nutrition plan if you're trying to reduce the consumption of certain foods.
Shop the perimeter
This will help you get away from the foods that have a long shelf life. Eating mostly unprocessed, whole food is a healthy eating habit, as these foods tend to have greater nutritional value and have fewer calories per serving.
Have variety
This variety comes from eating the same "base" ingredient but doing small alternations. Examples are consuming sweet potatoes one week and regular potatoes the next, or oranges on week 1 and clementine on week 2. Roast broccoli versus steamed broccoli.
Go shopping with a list
This way, you're more likely to only buy what you need and stay consistent with your nutrition. To ensure variety, Kristi recommends aiming for 3 of everything: 3 fruits, 3 vegetables, 3 sources of carbohydrates, 3 different proteins and 3 sources of fats.
Cook your food right after shopping
Getting your meals ready after purchasing them will be of great help to have really healthy options quickly available and ready in the fridge. If food isn't ready you're more likely to pick an easier option, so make sure you make time to prepare your food and that the healthy meals are the easiest option.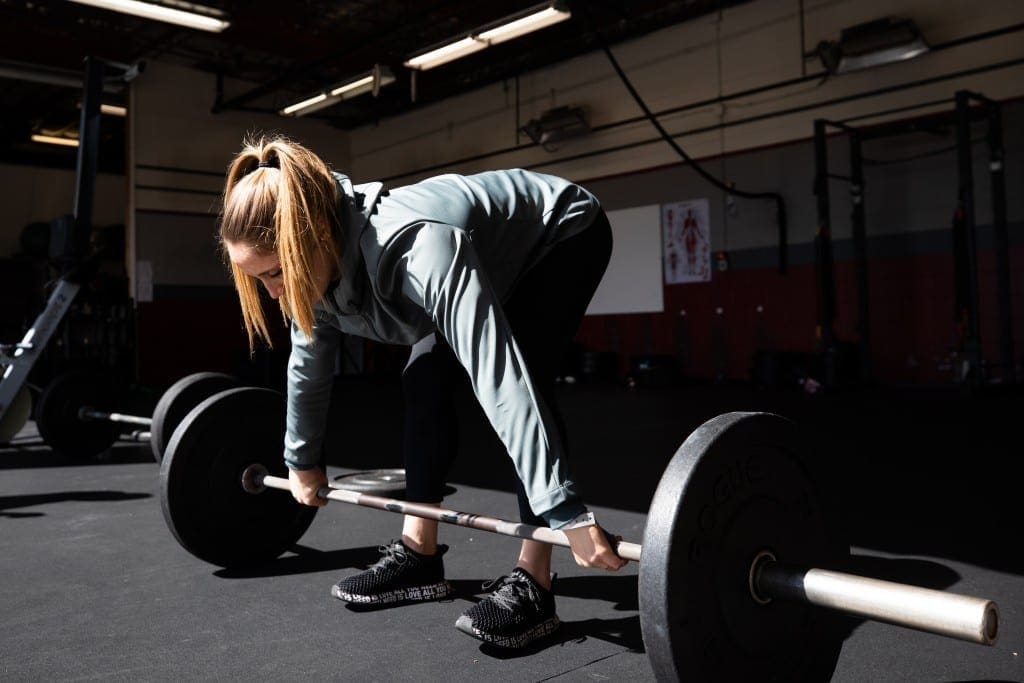 Who is Kristi Eramo O'Connell
Kristi Eramo O'Connell is a six-time CrossFit Games athlete taking top 10 finishes every year with the exception of 2017, where she finished 13th.
With a collegiate swimming background, Kristi also has experience competing in both triathlons and marathons. In 2011 she came seventh in her age division in the USA Age Group National Championship Olympic Distance triathlon. 
She is known for her love of burpees and all cardio-based events, but her strength is no joke either.
The 32-year-old qualified for Regionals in her first year of the Open in 2014, placing 16th at the event. In 2016 she earned eighth place in her debut Games appearance; the best result of any female rookie that year.
From there Eramo O'Connell has grown into a fearsome CrossFit competitor. While she considered retiring from competition in 2019, she was contacted by Games athlete Sam Dancer, who asked if she wanted to join Team Invictus X. She agreed, joining Dancer, Margaux Alvarez and Holden Rethwill in the Teams Division of the 2019 CrossFit Games, coming in 7th overall.
Following her stint with the Teams Division, Kristi decided to return to the Individual competition, but this time with a brand new mindset.
Kristi currently works as an accountant while coaching and training at the same time, as well as hosting her popular YouTube channel, which is followed by over 80K subscribers.
Find out more about this amazing athlete.