Jonne Koski has returned to his usual level of fitness 5 months after going through a shoulder injury. He told BOXROX how his training had to change for the past few months and which CrossFit exercise he still hasn't done during his recovery process.
Jonne Koski fought through the 2021 CrossFit season with an injury on his left shoulder. A couple of weeks before the CrossFit Games, he fell from a pegboard and hurt his shoulder even more. Even this extra obstacle was not enough to stop him from winning the first event, finishing 6th at the CrossFit Games and, in the process, claiming the title of Finland's National Champion.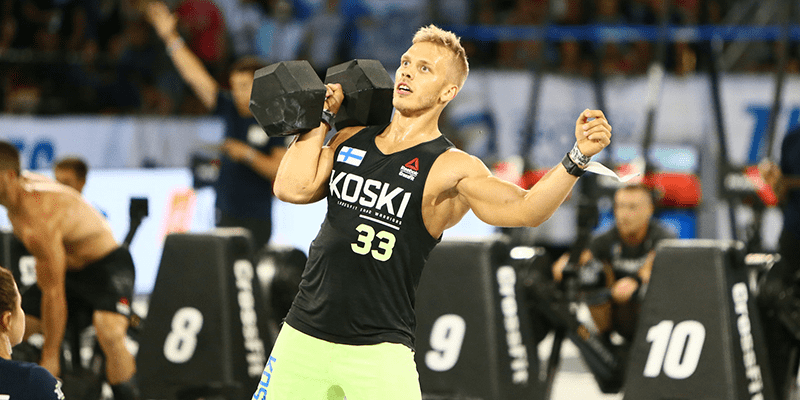 Shortly after the CrossFit Games, Jonne Koski announced he had a shoulder surgery to fix a "full supraspinatus tendon tear." Because of the procedure, he had to forfeit his chance to compete in following competitions, such as the Rogue Invitational.
Jonne Koski Says His Shoulder Is "Back to Normal"
With shoulder mobility issues, Jonne Koski had to adapt to keep his fitness in check.
"Last year I would do more strength training before the Open, but this year has been different," he tells BOXROX. "I have been doing a lot of running and improving on my squats."
Earlier this year, Koski says his shoulder mobility score went back to normal. "My mobility score for my shoulders has never been 100, but I got to 80, which is what I normally get just before the CrossFit Open."
Being able to rely on his shoulder, Jonne Koski continues his physical therapist's plan of recovery of slowly increasing his Olympic lifting power.
"I can snatch now just above 100 kilos (220 pounds) which is similar to what I had before the Open last year," Koski reveals.
To put it into perspective, at the 1-rep-max snatch during 2021's CrossFit Games, Jonne Koski snatched 118 kilos (260 pounds).
Although he is feeling much better and ready to go back to his normal training routine, there is still one exercise he hasn't done since his surgery back in September.
"I haven't done any muscle-ups."
Koski explains that he could do muscle-ups but just hasn't gone around trying it yet.
The equipment list for the 2022 CrossFit Open states that athletes must have a pull-up bar at their disposal "for all common hanging movements and kipping." There is a chance Jonne Koski will be tested on his muscle-up technique sooner rather than later.
Read More: BOXROX Interviewed Jonne Koski When He Was 19 Years-Old