This last weekend was full of action with sanctioned events happening in Europe and Asia, and invites to the CrossFit Games up for grabs.
The CrossFit Italian Showdown is the biggest CrossFit event in Europe and takes place in Milan. Athletes from over 20 countries gathered in MalpensaFiere to compete in this unique event.
The final workouts of the weekend featured ring muscle-ups, handstand walks, an Assault run and wall balls.
Russia's Roman Khrennikov and Erin Vandendriessche, from the US, have secured a spot at the 2019 CrossFit Games after the event.
HOW IT WORKS
Up to 1,500 competitors are admitted to the first day of the event
Each competitor, in one of the seven age divisions or the Open category, can chose between Rx'd and Scaled workouts. They are ranked accordingly
The best athletes in each division qualify to the next two-day phase
At the end of the third day, the top 5 athletes face each other in the showdown
After the first day of the CrossFit Italian Showdon, the 1,000 athletes that competed were reduced to 280, with Americans Noah Ohlsen and Stephanie Chung leading the senior competition. Chung was followed closely by Amanda Goodman.
The top 100 elite men athletes and top 60 female elite athletes then advanced on to day two, where the scores were whipped clean.
DAY 2
Day two events saw athletes performing squat snatches, pull ups, a 1,000m SkiErg, wall balls and ring muscle-ups.
With empty leaderboards, it was Roman Khrennikov leading the elite men competition at the end of the second day, followed by Scott Panchik and Lukas Esslinger. Roman had qualified for the Games last year but couldn't attend due to Visa issues.
Feeroozeh Saghafi finished the second day on the top of the elite female leader board, with Stephanie Chung second and Erin Vandendriessche ranked third.
The last two workouts of the event before the showdown featured Assault runs, squat cleans, bar muscle ups and kettlebell snatches.
SHOWDOWN
Roman Khrennikov
Scott Panchik
Noah Olsen
Lukas Esslinger
Stefano Carosso
All advanced to the showdown on the men's elite category.
Erin Vandendriessche
Feeroozeh Saghafi
Stephanie Chung
Manon Angonese
Manila Pennacchio
Were the top-five women to make it to the showdown, which looked like this:
https://www.instagram.com/p/Bwzd281HvV5/
Russia's Khrennikov won all but the second showdown events, crowning him overall winner of the CrossFit Italian Showdown.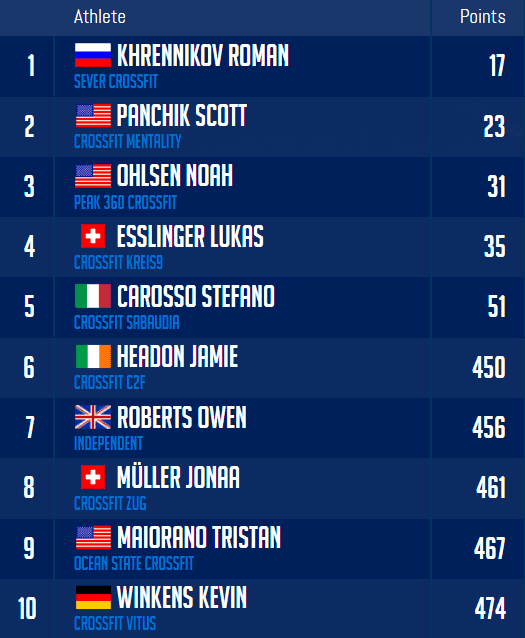 On the women's side, Angonese won part A and D of the showdown workouts, but with a DNF in event C she dropped down to 4th. It was Erin Vandendriessche, finishing consistently on the top, who won the event and with it an invite to the 2019 Games.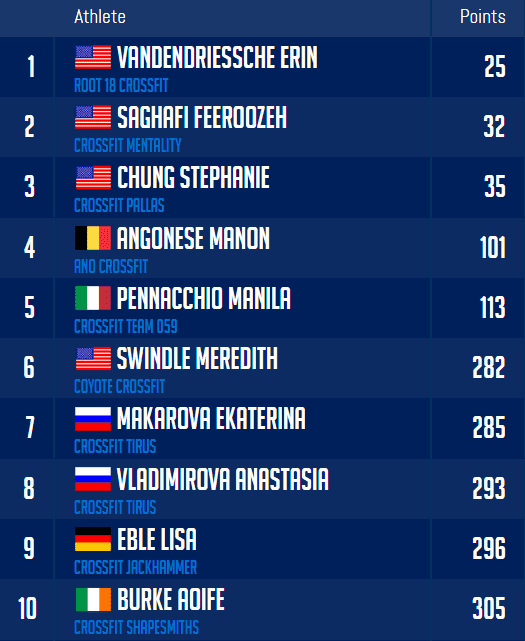 https://www.instagram.com/p/Bwzw7LAnBDf/
Have a look at the final leader board here.
SAMPLE WORKOUTS