The Mid Atlantic CrossFit Challenge will kick off in a couple of hours and the athlete line-up is stacked. The CrossFit Semifinal will determine the five men, five women, and five teams that qualify for the 2022 CrossFit Games.
Running from May 27 through to May 29 in Knoxville, Tennessee, the event will see 30 men, 30 women, and 20 teams go head-to-head for those coveted CrossFit Games spots.
Read more: How to Watch 2022 CrossFit Semifinals
On the men's field, among athletes participating are top CrossFit Games athletes Cole Sager, Saxon and Spencer Panchik, Noah Ohlsen, Tyler Christophel, and Logan Collins.
Up-and-coming athletes that could make a stand this weekend are Dallin Pepper (3x Fittest Teen on Earth), Jake Marconi (who trains under Mat Fraser), and Zach Watts (5th at last year's MACC).
On the women's field, CrossFit Games podium contenders Danielle Brandon and Brooke Wells are the top two athletes to watch alongside Baylee Rayl and Sydney Michalyshen.
You can find the full leaderboard of athletes competing at the Mid Atlantic CrossFit Challenge here.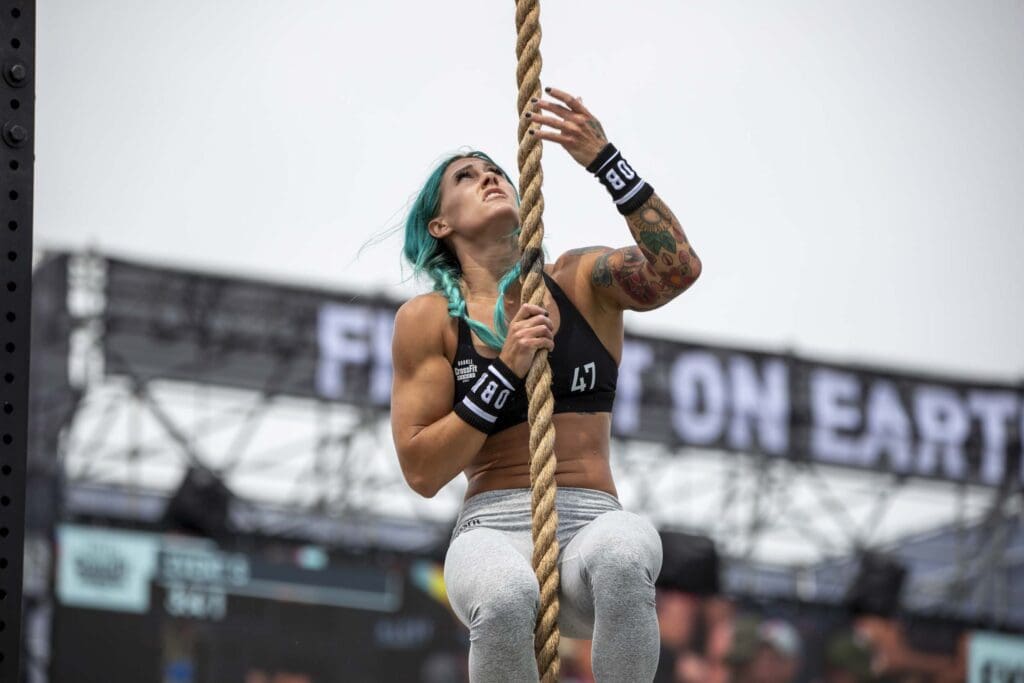 Read more: 2022 CrossFit Semifinal Events: Where and When Will Top Athletes Qualify for The CrossFit Games
Mid Atlantic CrossFit Challenge (MACC) livestream
Day 1
Running from 12:30 p.m. – 8:15 p.m. ET.
Day 2
Running from 8:45 a.m. – 4:15 p.m. ET.
Day 3
Running from 8:45 a.m. – 4:15 p.m. ET.
Event schedule
Friday, May 27th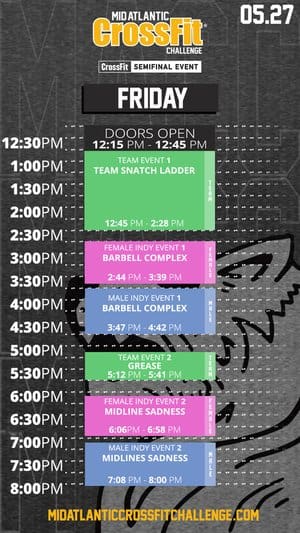 Saturday, May 28th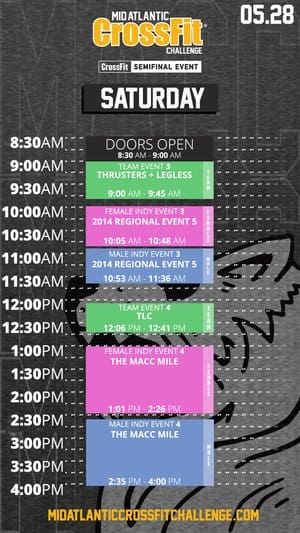 Sunday, May 29th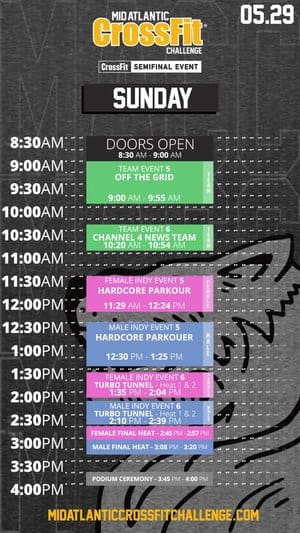 Individual workouts
Event 1: Barbell Complex
3 attempts for max load of:
3 cleans + 2 front squats + 1 jerk (shoulder-to-overhead)
Event 2: Midline Sadness
For Time:
50 GHD Situps
30′ Handstand Walk
30 Overhead Squats (145/95)
30′ Handstand Walk
40 GHD Situps
60′ Handstand Walk
20 Overhead Squats (165/115)
60′ Handstand Walk
30 GHD Situps
90′ Handstand Walk
10 Overhead Squats (185/135)
Time Cap: 14 minutes
Event 3: 2014 Regional Event 5
10 rounds for time:
1 legless rope climb, 15'
Run (170')
Time Cap: 11 minutes
Event 4: The MACC Mile
4 Rounds for Time:
400m Trueform
30 Wall Balls (20/14)
20 C2B Pullups
80' Tank Push
10 Sandbag to Shoulder (150/100)
80' Tank Push
Time Cap: 25 minutes
Event 5: Hardcore Parkour
For time:
2KM Echo Bike
30 Toes To bar
50 Alternating DB Snatch (70/50)
30 Toes to bar
20 burpee box get over (48/40)
Time Cap: 15 minutes
Event 6: Turbo Tunnel
For time:
18 Ring Muscle Ups
15 Front Squats (205/145)
45ft Front Rack Lunge
12 Bar Muscle Ups
9 S2OH (165/115)
45ft OH Lunge
Time Cap: 12 minutes
Previous winners
Last year, reigning Fittest Woman on Earth Tia-Clair Toomey took the top spot at the Mid Atlantic CrossFit Challenge because of travel restrictions that prevented her from competing in her home region of Australia.
She was followed by Haley Adams, Brooke Wells, Amanda Barnhart, and Jessice Griffith.
On the men's side, Jayson Hopper shocked the crowd by winning the event without previous CrossFit Games experience.
He was followed by Scott Panchik, Justin Medeiros, Travis Mayer, and Zach Watts.