BENEFITS FOR YOUR TRAINING
Released yesterday, the Nike Free Train Force Flyknit is highly versatile and designed to augment quick functional movements, offer strength and support where you need it most, and keep your feet looking fly throughout every WOD.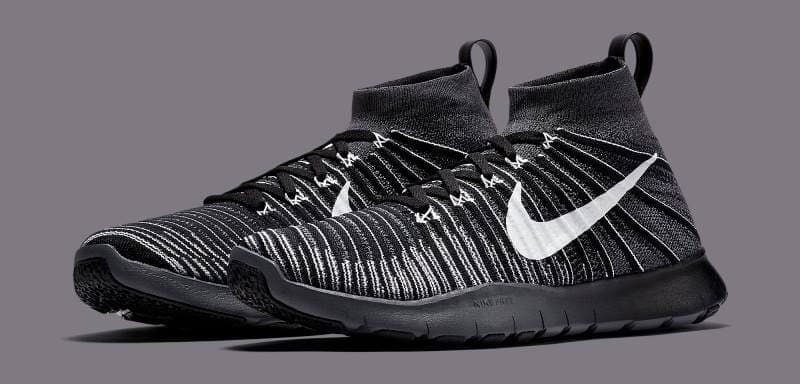 1. INCREASED MOVEMENT
The general flexibility of the overall shoe is enough to give you that quick-footed feeling that comes from light shoes, but Nike manages to combines this with a snug fit. This means that you won't slip out, or worry about losing control even during forceful movements.
2. STRENGTHENED HEEL SUPPORT
This is exceptionally useful for light / medium weight lifts, performed at high intensity training. If you need to establish a 1 rep max for your Snatch, then you may want to be changing into your Oly lifting shoes, but for shifting weights around and general barbell exercises, these will provide the support you need. From Kettlebell Presses through to Thrusters, these will keep your feet in order, so that your mind can stay focused on the task ahead.
3. FOREFRONT CONTACT POINTS
In the case of Box Jumps, Wall Balls and other quick dynamic movements, the Force Flyknits allow you to feel the terrain beneath you, and react accordingly. This is exceptionally useful for augmenting your natural balance, and helping to make your movements more effective.
Additionally, where this can really make a difference is during larger volumes of reps, normally parts of longer WODs. Anyone can perform 5 Wall Balls with great technique, but 150? It's a different story. At this standard, the efficiency of your technique and movement is put to the test, and in order to excel, you must perform with determination and great form. It is in these realms where the smallest advantages can make the biggest differences.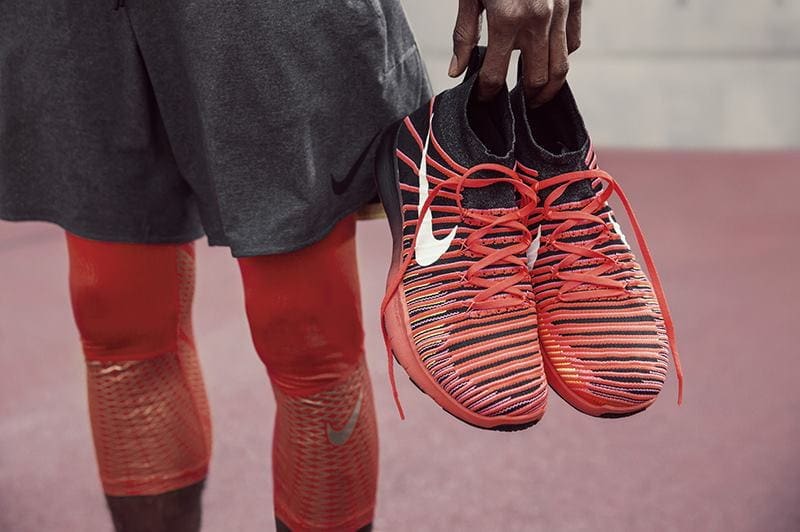 4. LIGHT AND FREE
The shoe is designed to be light, which works perfectly for gymnastic movements such as Muscle-Ups and Toes-to-Bar for example. Just before you are abut to RX the WOD, and high amounts of these exercises are scrawled up on the whiteboard, the last thing you need is the nagging feeling that your feet are going to weigh you down and stall your progress during each set.
5. SUPERFLY STYLE!
If there is one thing that Nike consistently supplies, it is distinctive aesthetics and iconic silhouettes, and the Free Train Force Flyknit is no exception.
The unique design is woven into flowing stripes that cover the body of the shoe from toe to heel. This movement is mimicked by a classic fade on the sole.
The main form of the shoe curves up to cover the lower ankle. Nike have elegantly coupled form and function because this additional feature provides extra stability for your lifts and dynamic movements, but is also a fine detail that creates a strong sense of unique style. These are not Shoes for those that like to follow the crowd!
If you aren't a fan of the bold, blazen red, the dark jet black fade or the sharp grey / blue winter style, then you can even personalise them into your own preferred colour way. When you look good, it helps you to feel good, and in turn, that helps drive up the standards of your performances in the Box.
NIKE FREE TRAIN FORCE FLYKNIT: THE FEATURES: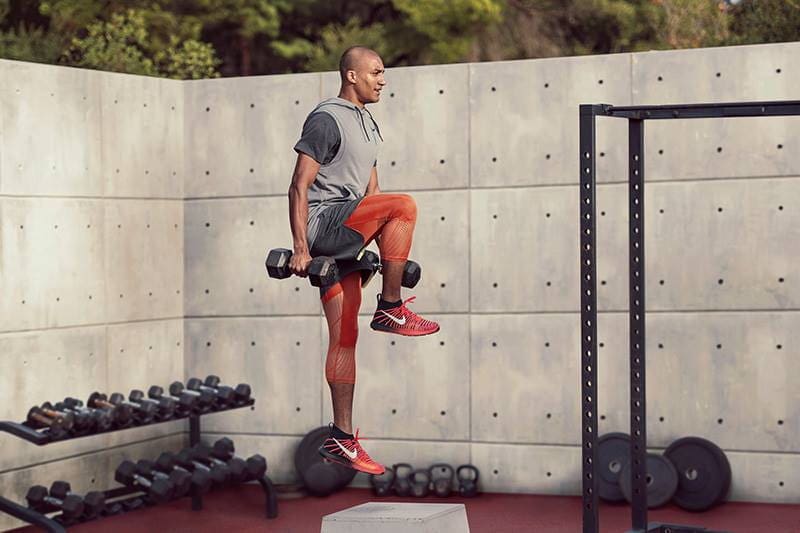 NEW UNDERFOOT CUSHIONING
Authentic geometry enables directional expansion and contraction that moves with your foot's natural motion.
DUAL DENSITY FOAM CUSHIONING
The dual density foam rubber underfoot is both soft on the foot and firmer in the heel, and the forefoot contact points have a 5mm offset.
ENGINEERED FLYKNIT UPPER
New engineered flyknit with built in flywire delivers enhanced breathability, flexibility and support.
30-DAY FREE TRIAL
If you're still not sure if these are the right choice for you, or you need to see them in the flesh and feel them on your feet before you own them, then Nike are offering a 30-day free trial.
AT HOME
Order the pair you want. Then lace them up and hit the Box, garage gym, or wherever else you like to throwdown and smash those PBs.
IN-STORE
Check out a Nike store near you to try the Free Train Force Flyknit before you buy. There you can find out how they feel, make sure that the sizing is perfect and pick the pair that is spot on for your own personal style.
TAKE ON A 30-DAY CHALLENGE
Another fun and practical way to see if you and your Force Flyknit are made for each other is to take on one of their 30-day challenges.  These range in size and scope, but the defining characteristic is that they will put both you, and your new shoes, to the test.
The Nike Free Train Force Flyknit offers strength and support for lifts, flexibility for movement, sensitivity for balance and an overall lightness for improved gymnastic movements. To round this off, Nike offers all of the above with iconoclastic and effortless style.
The shoe is not in stores anymore but check out some of the other shoes from the Nike Flyknit family.