How does the 2nd Fittest Man on Earth prepare before the Semifinals? Check out Pat Vellner's full day of training.
Vellner is a Canadian CrossFit athlete with multiple accolades on his resumé – four times podium finisher at the Games and has won Wodapalooza earlier this year.
Pat Vellner's day of training follows the Deka Comp, programmed by his coach Michelle Letendre.
"We've got Quarterfinals in the rearview and we're sort of looking to the far horizon for the Semifinals. So, a little bit of foundational training and some spicy stuff mixed in to make sure the heart keeps pumping," Vellner says.
This year Pat finished 7th in North America in the Quarterfinals and he will be competing in the Atlas Games in Quebéc this year on June 10-12.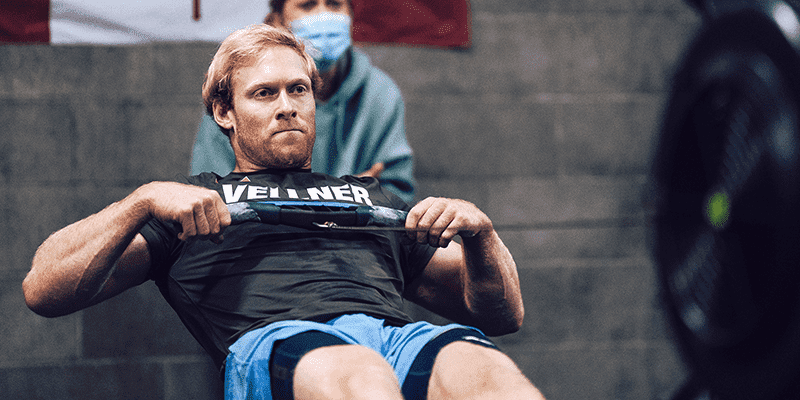 Which Semifinal Has the Fittest Athletes Based on Quarterfinals Worldwide Average?
Check out a typical day of training as a preparation for the Semifinals.
Full Day of Training of Pat Vellner
3 rounds of speed clean & jerk ladder
Rest 3 minutes after each round.
Followed by an EMOM in 6 minutes of:
In Pat's case that is 285lbs, 300lbs, and 320lbs.
Banded 1 + ¼ Barbell Front Squat
Sled Pull + Deficit Handstand Push-Up
4 sets
100ft sled pull
7 kipping deficit pull
2 Rounds for Time:
400-metre run
21 chest-to-bar pull-ups
9 deadlifts (315lbs)
Rest 5 minutes between rounds
Recovery
Workout 6
Workout 7
4 sets of:
4 barbell Bulgarian split squats
4 single-leg box jumps
Pat Vellner does the barbell Bulgarian split squats in a front rack position.
Workout 8
3 sets of assault bike intervals of:
3 rounds:
2 minutes at 68+ rpm
1 minute recovery
1 round:
3 minutes at 64* rpm
2 minute recovery
Vellner's Training VIDEO
Read More: 3 Lessons and 6 Workouts from Pat Vellner