Wodapalooza ended on Sunday and we now know the winners of the first major CrossFit sanctioned event of 2022. Vellner kept his reign while Emma McQuaid took 1st place for the elite women. The Boys and Team Kriger won the elite team division of male and female team, respectively.
If you missed out on the action, you can watch all four days of the competition here.
If you just want to know the top stories of the weekend at Wodapalooza, continue reading.
Wodapalooza Leaderboard
Elite Men
| | |
| --- | --- |
| Name | Points |
| Patrick Vellner | 692 |
| Alexandre Caron | 633 |
| Samuel Cournoyer | 613 |
| Cole Sager | 609 |
| Dallin Pepper | 606 |
Elite Women
| | |
| --- | --- |
| Name | Points |
| Emma McQuaid | 677 |
| Bethany Shadburne | 668 |
| Arielle Loewen | 644 |
| Lucy Campbell | 642 |
| Dani Speegle | 634 |
Elite Team Men
| | |
| --- | --- |
| Name | Points |
| The Boys | 770 |
| Thunder From Down Under | 725 |
| Team Herculus | 647 |
| Samsarellamann | 629 |
| Mayhem in Paradise | 605 |
The Boys – Noah Ohlsen, Travis Mayer, Chandler Smith
Elite Team Women
| | |
| --- | --- |
| Name | Points |
| Team Kriger | 782 |
| MayFem | 776 |
| Team GOWOD | 695 |
| Omnia | 632 |
| The Comeback Team | 602 |
Team Kriger – Kristin Holte, Lena Richter, Ingrid Hodnemyr
Many more divisions were competing at this year's Wodapalooza including adaptive athletes, master athletes, scaled and beginners.
You can check out the full leaderboard here.
Vellnerpalooza
This is the third time in a row that Vellner has won the Wodapalooza consolidating him as the fitness king of Miami.
Out of the 8 events this weekend, Patrick Vellner won two and finished top 10 in the other 7. His worst placement was 12th at the "row swim run" event.
Crazy Last Day for Elite Women's
On Sunday morning, before the last day of events started, Ellie Turner maintained her pole position with 525 points, 20 ahead of McQuaid and Shadburne (tied for 2nd place).
It all changed on the last two events. Turner finished 32nd and 9th on events 7 and 8, which bumped her out of the top 5 in the end.
Emma McQuaid finished 7th and 3rd, which was enough to edge out Shadburne who ended up winning the last event securing her the silver medal.
Sara Sigmundsdottir's Emotional Barbell Complex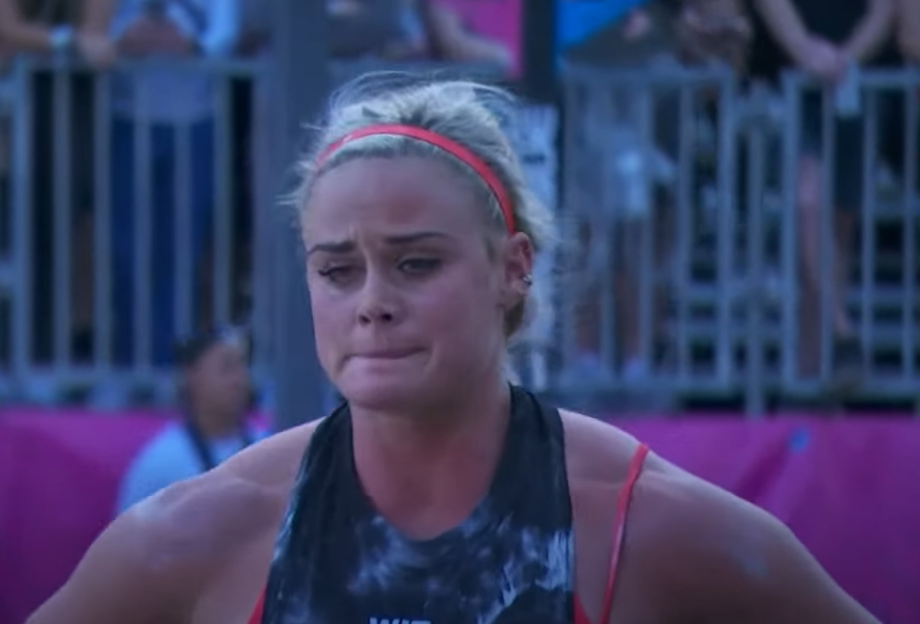 Sara Sigmundsdottir came in strong at Wodapalooza. She finished day 1 in 5th place. Unfortunately, her time at Miami came to an abrupt end when she was nearly in tears while trying to finish event 3 which included a barbell complex.
She was the last athlete standing on the competition floor trying to finish the workout, even though she was the first one to get to the second barbell in the prescribed workout.
Shortly after, she announced she was withdrawing from the competition without explaining exactly what had happened.
A Brief Pause
The phrase "into the storm" got a whole new meaning this weekend. On Sunday, organisers decided to suspend the competition due to a warning of a storm that would hit Miami.
After four hours, volunteers were called back to the stage to begin clearing the area of water and the competition was resumed.
The organisers took into consideration the rainfall and made adjustments to the prescribed workouts athletes were supposed to do.
Shuttle run was replaced with burpees.
Sandbag carry was adjusted from 90 feet to 60 feet for safety precautions.
The Upcoming Elite Athletes
Patrick Vellner and Emma McQuaid are quite known in the CrossFit community. Both of them have been to the CrossFit Games multiple times, but there were unfamiliar names that were on the podium for a while this weekend.
The following athletes did great at Wodapalooza, but are yet to debut at the CrossFit Games.
Phil Toon was chasing Vellner until the last day of competition ahead of names like Cole Sager, Samuel Cournoyer and the Panchik brothers.
Toon is from United States, he is 23 years old and finished 6th at the Last-Chance Qualifier in 2021.
He finished Wodapalooza at 6th place.
She is 25 years old and participated in her first Open in 2019. Lucy Campbell is from the United Kingdom and was 5th place on Sunday morning.
She also competed at 2021 Last-Chance Qualifier and finished 18th overall.
At Wodapalooza, she finished 4th ahead of other elite CrossFit female athletes such as Dani Speegle, Emma Tall and Emily Rolfe.