Why you should eat pumpkin:
Meals prepared from pumpkin will fill you up very easily but it is a low-calorie fruit and is rich in fibre.
It can also help prevent diabetes and heart disease, increase energy, and contribute towards a healthier body mass index (BMI).
Full of vitamin A and C, pumpkins support your immune system, recovery and also sharper vision.
Consuming pumpkin reduces the risk of developing certain types of cancer.
3 Tasty Pumpkin Recipes:
1. Raw, Vegan, Gluten-Free Pumpkin Pie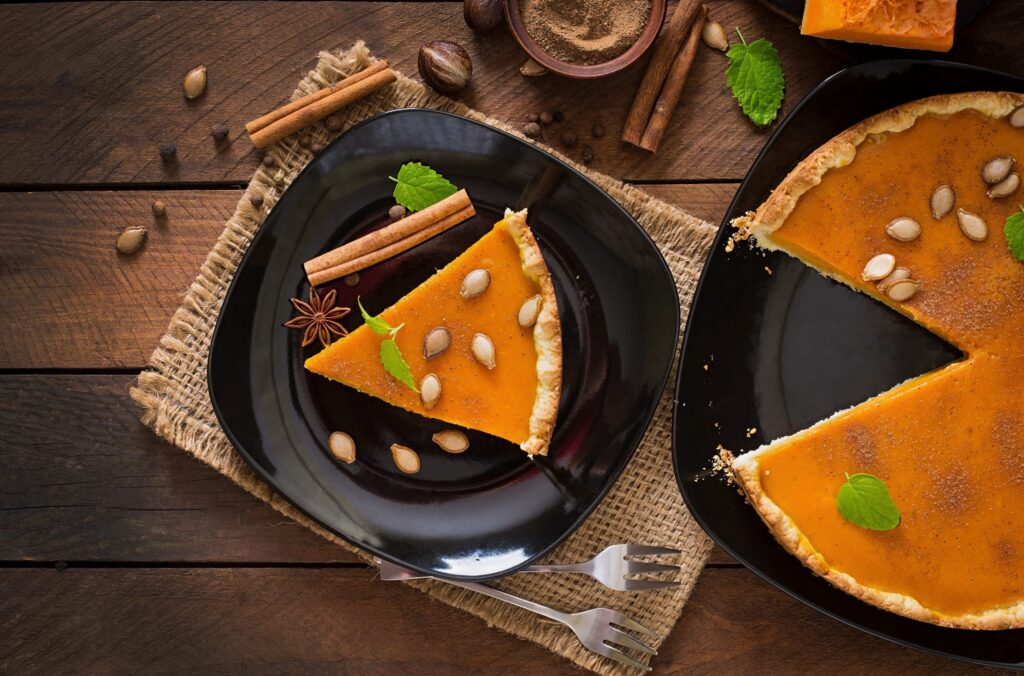 INGREDIENTS
Crust:
1/2 cup raw almonds
1/2 cup raw cashews
3/4 cup dates (about 18 small), pitted
1/2 cup raisins
1/4 cup raw, unsweetened, shredded coconut
1/4 teaspoon sea salt
Filling:
1 small pie pumpkin (4 cups), peeled and seeded
10 dates, pitted
1 medium banana
1/4 cup unsweetened almond milk
1 1/2 teaspoons cinnamon
1 teaspoon nutmeg
1/4 teaspoon ground cloves
3 tablespoons coconut oil
1/4 cup raw, unsweetened, shredded coconut, for topping
DIRECTIONS
1. Get out a 9-inch pie pan, and set aside.
2. Place crust ingredients into a food processor, and process until you see a crumbly mixture form, about 1 minute.
3. Pour the "dough" into the pie pan, and use your fingers to gently press it into the pan firmly, all the way up the sides of the pan. Place it in the fridge.
4. To make the filling, pour the rest of the ingredients (except the coconut topping) into a blender. Turn it on until a smooth mixture forms, a couple of minutes.
5. Take the pie shell out of the fridge, pour the filling in, sprinkle with shredded coconut, and chill for a few hours in the fridge.
Yield
1 pie, 8 servings
Cook Time
4 hours
Calories per serving
302
2. Homemade Pumpkin Latte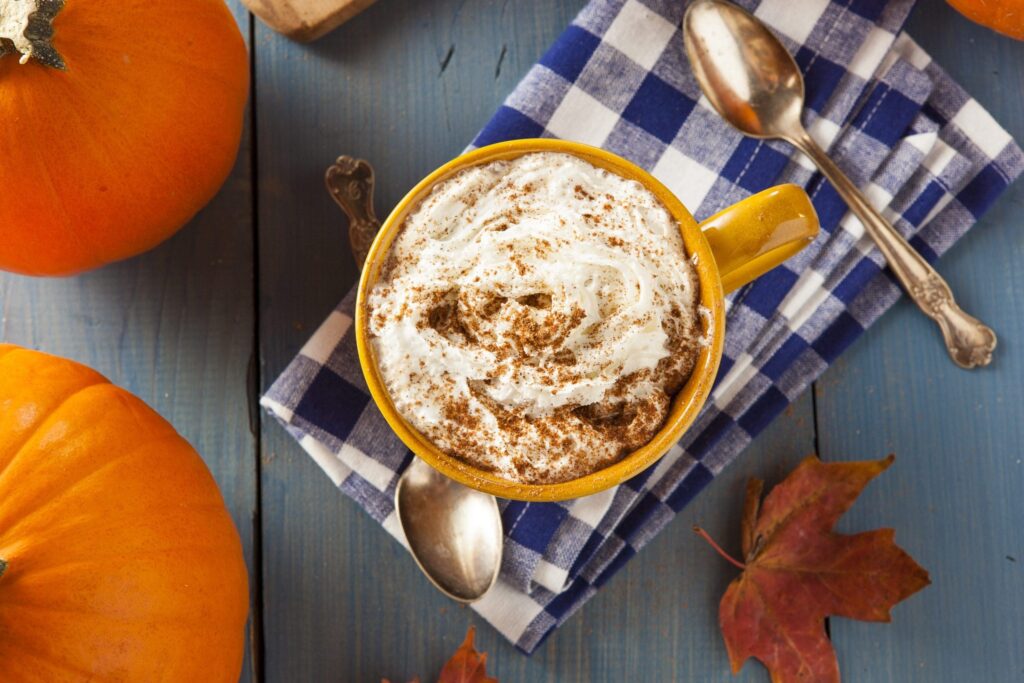 For all coffee lovers who are losing it when see the amount of calories in all the tasty-looking coffees (and the prices too) at Starbucks there is a recipe for home made healthy pumpkin latte. It contains all-natural ingredients, no added sugar and a low amount of calories.
INGREDIENTS
1/2 cup unsweetened vanilla almond milk
3 tablespoons pumpkin puree
1 teaspoon pumpkin pie spice
1/2 teaspoon vanilla
2-3 drops of liquid stevia (or sweetener of choice)
8 ounces brewed coffee (or 1-2 shots of espresso)
Sprinkle of cinnamon
DIRECTIONS
1. In a cup or saucepan, mix together almond milk and pumpkin. Cook on medium heat on the stovetop or microwave for 30-45 seconds.
2. Remove from heat, stir in vanilla, spices, and sweetener, place in a cup and use a frother to foam the milk. You can also use a blender — just process for 30 seconds or until foamy.
3. Pour coffee into a large mug; add the foamy milk mixture on top. Sprinkle with cinnamon. Enjoy!
Cook Time
10 minutes
3. Curried Pumpkin With Raisins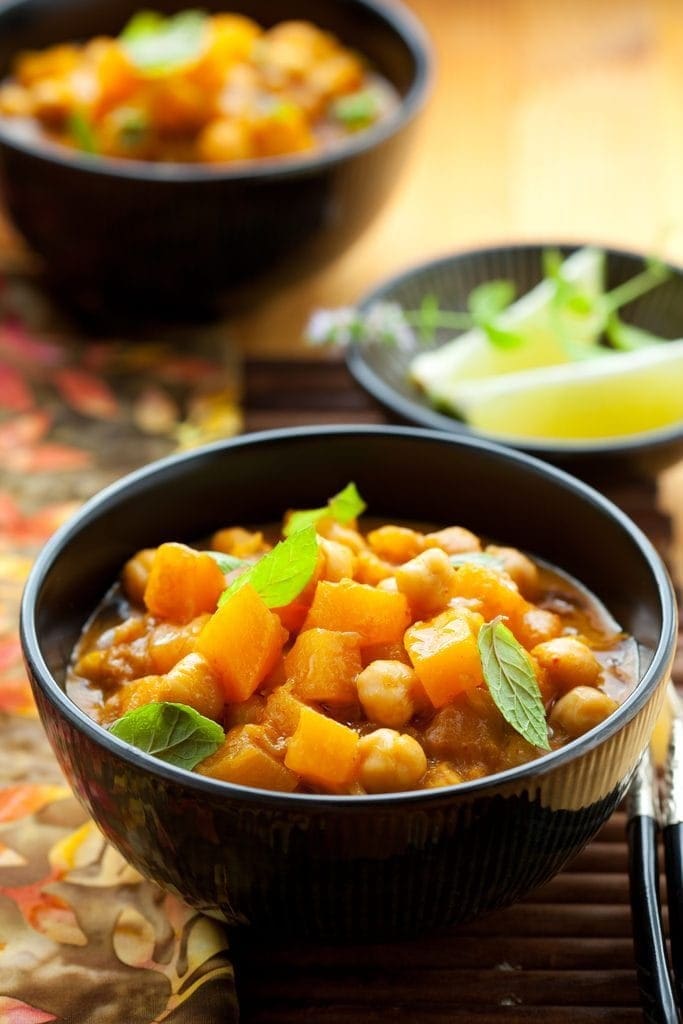 Source: sarsmis
2 tablespoons unsalted butter
1 medium onion, sliced
1 garlic clove, chopped
2-1/2 teaspoons curry powder
1 teaspoon salt
1 teaspoon freshly ground pepper
2 pounds pumpkin, peeled, seeded, and cut into 1-inch pieces
1-1/2 cups low-sodium vegetable broth
3/4 cup raisins
3/4 cup frozen baby peas
Fresh cilantro, for garnish
*Winter squash can be substituted for pumpkin
DIRECTIONS
1. Heat butter in a large pan over medium-high heat, add onion, and cook until golden-brown, about five minutes. Add garlic and cook one minute more.
2. Stir in curry powder, salt, and pepper. Add pumpkin and cook for five minutes, stirring frequently.
3. Pour in broth and raisins, cover, and reduce heat to medium. After 15 minutes, add peas. Replace cover and continue to cook until pumpkin is tender, five to 10 minutes more. Garnish with cilantro.
Source:
10 Foods to Improve your Health, Recovery and Performance for CrossFit