Hey Tia, how does your training change throughout the year?
Throughout the year I consistently work on my aerobic capacity. I find that it's essential to maintain that baseline of endurance and aerobic capacity. Leading into Nov / Dec I will do more higher intensity stuff like the open to continue building my engine.
I have a lot of confidence in my abilities now and I don't feel I need to train specifically for the Open in order to get to Regionals. You'll find that I train a lot more for Regionals during the Open period, hence why I don't always get the best scoring throughout The Open.
If you want to train with me, check out my forthcoming seminars in Europe:
I will be visiting Madrid on the 18th & 19th November.
I will also be visiting Germany on the 25th & 26th November.
And the 3rd location will be in Brussels on the 2nd & 3rd December.
How was it training in 2016 for the Olympics and the CrossFit Games at the same time?
To be quite honest with you it was difficult because I put a certain amount of pressure on myself.
I did have to sacrifice a little bit of my endurance training so that I didn't lose a lot of strength and that probably played a little negatively on my longer workouts. At the end of the day my goal was to compete at both and do the best that I could do with what I had. I couldn't really ask for a better experience.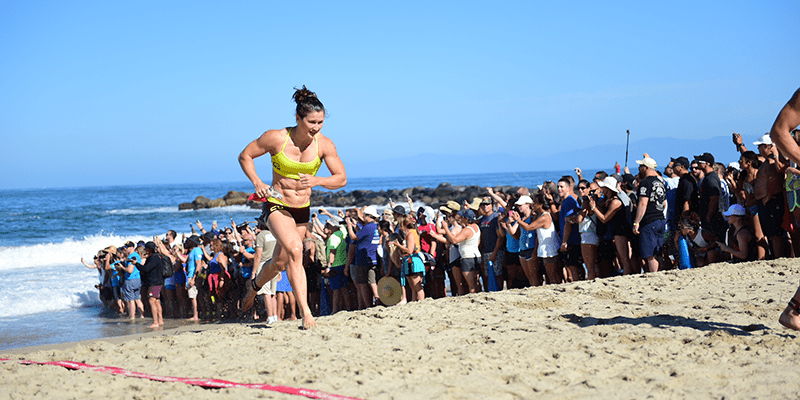 I was successful with a particular goal that I had and now it's a bit like going back to the drawing board.
https://www.instagram.com/p/BR5kzpeDtGN/?hl=en&taken-by=tiaclair1
What goals did you have for 2017 Tia?
At the beginning of 2017 I was so excited for the year and yet so nervous as well at the same time. I wanted to win The CrossFit Games and a goal like that should never just be thrown around. I knew that I would have been so disappointed with myself if I hadn't won.
Once I was through Regionals, that's when the fun really began. It's a great feeling because you've already made it and your hard work throughout the year has paid off. Your placing at the Games becomes the icing on the top of the cake.
Can you tell me more about how you found Regionals?
The Regionals this year were really cool and the workouts were intense. No real strength components, you just had to go for it with every workout! I loved 'em. The Chipper was super hard. It was basic and you just had to keep moving through it. I was more nervous for the chipper than any other event.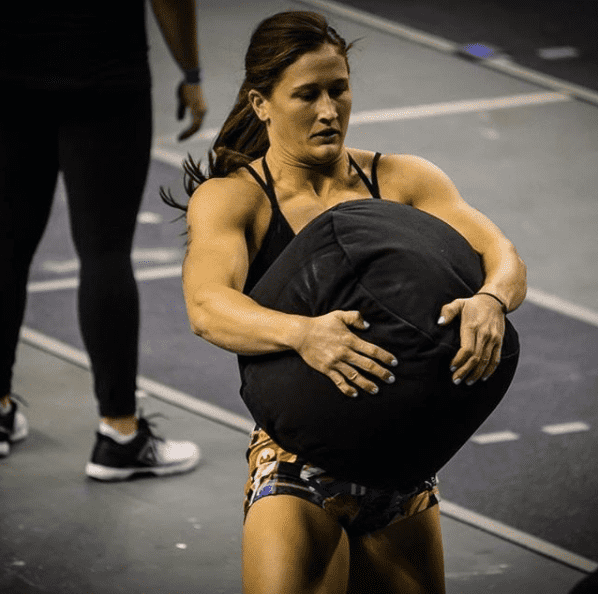 On the other hand I was super excited for the dumbbell and dip workout!
What types of workouts do you dislike? How do you tackle your weaknesses?
I don't have anything that I really hate, but there are movements like the assault bike or the ski erg that I see in a workout and think god, that's definitely going to be very painful! I know that I need to push very hard in those so that I'm not left too far behind the other girls.
Saying that though, I actually enjoy workouts that might have those movements in. I'm super excited just to see whether or not I've improved. When it comes to movements that you don't feel as good at, if you can perform well in a workout that contains those movements then it will change your whole frame of mind towards that exercise.
You'll walk into that workout thinking it was a weakness then you'll leave the floor thinking hey, I've got them now.
When it comes to testing weaknesses, I always think of it as an opportunity to gauge how much I have improved since last time.
Do you do any mental training outside the gym?
Not really. Once I set myself a goal I'm super determined to achieve it. Throughout my life before Crossfit I went to Uni and pulled out because it just wasn't something for me. I guess I felt like I failed in life. Now that I've found something that I'm good at, I want to be able to see it through to the end.
Tell us more about your life with Shane Orr
He has basically sacrificed his whole life for me. He coaches and trains me every day. That right there is so much motivation for me because he is doing so much for me. If I wasn't giving it everything that I've got and putting in as much effort as I can, then he would be doing all this for nothing. The drive of knowing that you've got supporters there makes me want to achieve the goals that I set for myself.
https://www.instagram.com/p/BZlGAWtDFYn/?hl=en&taken-by=tiaclair1
What was it like training with all the other top CrossFit Games athletes at the Cookeville Camp
It was an awesome experience. It was really fun and funny at the same time. We went on a bit of an adventure at the end through the night. It was great to be surrounded by like-minded people. You can see that the other athletes hurt. So that was really good to understand and also to see how they prepare mentally for the training sessions because it's very different from what I do.
I get stuck into it and I just do what I have to for the day. But other athletes might meditate before training, they might have certain rituals before training. It was so fascinating to see just how different things are.
I actually really enjoyed watching them but it doesn't mean that their way is better than mine or my way is better than theirs. Everyone had a different vision for training and preparing themselves for a big day of work. That was really cool to witness. You train with your competitors, the best in the world. That also makes you realize that they are human as well, they hurt as well.
How competitive does it get when you train with Camille or Sara or Katrin? Is it something that is on your mind when you were there (at the camp) or is it relaxing?
I guess it's both. It is definitely in all of our minds. It is definitely in my mind.
Every time I work out with one of those girls I want to break her so that she is worried for the next time that we compete. But it was so much fun. I adore all those girls. It was a healthy kind of competition. I really loved pushing myself as hard as I could. It's a great opportunity to push myself alongside Sara, Katrin and Camille.
I trained with Camille a couple of times and stayed with her for a week. When we lifted together, if she put on an extra two and a half kilos on the bar then would also have to put two and a half extra kilos more on the bar. Basically in one session we were only supposed to snatch to seventy kilos and it should have only taken us twenty minutes. But forty minutes later we were each going for new one rep maxes. So there is definitely competition between us and that's what makes us good as athletes I guess. We are always trying to be better than everyone else and better than ourselves.
https://www.instagram.com/p/BT5UbZ6lXVB/?taken-by=heber_cannon
I absolutely loved training with all the girls. And I think I loved it so much because there was this healthy competition. It was just all really really good. We were pushing each other. It was definitely well worth all the time and effort and money spent to travel there.
Where do you see the future of CrossFit? Where do you think it will be in five or ten years time? What kind of standards do you think people will be achieving?
I would really like to hear that the younger generation will take it with two arms and run with it.
You never really know where this sport is going to go but I do hope that these teenagers, who are making the gains and lifting the amounts that I do, have a serious future. I hope that they will have the full support of their coaches, trainers and facilities to be able to continue with their training because once their turn eighteen or get a little bit older, they have to start looking for jobs.
https://www.instagram.com/p/BXfj6cQlxN_/?taken-by=heber_cannon
I really hope that those responsible can take care of these kids and that they will have the possibility to keep training and develop the sport. You will see kids lifting twice as much as I do now. It´s amazing to see how strong some of these youngsters are.
I think what is very important, in order for Crossfit to be taken seriously, is quality drug testing. With that Crossfit will definitely get a lot more respect. Because now there is always a little bit of talk about CrossFit Games athletes and Regional athletes saying that they don't get tested and all this rubbish. Which is not true, we get tested all the time.
https://www.instagram.com/p/BUWv3BYDk4C/?hl=en&taken-by=tiaclair1
Is the testing rigorous? How often do you get tested?
We are tested at the competitions and throughout the season. Also, you can be randomly chosen for a drug test. They have a very similar program to the one for Olympic Weightlifting. But I don't really know how far testing goes.
How do you feel about PEDs in Olympic Weightlifting?
I don't want to take anything away from them, they train very hard and I don't want to say that they are cheating. I feel like if they are going to do it, then let them do it. But to do it when they are entering a competition that's not clean is is simply unfair on all the other athletes.
It can be a little disheartening because I try really really hard and I am still lifting really incredible weight but no one will ever acknowledge that there are athletes who are maybe on something. But it is what it is.
The 2017 CrossFit Games
With the last event being so close between you and Kara, what was going through your mind in the moments after the workout had finished, before Dave Castro announced the final results?
I actually thought I lost the CrossFit Games again because I knew Kara had beaten me in the last workout and I thought she had actually overtaken me on the leaderboard. I was happy for Kara but so mad and angry at myself for allowing this to happen 3 years in a row. I actually felt like I didn't deserve to be out on the competition floor because I obviously didn't want it bad enough.
Which event did you enjoy the most at the 2017 Games?
I enjoyed so many events at the CrossFit Games but 'Heavy 15.5' was my favourite workout because Kara and I pushed ourselves and each other so hard that we were in our own element. It was so special because it was 2 Aussies doing what we do best, working hard.
And which was the hardest?
One of the hardest was the Run Swim Run as myself and Kristi ran so hard on that last leg. I have never pushed so hard in a workout.
If you could program one event for the 2018 CrossFit Games, what would it be and why?
This is a hard question to answer as I love so many movements but I really enjoy a combination of heavy lifting and gymnastics movements as it adds variety.
How often do you check the CrossFit Games Scoreboard?
I don't like to get caught up looking at the scoreboard all the time when I compete. Of course I do check it and I do know where I am because sometimes it comes down to playing points. With the Games workouts you don't want to exert more energy than you have to sometimes. It's a bit silly if you're winning or doing well to go hell for leather in a particular event, burn out and have nothing left for the last few events.
If I get off that floor and I say: 'that's the best that I've ever done', or 'I couldn't have pushed any harder' or 'I couldn't have executed any better' then I have no regrets. Whereas if I know that I gave up half way through then afterwards that's where I start to get a little bit negative about myself.
At the end of the day this is my job. So many people sacrifice their lives to help me do this that I owe it to them to perform my best.
What did you do to unwind and celebrate after your win at The Games this year?
I was fortunate enough to have my friends around to have a laugh and have a very fatty cheese burger as well as a big bag of peanut m'n'm's (My favourite chocolates).
https://www.instagram.com/p/BXhTCIHDQw-/?hl=en&taken-by=tiaclair1
Tia Clair's Book
What motivated you to start writing a book?
So many people ask me about my journey, how it all started and where do I find the motivation. So I thought that writing a book would be a great way to share my story.
I can share my experiences and hopefully help people that read it to follow their dreams and hopes in life, and make them see that they can live the life they truly deserve.
https://www.instagram.com/p/BZNOmlcjoTP/?hl=en&taken-by=tiaclair1
Can you tell us a bit more about what the book is about?
My book is about a lot of things that have been large influences in my life to help me achieve my goal of winning The CrossFit Games.
Just a handful of experiences that are in my book:
My Childhood
Where CrossFit & Weightlifting began for me
How I overcame injury
How I overcame negative people in my life telling me I couldn't do it
What I have had to do in order to become the fittest on earth
The challenges I have been through and how I overcome them
How I prep and set my mind set for competition
https://www.instagram.com/p/BZQd3goDIcD/?hl=en&taken-by=tiaclair1
How can people find your book?
You can pre-order my book here.
Tia's European Tour
How can people join your forthcoming seminars across Europe?
They can click on the direct links depending on which Seminar they wish to attend:
I will be visiting Madrid on the 18th & 19th November.
I will also be visiting Germany on the 25th & 26th November.
And the 3rd location will be in Brussels on the 2nd & 3rd December.
What can people expect from your seminars?
They will train be able to train with me and spend two days together. In this two-day seminar, open to athletes of all levels, you'll work with Me and Shane in different aspects of Weightlifting, Gymnastic and Endurance. We will discuss all facets related to Competition – preparation, mindset, nutrition, routines. You will find out how I trained in order to become the 2017 Reebok CrossFit Games Champion.
The Wedding
https://www.instagram.com/p/BZ77WJtjhSk/?hl=en&taken-by=tiaclair1
If Shane wasn't going to read this, which did you enjoy more, winning the CrossFit Games or getting married?
To be honest they were both very different experiences as Shane and I had set out a goal together to win the Crossfit Games and we were successful in achieving that which was so rewarding and something so special we will cherish forever together. However; getting married and making a promise to each other and getting to experience it with all our very close family and friends was just so incredible they were both fantastic experiences that I will never forget. I couldn't have written it any better, everything was perfect.
https://www.instagram.com/p/BZumnKFDzBC/?hl=en&taken-by=tiaclair1
Is Shane a better coach or husband?
This is impossible to answer as Shane has a very incredible gift at being the best in both roles. Being my coach and having to deal with all of my emotions throughout training can be very difficult to not show empathy (as a husband) but Shane has been able to understand what I respond well to in order to get the best out of me and he is stern but supportive and encouraging.
When we go home Shane is a completely different person he is the most loving and supportive Husband anyone could ever have. To name a couple, he looks forward to cooking meals for me and just spend quality time together with our dogs. I am a very lucky lady!!!
https://www.instagram.com/p/BZyJjOcDQb7/?hl=en&taken-by=tiaclair1
Core Program
I also have an 8 Week Core Program that I have just recently launched.
My programs are tailored for people of all fitness levels and they cover all aspects of fitness to develop, strengthen and tone the body. There has been a lot of thought go into these programs as I use these exact same ones to improve my own performance through all my chosen sports.
https://www.instagram.com/p/BTXl8KXDNI4/?hl=en&taken-by=tiaclair1
You don't have to do CrossFit in order to follow my programs as I have a wide range of clients that do my program for all different fitness ambitions. You don't have to be competitive and just want to focus on toning up the body, you could be a spring chicken that is only quite new to the sport and has the desire to complete on the world stage or you might even have lots of experience in training but want to take that stress away from programming for yourself and just concentrate on your own training.
No matter what your goals are if you have the determination and drive to put the hard work in you will be successful.
These concentrated 8 week programs will not only give you the definition and tone you are looking for but will also give you enough strength and speed to improve your specific fitness components related to those muscle groups. I know this because I do these exact exercises throughout my own training.
https://www.instagram.com/p/BZa8pwwjBn6/?hl=en&taken-by=tiaclair1
Find out more about Tia-Clair: