Australian Tia-Clair Toomey and US athlete Dakota Rager took CrossFit Open Workout 18.3 by storm.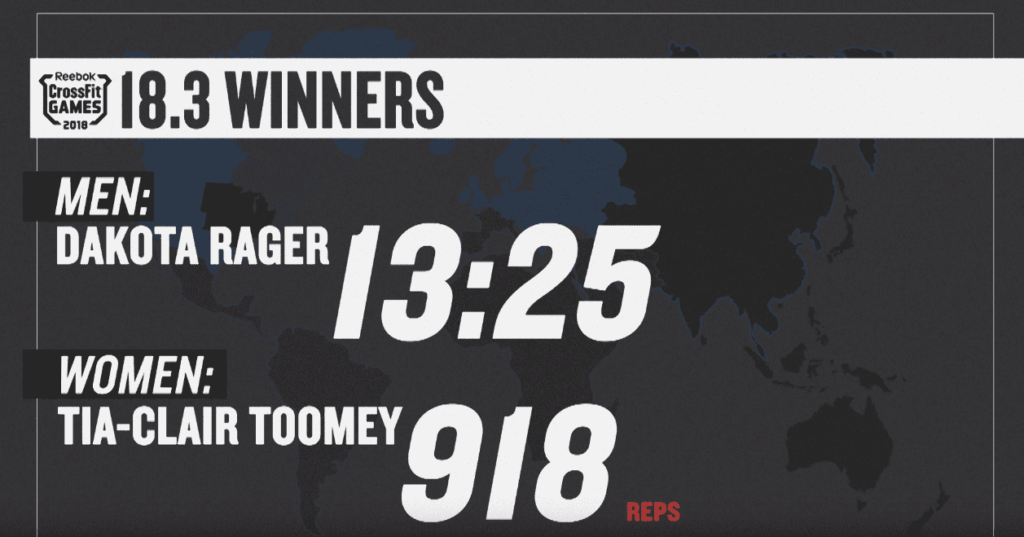 Source: CrossFit Inc
The WOD was: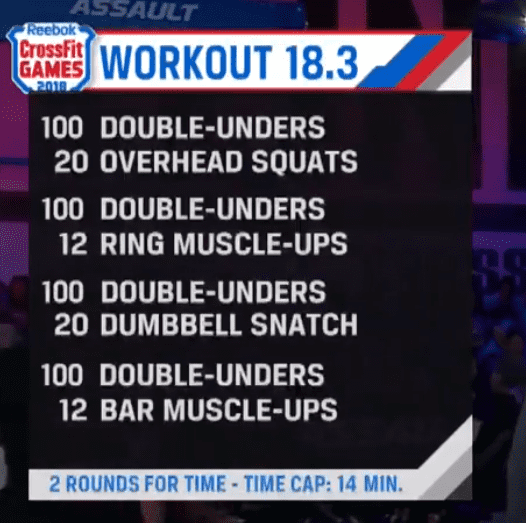 Source: CrossFit Inc
CHECK OUT DAKOTA'S FULL WORKOUT
CROSSFIT OPEN WORKOUT 18.3 – THE WOMEN
The top 5 athletes finished as follows:
Tia-Clair Toomey 918 reps
Emily Bridgers 908 reps
Sam Briggs 874 reps
Kari Pearce 872 reps
Carol-Ann Reason-Thibault 856 reps
CROSSFIT OPEN WORKOUT 18.3 – THE MEN
Only Josh Bridges and Dakota Rager managed to complete both rounds within the time cap. Dakota finished in an impressive 13:25, and actually increased his speed on the second round!
Here is the leaderboard for the male athletes after CrossFit Open Workout 18.3.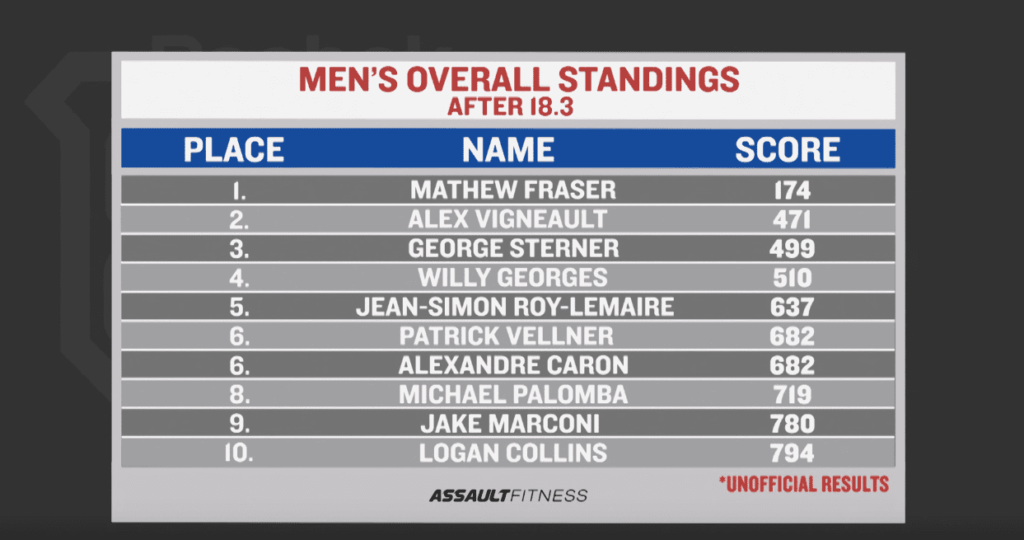 Source: CrossFit Inc
AN ODE TO DAVE CASTRO
Travis Williams, Brent Fikowski, Joe Scali and other athletes are entered into a fun game called #open humiliation. Each week, whichever athlete scores the lowest on that respective Open workout has to perform a pre-arranged punishment. In this case, it was the unlucky Travis Williams that had to recite a love poem to Dave Castro.
https://www.instagram.com/p/BgPy5BOgIRe/?taken-by=travismfwilliams
3 TIPS FROM 18.3 WINNER DAKOTA RAGER
1. Spend more time stretching and perfecting your movement patterns. I always say "there are two types of people in CrossFit, those that get injured once and learn the lesson they should have and those that continue to get injured again and again and then blame something else when they didn't take the time make sure they were moving well.
You should spend at least ten minutes stretching for every hour you spend working out.
2. Invest a little time into your feet and ankles. Stiff feet and ankles can lead to a number of other problems in the future.
3. The third and most important is also the hardest for many. Never let your fitness routine take precedence over your health! So many people start doing CrossFit or even just working out in general just to try to remain healthy and stay in shape but somewhere we lose sight of that and become too obsessed with things like numbers on a bar. An unscheduled day off every once in a while isn't the end of the world.