Spencer Panchik is a CrossFit athlete and Affiliate owner at CrossFit Cliffside.
Hailing from Cleveland, Ohio, Spencer Panchik is part of a very fit family that includes his twin brother Saxon and his elder brother Scott.
Spencer started CrossFit in 2009 and is a CrossFit Level 1 Trainer.
View this post on Instagram
The 24-year-old has competed at the CrossFit Central Regional twice, in 2017 as a team competitor and in 2018 as an individual. He currently holds a best CrossFit Open finish of 36th place worldwide and 19th in the US.
He has also stacked some impressive finishes in the Sanctionals circuit, finishing 6th in Wodapalooza in 2020 and 3rd at the Brazil CrossFit Championship in 2019.
View this post on Instagram
CrossFit Cliffside, Spencer's Affiliate, was established in 2018 by him and his brother, who found CrossFit following a severe hiking accident in 2009.
"Saxon and Spencer fell off a cliff in their hometown of Pittsburgh, PA, and suffered life threatening head injuries. Unable to return to the sports that they had competed in all their lives, they used CrossFit as a way to rehab both mentally and physically and resume a new and fulfilling lifestyle," reads their Affiliate's website.
"CrossFit Cliffside serves as homage to the accident that almost cost the brothers their lives, and began the journey through CrossFit to become the men and competitors that they are today."
View this post on Instagram
CrossFit Open 21.3 Workout Live Announcement
The CrossFit Open workout 21.3 – the last workout of the 2021 Open – will be announced on Thursday, March 25 at 12pm PT.
The workout will be announced five hours earlier than the usual 5pm slot to cater for CrossFit's audience outside the US, who usually watch the workout announcements in the middle of the night.
Don't miss the sibling showdown as Scott, Saxon, and Spencer Panchik take on the workout as soon as it's announced at the CrossFit Home Office in Scotts Valley, California.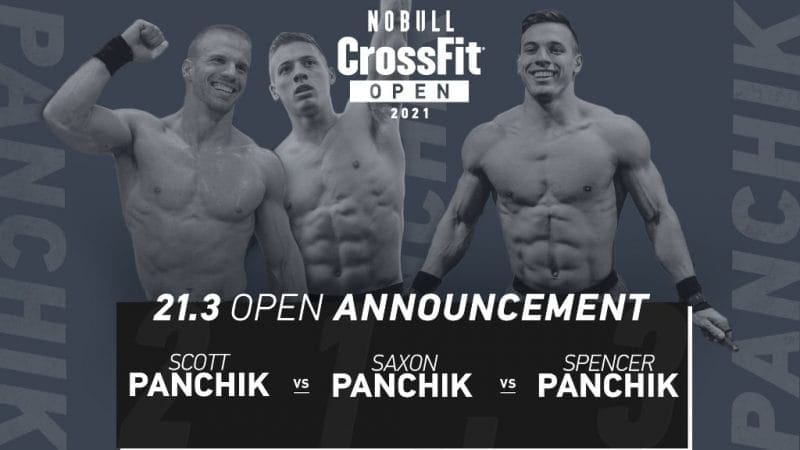 Source: Courtesy of CrossFit Inc.
How to Watch the CrossFit Open Workout 21.3 Live Announcement
The 2021 CrossFit Open
The CrossFit Open is a three-week online competition that brings the CrossFit community around the globe together and kickstarts the competitive season.
Athletes from all abilities and ages around the world tackle a workout every week and get ranked on the global leaderboard.
The top 10% of athletes in each of CrossFit's six recognised continents will advance to the next level of competition, the Quarterfinals.
For the first time in 2021, the CrossFit Open features a Foundations division for people new to the sport, an Equipment-Free division for athletes without access to equipment, two new Masters divisions and eight new Adaptive divisions.
---
Feature images from Spencer Panchik's Instagram page: @spencer_panchik