Learn how to watch CrossFit Open Workout 21.3 live Announcement…
Just like that, the third and final workout of the 2021 CrossFit Open is almost here! CrossFit Open Workout 21.3 will be streamed live from the CrossFit Office in Scotts Valley, California on Thursday March 25, 2021 at 12pm Pacific Time. 
Following the announcement, the three Panchik brothers will go head-to-head to complete the last workout of the 2021 CrossFit Open.
View this post on Instagram
How to Watch CrossFit Open Workout 21.3 Live Announcement
Where to watch: you can stream the 2021 CrossFit Open live announcements from the CrossFit Games website, as well as CrossFit's Facebook page, YouTube channel and Twitch.
crossfit.com

CrossFit's Facebook

CrossFit's YouTube

CrossFit's Twitch
When: Thursday March 25 at 12pm (PT)
Watch CrossFit Open Workout 21.3 Live Announcement in Your Time Zone
The CrossFit Open is a three-week online competition that marks the beginning of the CrossFit Games season. After the workouts are released on Thursday, athletes around the world compete from home, having until the following Monday to submit their scores.
This year's CrossFit Open is more inclusive than ever, with the addition of Foundations and Equipment-Free divisions, as well as eight Adaptive divisions together with the usual Scaled and RX divisions.
The Open has grown into one of the world's largest sporting events, drawing hundreds of thousands participants from 175 countries. It's the first stage in reaching the CrossFit Games, so no matter who you are or what your fitness level may be, every single CrossFit athlete — even those shooting for the Games — has to make it through the Open first.
Athlete Match-Up: Open Workout 21.3: Sibling Rivalry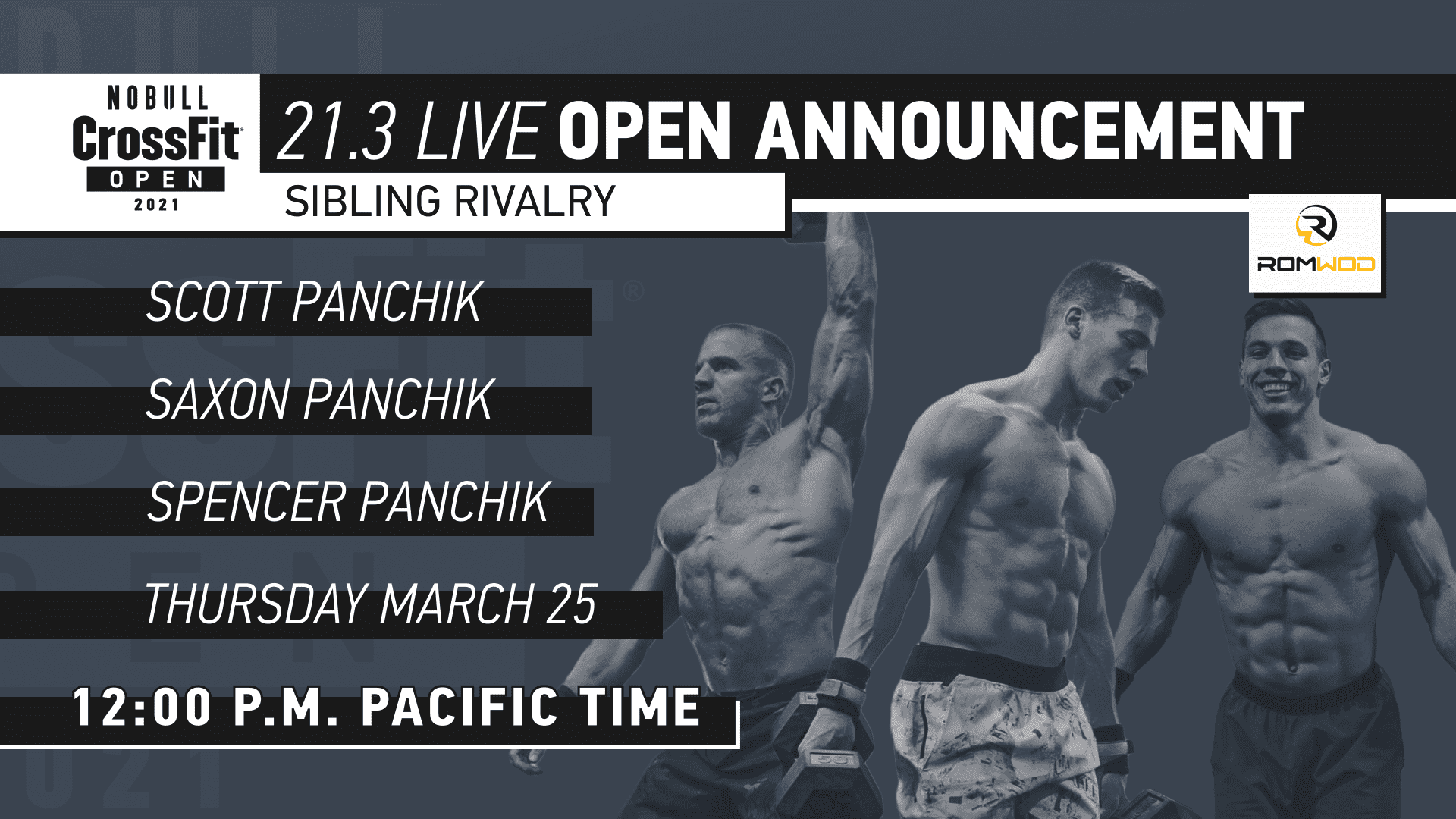 Source: CrossFit Inc.
As soon as Open Workout 21.3 is announced, eight-time CrossFit Games vet Scott will take on twin brothers Saxon and Spencer in a Panchik vs. Panchik vs. Panchik match-up!
Saxon Panchik is a three-times Games athlete who finished ninth in 2019, while his older brother Scott has 7 Top 10 Finishes under his belt, and has been a fan-favourite for many years. Spencer is a two-time Regionals contender who will eyeing up his first Individual Games invite in 2021.
Image Sources
21-3 live open announcement_0: CrossFit Inc.
Rotator_4: CrossFit Inc.