Five teams from a CrossFit Affiliate in Argentina were disqualified from the Affiliate Cup for this season, CrossFit announced on March 12.
In the press release announcing the disqualification, CrossFit explained that the teams "were training under an affiliate that does not offer a physical training location" and, as such, had been declared ineligible for the 2022 competitive season.
"Teams were […] training primarily in secondary locations unrelated to the affiliate," CrossFit wrote.
The teams; Mayhem Libertad, Samurai Team, Four Wild, Ghostbusters Team and Revolution, were all part of the same CrossFit Affiliate, CrossFit SDC.
But the reason why these teams were disqualified, and how this happened, isn't as straightforward as a blatant breach of the Rulebook. Instead, CrossFit faced an unprecedented situation and had to make a decision.
So, what exactly happened and why were the teams disqualified? Let's go back to a time before the 2022 CrossFit season had begun.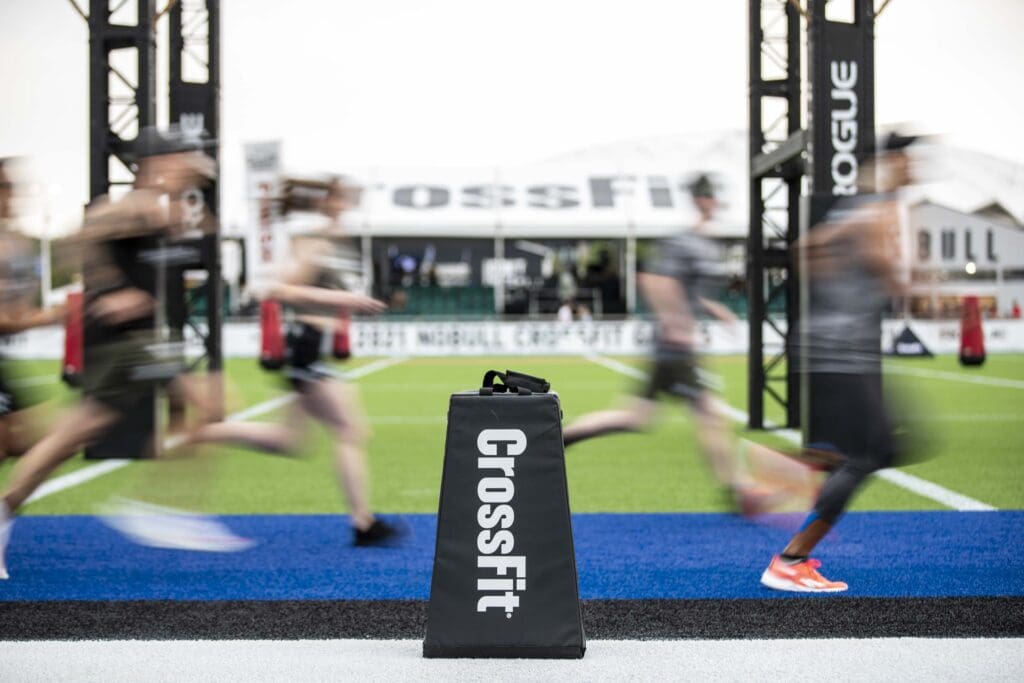 Advancing CrossFit in South America
Mayhem Libertad, probably the most well-known team of the five disqualified, was born after CrossFit Mayhem decided to expand to Latin America to offer world-class programming in Spanish at an affordable price.
Mayhem started working with top athletes from Argentina and Uruguay and the idea was born to build a team that could represent the South American region on an international level.
The team became Mayhem Libertad and was made up of former National Champions and previous CrossFit Games athletes Melina Rodriguez, Jimena Delamer, Nicolas Bidarte and Santiago Comba.
Mayhem Libertad revealed their team just before the Open, but the athletes had been training together since before the start of the year. Santiago Comba, who hails from Uruguay, moved to Buenos Aires at the start of 2022 – within the deadline to be eligible to compete for an Affiliate's team – and the team got down to business.
Out of the four CrossFit Affiliates that exist in Buenos Aires, a city with over 15 million inhabitants, Mayhem Libertad chose to become members of CrossFit SDC because its owner, Pablo Cariman, is a respected member of the community, a Certified CrossFit Level 3 Trainer, and a CrossFit's Seminar Staff Trainer.
But the team wasn't training at CrossFit SDC's registered address – for more than one good reason.
Building a world-class team in Argentina
The nature of team training means athletes do tend to move around more than their individual counterparts. They need spaces big enough for four people to move in synchronous; if they want to be the within the best in the world, they need gyms with strongman, gymnastics, and aerobic equipment; ideally, they need access to a running track and a swimming pool.
"In [Buenos Aires] there aren't Boxes, Affiliated or not, with four ski ergs, four rowers, four bike ergs, four assault bikes – this doesn't exist," explained Facundo Etchecolatz, who programs for Mayhem, saying that he knows of only one facility with all this equipment.
Paying for all these machines just isn't the norm in Argentina – just like many other countries around the world.
"We moved from Box to Box based on the equipment available and what was needed for each day of training – especially the worm," Facundo continued, specifying there's only one Rogue worm in the country. "Pablo helped athletes move from Box to Box to where equipment was available to complete the day's scheduled program."
All team members from all teams are officially part of CrossFit SDC.
"Apart from the physical space, we had all services that a Box can offer: a person who imparts the CrossFit methodology, access to the equipment, software tracking, programming," Facundo said.
Pablo Cariman stressed this too; all athletes were part of his box, they were signed up in the system, and the software showed their programming and results for each day.
Affiliating in Argentina
Not many gym owners in Argentina choose to affiliate to CrossFit. An Affiliate Fee in Argentina costs $1,500 USD annually (on the lower end of fees worldwide), which equates to almost four salaries in the country. Just for the affiliation.
Now add the costs of renting out a place, buying all required the equipment, paying coaches and rising inflation rates.
This means that Affiliates in the country are scarce – according to the Official CrossFit Affiliate Map, there's only five.
CrossFit SDC is one of the four affiliated Boxes in Buenos Aires and is run online. Athletes sign up, have access to the programming and Pablo essentially "takes" the Box to them, often running classes wherever the athletes are.
For what it's worth, there is a gym at CrossFit SDC's registered address – it's Pablo's home – and people have trained there in the past, but since before the start of the 2022 season, Pablo insisted on athletes not training there out of fear for his pregnant partner in the midst of a covid outbreak.
Pablo decided to move his Box online over two years ago to have more time to spend with his kids. This also allows him to share the CrossFit methodology with more people, especially those with unusual working hours, people with two jobs, or individuals who can't commute to a gym.
This is totally legit. CrossFit is not a franchise, and Affiliate owners are allowed to run their Boxes however they see fit.
They grey area
The 2022 CrossFit Games Competition Rulebook states that "Any CrossFit affiliate in good standing with CrossFit may register a team for the Affiliate Cup team competition."
There are many other rules team members need to follow, including:
Training primarily at the same CrossFit Affiliate starting no later than January 13, 2022 – the start of the Open registration.
Being an active member of the Affiliate for the duration of the season.
Living within 100 miles of the Affiliate they are representing by January 13.
Being able to produce documentation proving each athlete meets the above requirements. This can be signed waivers or client management software (being an active member), social media posts, whiteboard pictures, or workout tracking software (for training regularly at the affiliate), and utility bills or a driver's licence (to demonstrate residence within 100 miles).
The team members met all these requirements, but fell through a gap with the following two:
If athletes work out at multiple locations, they must choose the location they work out at most for their team affiliation, even if a separate location shares a name, owner, membership plan, or programming.
If there's any doubt, the team manager should contact support@crossfitgames.com for assistance.
When CrossFit refers to an Affiliate in good standing, it is implicit there is a physical location. Further, as mentioned earlier, not many Boxes in Argentina have enough equipment, and this means the Rulebook doesn't apply to the country very well.
Additionally, the realities of training in a gym have changed a lot throughout the pandemic, with many gyms around the world still unable to open their doors as usual. In Argentina, a place that is very economically damaged, there are additional challenges.
"The specifics of each country matter – Argentina isn't Iceland or Sweden or Germany or the US," said Facundo. "If CrossFit wishes to incentivise people to pay an affiliation and follow CrossFit's model as the company wants to impart it, they should analyse these cases individually."
Which CrossFit, limited by its own rulebook, did.
The disqualification of the teams ultimately came from not consulting with the Games support team before January 13.
What happens next?
Seeing their season cut short is more than a shame for all athletes involved.
Many of them aren't new to CrossFit competition and are familiar with the rulebook, they just didn't realise training the way they were would be an issue. They didn't knowingly put themselves in a position of jeopardy and sacrificed a lot to make their teams work.
This is clear to everyone involved, including CrossFit; there was no bad faith, teams simply moved around based on the particular requirements of their situation and complied with all other rules.
There are very limited sponsorship opportunities in Latin America and most athletes need to balance working life with high-level training to be able to pay their bills.
The aim was always to elevate the CrossFit scene in the Latin American region through these teams. In 2018, Samurai team was the first team to ever receive the Spirit of the Games award, which had only been awarded to individual athletes in the past, at the CrossFit Games. Mayhem Libertad believed they could break the top 10 in Madison this year.
"CrossFit understands that this wasn't done with bad intentions, they know we didn't try to cheat the system," Pablo said. It took them almost three weeks to gather enough information and reach the decision to disqualify the teams.
"They did say it's a situation that they will look into deeper and bring up with their athlete's council, to discuss what to do about similar situations in the future," Pablo continued. The realities of creating a world-class team look different around the world and it looks like we might see some changes in the rulebook for the upcoming season.
At the end of the day, all athletes remain eligible to compete in the individual division for the remainder of the season, and so they will.
"All of this will only fuel the fire for next year to be more united as a team, and when the revenge comes – which will come – they'll be stronger than ever," Pablo said. "They'll represent the region even better, which was one of the main objectives from the start."
---
The interviews were originally conducted in Spanish and were subsequently translated by the author.