These Rowing WODs will help you build better endurance and skill on the rowing machine.
Rowing is an important skill for all CrossFit athletes to master, and testing yourself under a wide array of different modalities is a sure-fire way to improve.
Rowing Technique
Check out these excellent videos to improve your rowing technique.
Beginner
Tips from Kristi Eramo O'Connell
Rowing WODs
Scroll down and choose one of our rowing WODs that you like the look of.
WOD 1 – Jackie
For Time
1,000 metre Row
50 Thrusters (45/35 lb bar)
30 Pull-Ups
Complete the work in the order written: 1,000 Metre Row, then 50 Thrusters, then 30 Pull-Ups.
Score is the time it takes to complete all the work.
Good Times for "Jackie"
– Beginner: 10-12 minutes
– Intermediate: 7-10 minutes
– Advanced: 6-7 minutes
– Elite: <6 minutes
Tips and Strategy
To achieve a "Jackie" time of 10 minutes or less, the Row must be at 85%-90% of your fastest 1K Row pace and the Thrusters and Pull-Up reps need to be either unbroken or completed in a few big sets.
If you can't go unbroken yet, try one of these rep schemes:
Thrusters: 25/15/10 or 13/13/12/12
Pull-Ups: 15/10/5 or 8/8/7/7
If you don't know your 1K Row pace, you'll want to figure that out before trying this workout. Beginners may aim to complete the row in 4:00-4:30; intermediate athletes may aim for something closer to 3:15-3:30.
Intended Stimulus
The intensity of "Jackie" is high.
The combination of a fast 1K Row, and unbroken or large sets of Thrusters and Pull-Ups should prove to be a major cardiovascular challenge.
The load should feel light on the Thrusters. The volume of Pull-Ups should be low enough to where you can get most (if not all) of the reps done in one set.
The only time you should truly rest during "Jackie" is when you're done with the workout.
"Jackie" is meant to feel light and should be done fast. The intensity should be high. Reduce the load and/or the skill level so you can finish this WOD in around 10 minutes or less.
Scaling Options
Intermediate
For time:
1,000 metre Row
50 Thrusters (35/22 lb)
30 Pull-Ups
Beginner
For time:
800 metre Row
35 Thrusters (22/12 lb)
20 Ring Rows
WOD 2 – Fight Gone Bad
3 Rounds for Total Reps in 17 minutes
1 minute Wall Ball Shots (20/14 lb)
1 minute Sumo Deadlift High-Pulls (75/55 lb)
1 minute Box Jumps (20 in)
1 minute Push Press (75/55 lb)
1 minute Row (calories)
1 minute Rest
How do you perform the "Fight Gone Bad" workout?
Perform 1 minute of work at each of the 5 stations. Move immediately to the next station after 1 minute. The clock does not reset or stop between exercises.
One-minute break is allowed before repeating each round. One point is given for each rep, except on the rower where each calorie is one point.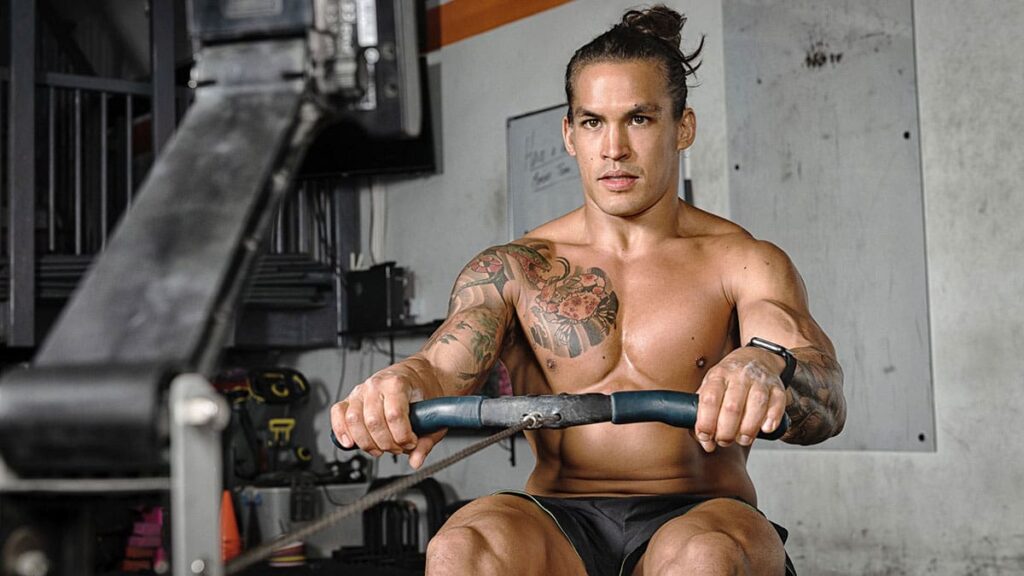 How do you score the "Fight Gone Bad" workout?
Score is the total cumulative number of repetitions completed of all movements in all 3 rounds.
What is a good score for the "Fight Gone Bad" workout?
– Beginner: 150-250 reps
– Intermediate: 250-350 reps
– Advanced: 350-450 reps
– Elite: 500+ reps
What are the tips and strategy to use for the "Fight Gone Bad" workout?
While there is often a lot of strategy and gaming in workouts like this, today we are looking to simply find a balance of constantly moving while not hitting a wall of muscular fatigue.
It will be slightly different for each athlete, but the goal is to move as much as possible within each 5-minute round and save rest (to the extent possible) for the designated rest periods.
Rather than trying to keep track of reps at each station, athletes can keep a running count. For example, if athletes get 20 Wall Ball Shots in the first minute, they can count their first couple Sumo Deadlift High-Pulls as 21, 22, 23…and so on.
What is the intended stimulus for the "Fight Gone Bad" workout?
"Fight Gone Bad" is meant to be light and fast. You should keep the intensity high so you feel breathless throughout the WOD.
If you're asking yourself what your name is after time is called, you did it right.
How do you scale the "Fight Gone Bad" workout?
Most athletes should be able to stick with the interval pattern. Beginners should reduce the loading and height of the box. Intermediate athletes can handle the prescribed loading in this workout.
Beginner
Men: 10-lb. ball to 9-ft., 45-lb. SDHP and press, 15-in. box
Women: 6-lb. ball to 9-ft., 35-lb. SDHP and press, 12-in. box
Rowing WODs 3 – Sixy
20 min AMRAP
6 DB Alt Arm Snatch
6 Burpees
6 KB Russian Swings
6 Lunges
6 H/R Push ups
+6 Cal Row
Your goal here is to work though the task of 6 reps for each of the 5 movements with the 6th movement the Cal Row increasing by 6 cal per round
Score is total reps + cals in 20 min