Have you ever wondered what did Mat Fraser eat to reach and maintain dominance for five straight years in CrossFit competitions? You do not need to guess any longer, as he revealed in a video a typical day of eating during his peak training and the CrossFit Games.
Mat Fraser and his fiancé and chef Sammy Moniz laid out on the table all the food the CrossFit Games champion would eat in a day and were surprised with how big portions are. Mat Fraser retired from CrossFit competitions earlier this year and has since taken a step back on how much he eats to fuel his body.
"It's all very caloric dense food. It's a lot of carbs," Fraser says at the beginning of the video. "Every day I had one protein shake, 50 grams of protein, and one shake of Gatorade after a long cardio or intense workout."
Watch a day of eating with Mat Fraser during his training peak and the CrossFit Games.
Important Takeaways – A Day of Eating With Mat Fraser
During training days, before competitions, Mat Fraser's eating habits would involve four meals a day, with two to three snacks.
At 8 in the morning, Fraser would start with coffee and something sweet before beginning his first training session.
"I hate eating breakfast. To make life easier, we would start with granola, yoghurt. Sweet goes down super easy," Fraser explained.
An hour later, at around 9, Fraser would have his second meal which consisted of strawberries, bagel, bacon and eggs.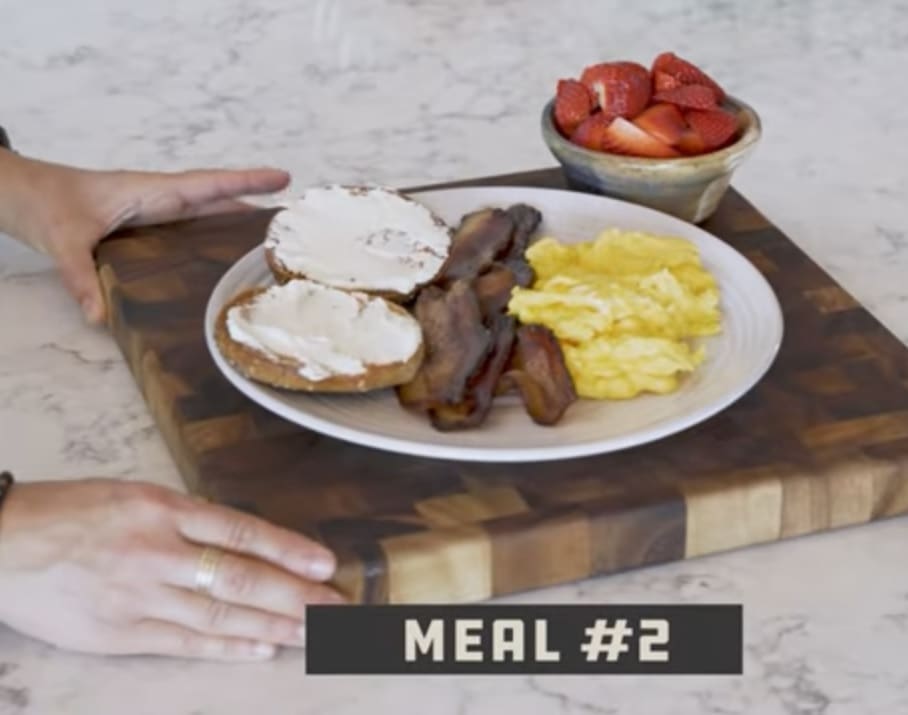 The champion will go on with his first train in the morning and finish at 12 pm in order to have lunch, his third meal of the day, which usually would be apple slices and sandwiches.
After lunch, Fraser carries on to his second session of training of the day. He would go home, get in the sauna, take a shower, and have dinner around 7 pm and Mat cannot go to sleep with an empty stomach.
"Broccoli, steak, and a starch. Usually a mountain of white rice," Fraser says. "No longer turkey slices, or chicken, it was something heavier."
Throughout the day, Mat Fraser would have snacks. His go-to snack was protein smoothies, snickers bar, fruit snacks, energetic drinks, and protein shakes. At night, if Mat could not go to sleep because he had an empty stomach, he would eat a cereal bowl with whole milk, peanut butter jelly, or peanut butter banana, a protein bar, or even chicken wings done in an air fryer.
Going into the CrossFit Games, Mat Fraser gives the most useful tip he can think of. "You try to make as few changes as possible from training to competing," Moniz adds that the quantities are smaller, but also that Fraser was eating more frequently. "You never want to have a full stomach while you're competing," concludes Fraser.