No one is denying that it's incredible to see a man snatch 135lbs with one arm. No one is saying this isn't worthy of praise; but after all the hard work, the years in the gym, the grind, the sweat; after all that the one thing adaptive athletes don't want to hear is how they're your inspiration for hitting the box that day.
Adaptive athletes have to overcome a lot of hurdles to compete in CrossFit — the least of which comes down to their disability. More often than not, the hurdles faced by the adaptive community come from living in an able-bodied world. Accessibility, inclusion, and understanding are all things that adaptive athletes want, and there have been great strides made in that direction in the last year within the CrossFit space.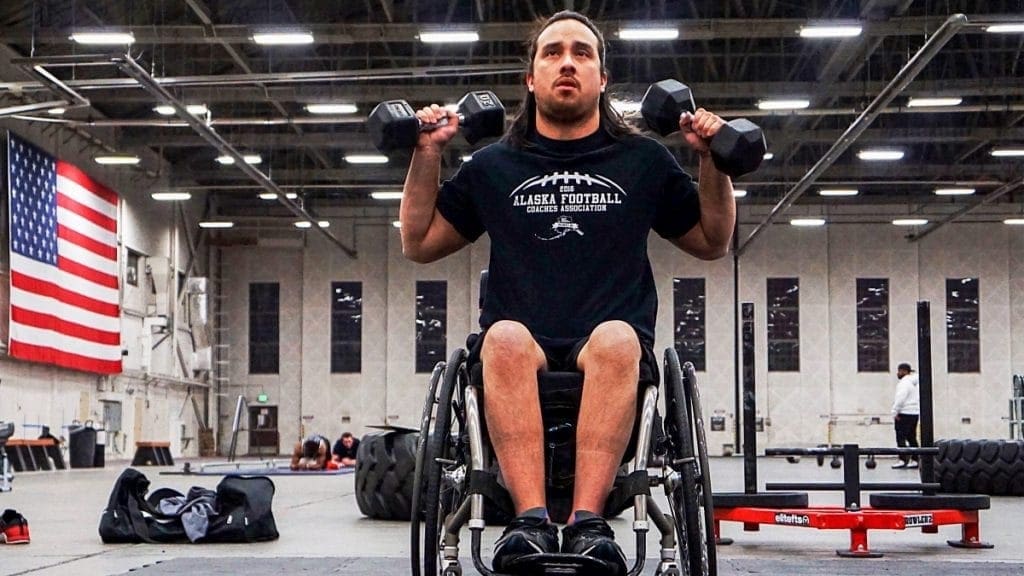 Alongside the inclusion of the adaptive divisions in the Open this year, which was spearheaded by the work of WheelWOD and the Adaptive Training Academy, CrossFit has now announced that the top five men and women from three of the eight adaptive divisions will be invited to the CrossFit Games in Madison, Wisconsin in July.
Yet despite all these big strides towards providing a bigger platform for the community, it's still commonplace to see coverage of adaptive athletes framed as "inspiration porn" by and for able-bodied people. This is the act of "portraying people with disabilities as inspirational solely or in part on the basis of their disability." It's a form of ableism — and athletes are tired of it.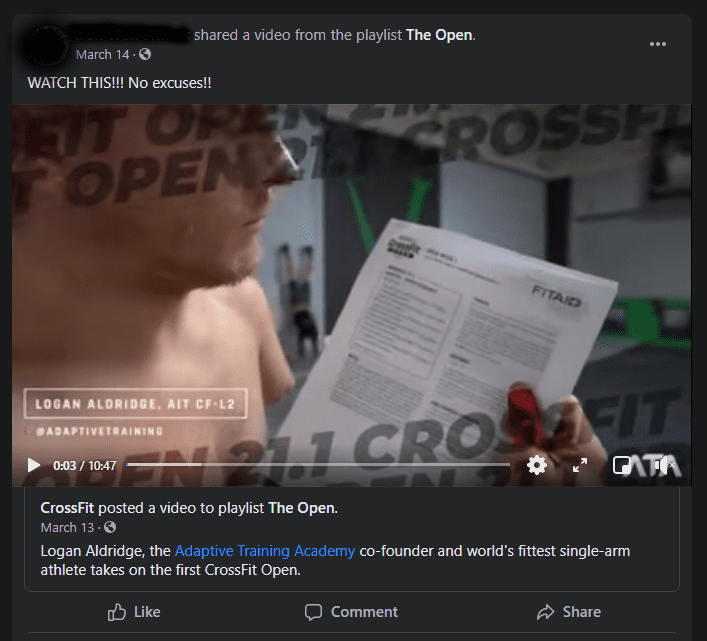 "Trust me, I have excuses all the time." says the ATA's Director of Training Logan Aldridge. After losing his arm in a wakeboarding accident as a kid, Logan has been one of the most visible adaptive athletes in the scene, snatching enormous weights and earning himself the title of Fittest One Armed Man on Earth. His work on the barbell has been widely shared, and therefore has been the subject of a fair few patronising hashtags.
"I'm freaking lazy. I have days I don't work out. I'm not some crazy person and I don't think anybody is. I think we're all human."
"Most of the time people tell me they do not know how I cope or do it (referring to exercise and daily life)," said Letchen du Plessis, who currently sits at number one in the overall leaderboard in the Women's Neuromuscular Division. "I didn't have a choice, it's either you live your life or you don't. It's the same with exercise, you either do it or you don't. With adaptive athletes it's a part of our daily life and telling someone it's so inspiring just to live our lives kinda degrades us."
While well-intentioned, the "what's your excuse?" Instagram post/meme/headline is underpinned by the notion that adaptive athletes and people with disabilities lack something. Their lives, hard work, and individuality are lost when able-bodied people only see and celebrate "overcoming" something they see as a problem.
"Everyone deals with something, everyone is trying to adapt or get through the day or show up at the gym," Letchen continued, "My "struggle" is just visible. Someone else may be battling emotional pain or stress and it took everything in them to show up at the gym but it's not visible. I usually say everyone is climbing an Everest but no one's Everest looks the same. But it's still Everest."
Ultimately, adaptive athletes want the same treatment, coverage and praise as any other athlete in their box would receive.
"I'll be at a Throwdown on a Saturday morning, and I'm going to show you what I can do, and I'm going to put you all on the floor because that's how I want to be known, as I'm a fit person, not a mildly fit adaptive athlete," says David Hiornes, a CrossFit trainer and owner of Brave and Functional Fitness. "And that's what I want to be and then people in the box will be like, "admiration for you doing that," and I'm like, "I'm just training, but cheers mate."
David is a former Navy veteran whose time in the service left him with an impairment in his right arm. For him and most adaptive athletes with a platform, the goal is empowerment.
"I get a lot of messages like, I cried when I found your page. You have given me a lot of information about what I can and can't do. If I had another person in the box that said I was inspiring because they needed to know what to do, then that's better."
Language and intent is important in making individuals feel welcome and equal. Adaptive athletes don't want to be your #NoExcuses, so it's time we — as able-bodied people — knock that off when we talk about their achievements and milestones.
"I hope that in ten years from now, if you're someone living with a permanent impairment of any sort and you have aspirations to be a professional athlete in whatever sport that might be, whether it's CrossFit or not, you see a path to that and there's a platform for you and a real opportunity," Logan told BOXROX. "You don't have to be this charity case, just this motivational inspiring persona. Now you can be a professional. That's what I hope for the legacy we leave behind."
Read More: Training Tips: Double Unders for Adaptive Athletes